A Solid $999 Buy with a 7″ Touchscreen Display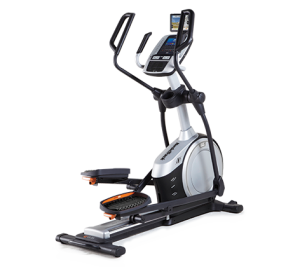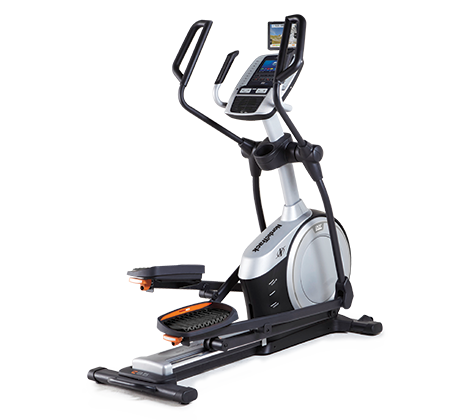 The NordicTrack C 9.5 is a definite value buy at $999. It is a front drive elliptical, which means that it is more compact and easier to mount. What makes this machine a stand-out is the 7″ Smart HD Touchscreen display, optional iFit technology, a 25 lb flywheel and a generous selection of 32 workout programs.
You are not going to find any $999 elliptical, except for the rear drive NordicTrack rear drive SE7i, with as many upgrades and leading edge technology. This is not your typical elliptical trainer, it is also a motivational fitness machine.
NordicTrack C 9.5 Elliptical Features
Note: At the time of this posting, a FREE 1-year iFit Membership comes with this machine. After that initial year, there is an addition subscription charge to use the features.
7″ Smart HD Touchscreen – This is a fantastic feature that you won't truly appreciate until you have it in front of you. Use this screen to access your iFit.com account with the touch of a finger.
Integrated Tablet Holder – If the touchscreen isn't enough to keep your attention, the tablet holder will provide a safe place for you to display your additional smart device.
0-20 Degree Power Incline – This machine will adjust with quick select buttons. Increasing the incline helps you target different muscle groups for a more effective workout. If you also want a decline feature, you'll need to buy the more expensive NordicTrack C 12.9 elliptical.
25 lb. flywheel – This is a mid-weight flywheel for Nordictrack. They have a few machines that have 28 or 32 lb flywheels, but many that have lighter wheels as well. This will allow for a smooth and natural elliptical motion.
SoftTouch Upper Body Grips – These grips are easy to hold for people of various heights. Switching your arm position will also help you activate different arm muscles.
32 Workout Programs – The C 9.5 comes with a generous selection of 32 installed workout programs
Lifetime Frame, 1 year Labor and 3 year Parts Warranty – For comparison, the NordicTrack C 7.5 only allows for a 2 year warranty on parts.
---
Read an article comparing the NordicTrack C 9.5 to the Sole E25 and NordicTrack SpaceSaver SE7i here.
---
Our Review: NordicTrack C 9.5 Elliptical
The NordicTrack C 9.5 Elliptical Trainer is a budget machine at $999, which means it is best for low to moderate weight users. Still, it's a great value in this price range with its web enabled touchscreen and iFit technology! The 25 lb flywheel is a mid-weight wheel from NordicTrack. They offer a few machines that have 28 or 32 lb, but many that are also 20 or 18 lbs. A heavier flywheel helps create a smooth and natural elliptical motion. We really like this compact little machine. Check out a comparison chart of all NordicTrack Ellipticals here.
Go to NordicTrackEllipticals.com to learn more about the NordicTrack C 9.5.