HIIT Your Fitness Goals in No Time
The ProForm SMART HIIT (High Intensity Interval Training) Trainer is designed to maximize your workout in minimal time. HIIT is a popular trend in the fitness world and appeals to individuals who have limited time to get into shape.
The ProForm SMART HIIT trainer is very similar to the popular Bowflex line of Max Trainers.  Specifically, this machine comes in at the same price point as the Bowflex M3 model at $999.  It is a vertical elliptical trainer that offers a very steep elliptical pattern with 10" of vertical motion and 5″ horizontal on each step.  The machine is designed to deliver HIIT workouts for maximum calorie burn and muscle activation.
---
Read our comparison of the ProForm SMART HIIT Trainers and the Bowflex Max Trainers here.
---
ProForm is well known for offering higher spec machines at a lower price.  This brand comes from the same manufacturers as the well-known NordicTrack ellipticals.  And that is what makes the ProForm SMART HIIT appealing, the machine combines a quality workout with motivational technology.  Read our article (above) for a detailed comparison of the ProForm SMART HIIT Trainer and the Bowflex Max Trainer M3.
Features on the ProForm SMART HIIT Trainer
Vertical Elliptical Path for HIIT Workouts – The main advantage to buying the ProForm HIIT Trainer is the fact that the machine is designed to kick your butt. We mean this figuratively of course!  The steep vertical elliptical motion will activate more muscle groups in both your lower and upper body.  The HIIT (high intensity interval training) workouts will help boost your metabolism and cause your body to burn more fat long after you've stepped off the machine.  Since it's an elliptical, exercise can be performed with minimal impact to your leg joints.  The pattern on this machine tends to be a bit more up and down than the more circular pattern on the Bowflex Max Trainers.
iFit Coach Ready – ProForm and NordicTrack machines all feature their landmark iFit Live program which allows the user to browse through trainer-designed workout programs. Users can select from courses filmed in exotic global locations and see their progress on a color screen in front of them.  Track your workouts and progress using your online account.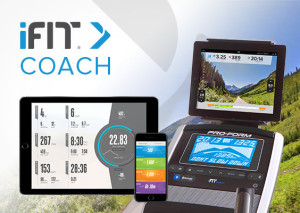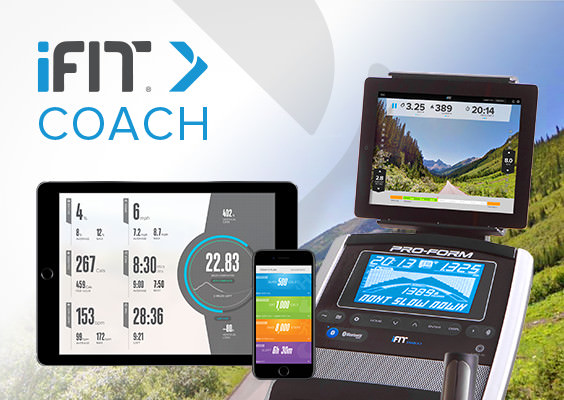 Since iFit Live is linked to GoogleMaps, you can also create custom routes that will cause the machine to alter resistance levels as you 'travel' up and down hills.  The ProForm HIIT Trainer is Bluetooth Smart enabled so it can connect wirelessly to your smart device to view the course routes and stats.  The actual elliptical machine only has a 7" backlit display.  If you are looking for a more advanced 10" color touchscreen directly on your machine, then you should check out the ProForm SMART HIIT Trainer Pro.  Finally, we need to mention the only disadvantage to iFit Live.  It requires an ongoing annual subscription.  However, you can get your first year of iFit Membership for FREE.
Size and Movability – Besides providing highly effective HIIT workouts, the ProForm HIIT Trainer also takes up MUCH LESS space than a typical elliptical. It has transport wheels so it can be moved out of the way when not in use.  We found that this machine works well for smaller homes or offices.
Machine Weight – The machine weighs about 180 lbs., which is 37 lbs. more than the Bowflex Max Trainers.  This is actually an advantage because this machine will be a bit more stable during use.
Upper Body Workout– The ProForm SMART HIIT Trainer has multi-function handlebars so you can add resistance to your upper body's motion. It will allow you to feel the burn in your arms, shoulders, back and core with each stride.
24 Resistance Levels / 32 Workout Apps– This is one area where the ProForm SMART HIIT Trainer excels over the comparable Bowflex M3 Max Trainer. The M3 only has 8 resistance levels and 2 workout programs.
7" Backlit Display – Track your time, speed, distance, and calories. You know…the basics!
28 lb. Flywheel – This is only 2lbs less weight that the big-brother model- the ProForm SMART HIIT Trainer Pro. A heavier flywheel means you'll get a smoother and more natural feeling elliptical motion.
Warranty – Lifetime frame, 3 year parts, 1 year labor.
Other cool features – Integrated tablet holder, EKG grip pulse heart rate monitor, iPod compatible audio, CoolAire workout fan, oversized cushioned pedals, water bottle holder, adjustable leveling feet, 325 lb. weight capacity, commercial-grade steel construction.
Our Review:  ProForm SMART HIIT Trainer vs. Bowflex Max Trainer M3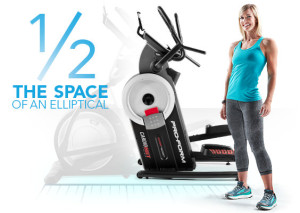 As mentioned, the main competition for this model is going to be the Bowflex Max Trainer M3 (also priced at $999).  Both of these machines offer highly effective HIIT workouts with a vertical elliptical motion.
The ProForm SMART HIIT Trainer uses iFit Live to offer more visually exciting workouts throughout global locations or through its integration with Google Maps.  The Bowflex Max Trainer has its own workout tracking program along with a free Max Trainer App that can connect to your existing fitness apps like MapMyFitness.  The main difference here is price.  iFit Live requires an annual subscription while the Bowflex program is free.
The other major difference between these machines is in the number of resistance levels and workout programs.  Quite frankly, the HIIT Trainer kicks the Bowflex's hind end on this matter.  It offers many more programs and a wider range of workout options.
With the higher end models on both of these brands, it is easier to draw distinctions.  For example, the ProForm SMART HIIT Trainer Pro has an attractive 10" HD Touchscreen for less money than both the Bowflex M6 and M8 models.  However, with this entry level options, we feel the ProForm SMART HIIT Trainer and the Bowflex M3 are stacked pretty evenly.  Look at the pros and cons and make a decision on which fits your preferences better.
Should You Buy the SMART HIIT Trainer Pro or SMART HIIT Trainer?
The SMART HIIT Trainer and SMART HIIT Trainer Pro are very similar machines but you'll pay around $500 more for the higher pro model.  You will get the following benefits with the more expensive machine:
-Pay $600 more
-2 lb. heavier flywheel
-2 additional programs
-10″ Smart HD Touchscreen (this will not have Internet access)
-2 additional resistance levels
-2 years additional parts warranty
We feel that your extra $500 may be better spent simply buying a smart tablet with internet access.  Then you can use it while on and off your fitness equipment.  Overall, the ProForm SMART HIIT Trainer for $999 is a great value so we recommend it over the SMART HIIT Trainer Pro model.  Check out a comparison chart of all the ProForm ellipticals.
To learn more, visit ProForm.com