An Excellent Budget Elliptical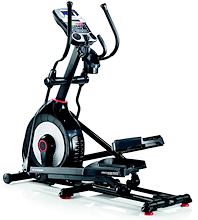 Schwinn has been offering some of the best values for budget elliptical trainers for a number of years, and the Schwinn 430 elliptical trainer is no exception. At this price range you have some competitors offering substandard machines that are not particularly stable or durable.
Realize the Schwinn 430 elliptical trainer is not a heavy duty crosstrainer. Is is best suited for moderate weight individuals and people who are not exercise fanatics. That said, for the price it is an excellent value.
---
Note: Schwinn has raised the price of the 430 Elliptical to $1,044 on Amazon. At that price range, we would recommend the NordicTrack SpaceSaver SE7i instead.
Shop Now at NordicTrack.com

---
Schwinn 430 Elliptical Trainer Features…
20″ Stride Length — This provides for a smooth elongated elliptical. Often at this price range you get a smaller 18″ stride length.
Incline Adjustment — You can adjust the elliptical motion to a 10 degree angle allowing you to increase the intensity of your workout. It should be noted that the adjustment is manual and requires getting off the machine to make changes.
Articulating Foot pedals — The foot pedals angle with the elliptical motion in order to limit foot lift. However, you will find that your foot still lifts off the pedal to a degree.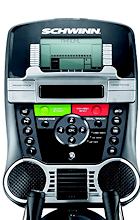 LCD Display — You get two LCD window system allows you to monitor up to 13 different display feedbacks. However, the display is not backlit. You alsohave a place for your tablet or Kindle.
22 Installed Programs — You get a decent selection of challenging program plus 2 user setting.
SchwinnConnect — The Schwinn 430 comes with SchwinnConnect, which allows you to export your workout stats to MyFitnessPal.com. With the use of a USB port you upload you data and download online. This allows you to track your progress towards your fitness goals.
Fan and Speakers — There is a 3-speed fan that directs the breeze to your core, although it won't blow you away. You also get speakers and MP3 input. Several customers mentioned that the quality of the speakers was poor.
210 lb. Unit Weight — For a sub $700 elliptical the Schwinn 430 elliptical trainer is fairly stable. The unit weight contributes to the stability, giving the machine a solid feel.
Our Review – Schwinn 430 Elliptical Trainer
If you are looking for a reasonably priced elliptical trainer that is quiet and fairly durable, the Schwinn 430 is a top contender. You are not paying a whole lot of money for decent quality. However, do not expect a machine comparable to what you may have used in a health club. Once again, this elliptical is best suited for moderate use and for individuals under 220 lbs.
Amazon Customer Reviews
This is an excellent machine at a super price. Assembly was very easy and took about an hour and a half working alone.
I used this elliptical for the first time today and I think it rides great! It's a very sturdy machine I didn't feel any wobble as I used it. I have long used ellipticals at the gyms, but I don't live close enough to a gym now. I would say that it is comparable to a gym elliptical but for a lot lower cost. The speakers worked well and I even used the fan. Nice machine.
I absolutely love my Schwinn elliptical machine. It is a smooth and sturdy workout that is equal to going to the gym for me. The instructions were easy to follow, however it was challenging to assemble. You need two people at least and about 3 hours uninterrupted. But once it is together, it is well worth it.

Great Machine.,
Superb Build Quality. Very quiet. Requires power to operate resistance. Very easy to assemble
Our Reader's Review
You cannot even begin the excellent quality and workmanship on this machine. It is worth way more than the 699 I gave for it. It puts the proform to shame. The last thing with this kind of quality was the weber grill geneses I bought. You will not be disappointed with this machine. As far as putting it together I do mechanical stuff anyway and it was quiet easy. – Fran
*This Schwinn 430 Elliptical Trainer Review is based on not only testing the equipment at a local retailer, but also comments, testimonials, reviews and ratings of customers and third parties. We attempt to be as accurate as possible. Warranties, features and prices can change without notice.