A Commercial Quality Machine with Adjustable Stride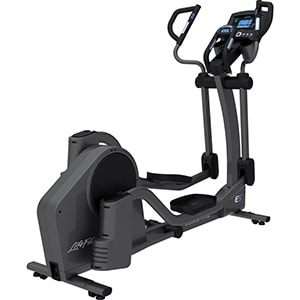 We kept hoping we'd see adjustable stride with the E1 and E3 Ellipticals from Life Fitness. Finally, here it is.. the perfect package! The E5 Elliptical is a premium machine that sells at a premium price. You can be confident that any purchase from Life Fitness is going to last for the long haul. You just need to decide if you can cough up the bucks to make the initial purchase!
Features on the Life Fitness E5 Elliptical
The adjustable stride on the E5 Elliptical is the feature we want to highlight since it is not available on the lower E1 and E3 models. The stride can adjust from 18-24″ at the touch of a button. This feature is extremely useful if you have multiple users of various heights using the machine. With single stride length machines, someone is always going to be a little bit uncomfortable. Plus, switching up the stride lengths can help you target different muscle groups in your legs!
Things We Like:
The adjustable stride length is awesome…LOVE IT!
This machine has a smooth and natural elliptical motion like all rear-drive ellipticals from Life Fitness.
The E5 comes with sophisticated heart rate monitoring. It includes a wireless chest strap.
Use Activity Zones to gain motivation and guidance through different motivating workouts. We like how this coaching program includes Total Body Trainer and Leg Sculptor Modes.
Things We Don't Like:
The price is a bit high on this machine. Yes, it's an awesome machine. Yes, it will last you forever. But do you really need to spend $4,000 on an elliptical? You should consider some lower priced machines before you settle on this option.
Also see the Life Fitness E3 Elliptical Review.