The Motion Adapts to Your Body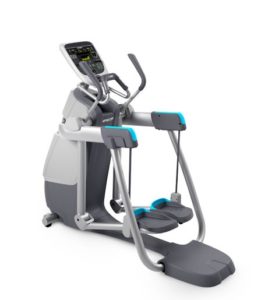 Our team tested out the Precor AMT Adaptive Motion Trainers at a health club and were totally impressed. They are extremely expensive machines but you can be sure they offer some serious value. The Precor AMT 833 is worth the price for sure. Now, you just need to decide if you have a spare $8,000 laying around that you are ready to hand over.
We've toured the Precor corporate headquarters and must say that it's an impressive facility. This is a company that is extremely watchful when it comes to quality control. They are always working to create the very best product. Plus, we've found the phone customer support staff to be extremely friendly and knowledgeable.
The AMT 833 Adaptive Motion Trainer is a unique machine that adjusts the stride length and height based on your body's motion. Instead of a set pattern (like most ellipticals), this machine will adapt to your body's motion for walking, running, short, or long strides. There is also an AMT 835 and AMT 885 with additional features.
Things that we liked about the Precor AMT 833 Adaptive Motion Trainer
The adaptive movement design will respond to your body's motion to create the perfect stride pattern. A normal elliptical has a set path that limits your ability to work lower body muscles. With this machine, you can change your motion at will. For example, you can do deep lunges to work your glutes/hip flexors/calves, short strides to work your quads, mid-range strides for hamstrings/glutes, or low-range strides for a more comprehensive lower body workout.
You can easily adjust your stride from 0 to 36 inches! Again, this far exceeds a standard elliptical. Normally, your stride length would be limited to around 20″. This type of machine will help you burn calories more efficiently.
The motion controls are easy to use and intuitive.
Dual action will let you workout your upper body muscles.
The console is well designed and shows your degrees of exertion, heart rate, calorie burn, and peak performance zone.
Solid and stable design. This machine isn't going anywhere during your use.
Things that we didn't like about the Precor AMT 833 Adaptive Motion Trainer
The stride height on this machine is not adjustable like on the AMT 835 and AMT 885 models.
The warranty on this machine only has 1 year on labor, which is not the best. However, the parts have a warranty of 10 years to indicate that they seldom need replaced.
The price may be restrictive for some buyers. If you like the idea of an adaptive motion machine, but don't have $8,000, you may be interested in the NordicTrack Freestride Trainers for a similar design and MUCH lower price.