Commercial Quality Ready for Your Home
The Precor EFX 245 elliptical is the top of the line of their Energy series. What distinguishes the EFX 245 is the new Precor 40 console. The Energy series is built in Taiwan, while their Precision series is built in the U.S.A. The Precision series utilizes many of the design features and components found on the Precor commercial elliptical trainers. Of course you pay a premium for these commercial grade models that are built for residential use.
Although the Energy series elliptical are built overseas, like the majority fitness equipment, that should not distract from the overall quality of a machine like the Precor EFX 245. The Energy series elliptical trainers still adhere to stringent quality standards found on all Precor ellipticals. And of course, the Energy series ellipticals are considerably less than the Precision series models.
Precor EFX 245 Elliptical Features
CrossRamp Technology
CrossRamp Technology is one stand out feature on the Precor EFX 245. In fact, it's even protected by strict patents so you won't find this on other brands of machines. CrossRamp lets you change the height of your elliptical patter from 15-25 degrees without distorting the elliptical path. Other brands let you adjust the incline, but this is done at the expense of the pattern shape. Over time, these other brands cause cause heel lift (which leads to toe numbness) and joint pain.
In addition, CrossRamp technology makes the user feel like they are doing less work than they actually are. You'll get great results on this machine without even realizing how hard you're working! Unlike the EFX 221 and 222, the incline on the EFX 245 is motorized, so you can change the angle on the fly.
You also get the upper body workout on the Precor EFX 254. You can exercise both your upper and lower body simultaneously. This dual action workout further optimizes calorie burn and lets you target additional upper body muscles.
Precor 40 Console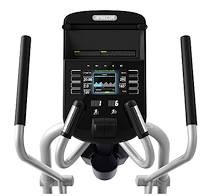 The Precor EFX 245 comes with the 40 console, which is new for 2014. This display costs a pretty penny but the features justify the cost:.
7″ color liquid crystal display
Motion control using a lever
4 user IDs
Custom workout suggestions based on your goals
24 preset workouts
27 feedback metrics, includes 5 graphs
Hand grip and wireless heart rate monitoring
Heart rate target zone monitoring
Saving capability for workout info (up to 16)
USB port for smartphones or tablets with plugin for headphones
Ability to download future software updates
Reading racks with clips for tablet
Priva Compatible, allowing you to store your stats online.
Priva Compatibility: The Precor EFX 245 is Priva compatible so you can save your workout stats on their mobile fitness app. This app works in a similar manner to many other apps on the market. It allows you to store workout information, get custom training tips, record stats, and monitor your progress online. Research has shown that those who track their progress achieve better results.
Precor Quality
You may notice that the warranty on the Energy series elliptical is not all that impressive considering the money you are paying. You get…
| | |
| --- | --- |
| Frame and Weldments | Lifetime |
| Parts and Wear Items | 5 years |
| Console | 3 years |
| Labor | 1 year |
However, when I was out to the corporate office, during my conversations with their upper management I was told that Precor elliptical trainers have an impressive service record. In fact, service issues with new machines was considerably below the industry standard. So other companies may have longer coverage, but with Precor elliptical you are less likely to need any service.
Our Review – Precor EFX 245 Elliptical Trainer
So what is the buyer's profile for the Precor EFX 245? It is someone who wants the Precor quality and technology, but doesn't necessarily need commercial quality for the home. It is also for someone that wants enhanced motivational technology, an array of feedback metrics, and the ability to store and retrieve your workout stats.
If you are someone that is satisfied with just basic feedback, and does not need the Precor premium console, you can save $800 and purchase the Precor EFX 225 elliptical trainer.
Overall, with the Precor EFX 245 you are getting a crosstrainer that has superior quality, is extremely low maintenance, and is designed to give you a rewarding crosstraining workout.