Can You Really Get this Elliptical for FREE??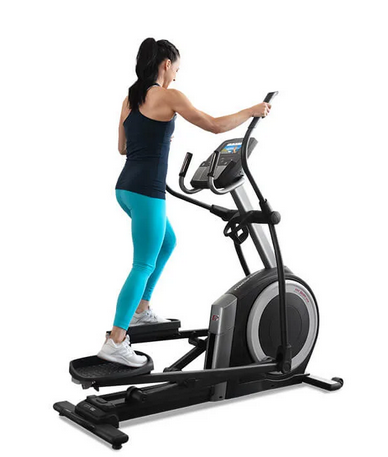 If you were to visit the elliptical page on the ProForm website, you would notice the image introducing the new Carbon E7 elliptical. But the most eye-catching part isn't the fact that it's new, it's the fact that they are calling it a "FREElliptical".
Your first thought may be, "There's no way that elliptical is free"…but it is!
The Carbon E7 is part of ProForm's new Carbon line-up. What's new about these machines isn't so much about the machine. The Carbon E7 is a high quality machine with the extensive performance and comfort features that we have come to expect from ProForm. What's new is how you purchase it. And while this deal may change, at the time of this writing, the purchase method is unique and exciting.
Interactive fitness training has revolutionized how people work out in their home over the last several years. Gone are the days of working out alone and hoping that you get the results you want. ProForm's iFit technology brings world-class trainers into your living room to personally guide you every step of the way. You can choose to join a live class or take in some scenery while you run a virtual route anywhere in the world.
iFit is a service that you typically have to pay for, in addition to the price of the machine you use it on. However, ProForm is changing the game entirely. With the Carbon E7 elliptical, you purchase a 3-year subscription to iFit and you get the machine for free.
If you're a person that likes and uses the interactive options available through iFit, this is a truly amazing deal.
ProForm Carbon E7 Elliptical Trainer Features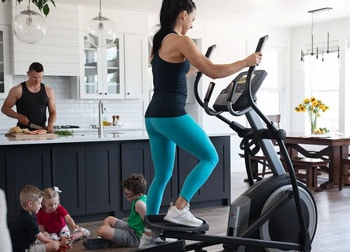 Front-Drive Design – The solid steel construction on the front-drive Carbon E7 ensures that you get a smooth, stable workout every time you use it. The front-drive design means the Carbon E7 has a more compact footprint than you would find on a rear-drive design. This is great if you live in a smaller home, or just want a little more floor space available for other things.
25 lb. Flywheel – This is a heavy flywheel for an elliptical and one we would expect to see on a model that would typically cost more than the Carbon E7. The heavier flywheel helps the machine work more efficiently. This creates a smoother, quieter elliptical and who doesn't want that.
This is a really nice feature to see on a machine that is meant to be used with iFit. Since you will have access to a wider range of workouts, including speed drills and HIIT, it's comforting to know that the Carbon E7 will keep you comfortable.
Stride – The Carbon E7 has a 19" Power Adjustable stride. This is exactly what we would expect to find on this machine and is a full-length stride that will accommodate most users.
24 Resistance Levels –Push yourself to your heart's content and try out all of the workout that iFit has to offer. The 24 resistance levels on the Carbon E7 will have you challenging yourself and seeing results.
0 – 20 Degree Incline – This is another performance feature that will come in really handy when you're taking advantage of your new iFit programming. As you traverse hills and valleys around the globe, the Carbon E7 will make you feel like you're really there.
Comfort Features –While performance features are important, you want to be sure that you'll feel comfortable on your new machine. ProForm has you covered with comfort features like adjustable, oversized, cushioned pedals, soft touch upper-body grips, a CoolAire fan and dual 2" speakers.
iFit Interactive Programming – Some of you may be familiar with iFit, but for those of you that aren't, let's look at what you're actually buying when you get the Carbon E7 elliptical.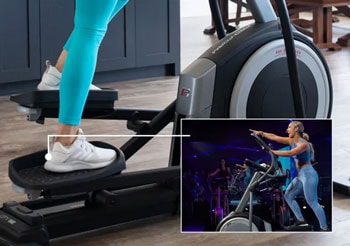 Interactive Training Sessions – Not only will you be interacting with the personal trainers on iFit. The trainer will also be interacting with your machine. When you join an interactive session, all you have to do is focus on reaching your goals. Your elliptical will automatically change its speed and incline based on what the trainer is doing so you don't have to shift your focus from what's important.
Streaming Global Routes and Studio Classes – Choose a different country to explore each day. You can cover trails and street routes in countries around the globe, or join a studio class for a more personal feel. In either case, you'll be led by a world-renowned trainer that will ensure you get the most out of every workout.
Fitness Tracking – iFit automatically records the results from each of your sessions and monitors your progress. iFit uses this information to recommend workouts that reflect your fitness growth. This keeps you from plateauing so that you keep seeing progress and setting new goals.
Video Library – You don't have to be in a live session to take advantage of iFit. Choose from iFit's extensive video library that offers workouts you can do both on and off your machine.
Our Review — ProForm Carbon E7 Elliptical Trainer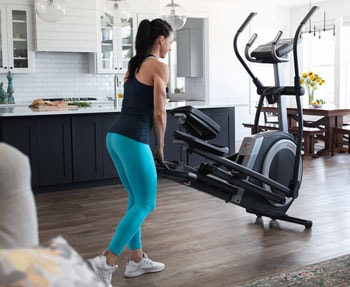 Right off the bat let's just reiterate, the Carbon E7 elliptical is essentially your free gift with purchase when you commit to a 3-year subscription to iFit.
ProForm is revolutionizing how you purchase and use in-home fitness equipment with the introduction of its Carbon series machines. With this deal you get 3-years of iFit's incredible interactive training programs, live sessions, video routes from around the globe and an extensive workout library…plus a fantastic elliptical on which to do all a great price.
The 7" Smart HD Touchscreen on the Carbon E7 isn't the largest on the market, but it is exactly what you need to take advantage of all that iFit has to offer. Plus, for a giant HD touchscreen, you'd be paying a lot more than $0.
It's great to see that even with this amazing deal, ProForm still provides a high quality machine that doesn't skimp on the performance or comfort features. Considering it is made to be used with iFit, you don't need to worry about it keeping up. The Carbon E7 will be able to handle anything you, or iFit, want to do.
The warranty on the Carbon E7 also says a lot about the integrity of ProForm as a company and the quality of the machines they manufacture. You'll still get a 10-year frame, 2-year parts a 1-year labor warranty on a machine that you're getting for free.
All in all, if iFit's interactive technology is a must for your in-home fitness journey, we can't think of a reason not to take advantage of this amazing opportunity.
Learn more at www.proform.com/ellipticals.*