Designed to Motivate and Entertain Without Breaking the Bank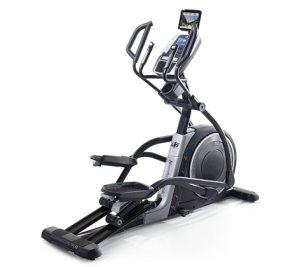 The NordicTrack Commercial 14.9 is their premium front drive elliptical that has all the best features NordicTrack has to offer. This front drive model also has the benefits of being more compact and easier to mount and dismount. Besides the advantages that come with a front drive elliptical trainer, you get the typical array of features that distinguishes NordicTrack from their competition. Many of these features are designed to motivate you in achieving your fitness goals.
Motivating yourself to work out on your fitness equipment is one of the biggest challenges to getting in shape and losing weight. For many, without some motivation or distraction, their cardio machine ends up being a very expensive clothes hanger. There are three features on the NordicTrack Commercial 14.9 elliptical trainer that are designed to overcome those issues…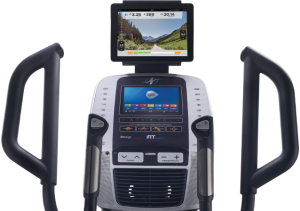 14" Smart HD Touchscreen — This console allows you to integrate with the iFit workouts and fitness tracking programs.
iFit Technology — iFit is available on all NordicTrack elliptical trainers.
Note: At the time of this posting, this machine comes with FREE 30 day iFit trial.
Through iFit, you can…
Create customized workout programs at your personal account at iFit.com. Based on your fitness goals like losing weight and getting in shape, your personalized workouts are downloaded onto the Commercial 14.9 and they control the resistance and incline of the machine. Each program last over over a defined period and is progressive in nature. The training includes audio coaching to further motivate you. After each work out your stats are downloaded to your iFit account so you can review your progress.
Sync with Google Maps – Through Google Maps you can map out routes and your elliptical will simulate the terrain. You can watch your progress with street scenes on Google Maps. Once again you stats are downloaded to your iFit account for review. In addition, iFit offers a series of videos of famous landscapes and like the Google Map feature as you progress the NordicTrack Commercial 14.9 elliptical trainer will simulate the terrain. There is an additional cost for iFit.
Additional NordicTrack Commercial 14.9 Features…
Auto Adjustable Stride Length — The stride length is adjustable from 17.5″-18.7. If you are very tall you may want to consider a different length.
32 LB. Flywheel — This is a fairly heavy flywheel that contributes to a very smooth and natural elliptical motion. It makes you feel like you are running in the air. This sense of floating on air really distinguishes a quality cross trainer from cheap machines. And it further reduces stress to your joints by eliminating jolting motion.
Adjustable Oversized Foot Pedals — By adjusting the angle of the pedals you can reduce the potential of numbness that comes with excessive foot lift. In addition, they added extra cushioning to the foot pedals to further reduce the stress to your lower joints.
0-20% Incline — The incline capabilities on this machine will really get your heart pumping and take your workout to the next level! Plus, if you're using iFit, your personal trainer can automatically adjust your incline levels for you.
Dual Handle Bar Grips — With the dual grips you can change up where you grip the handle bars, which allows you to target different parts of your arm muscles.
Warranty — 10-year frame, 2 year parts and 1 year labor coverage.
Autobreeze Workout Fan – This over-sized fan automatically adjusts its speed to match your workout intensity. Pretty handy!
NordicTrack Commercial 14.9 Elliptical Trainer Review
The NordicTrack Commercial 14.9 elliptical trainer structurally is a solid built crosstrainer that offers a rewarding and ergonomic cardio work out. In addition, it is equipped with features designed to motivate and to alleviate the boredom of exercising in place.
At $1,999, it is an attractive offer and with the various features and the optional iFit tecnology the NordicTrack Commercial 14.9 may be one of the best values for under $2,000. We feel very comfortable recommending this machine.
Check back often as we update the prices on these machines daily! You can also see our comparison of all Nordictrack ellipticals here.
Go to www.NordicTrackEllipticals.com for further details.