Includes Precor's Famous Biomechanics and Ergonomics
T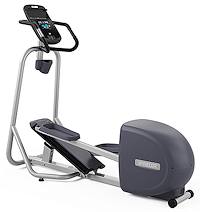 he Precor EFX 221 elliptical trainer is their entry model and is part of their Energy Series, which is built in Taiwan. The 400 Precision Series ellipticals are built in the U.S.A. Actually, most treadmills are built overseas and Precor is one of the few companies that still manufacturer their products in the states.
The Precor EFX 221 offers the biomechanics and ergonomics that Precor is famous for at a reasonable price. That includes one of the most natural elliptical strides you will find on any crosstrainer. In addition, you get the CrossRamp technology that allows you to incline the elliptical motion and target additional muscles groups.
All the residential elliptical trainers are by-products of their commercial models, and consequently their home ellipticals are extremely durable. That holds true with even their entry model.
However, there are a couple of features missing on the Precor 221 that may lead you to consider one of their upgraded models.
Manual Incline — The Precor EFX 221 still incorporates the patented CrossRamp technology, but adjustments are done manually. Which means you have to stop your exercising and get off the machine in order to adjust the level of the incline. In addition, you are limited to adjusting the incline to only 3 positions. However, in talking to a company rep, she mentioned that they've studied users at health clubs and found that many never made changes to the incline.
Regardless, you are still getting the CrossRamp technology, which is what Precor is famous for and which competitors are unable to copy because of a strict patent. The difference between the Precor incline feature and those found on competing ellipticals is that the Precor models retain a true elliptical motion as you raise the incline. Other brands, in order to circumvent the patent, have incline designs that distort the elliptical stride. This results in a motion that accelerates and decelerates, causing a degree of stress and strain to your joints.
No Upper Body Workout — I personally couldn't see myself buying an elliptical trainer without the upper body handlebars. One of the major benefits of an elliptical trainer is the ability to workout both your upper and lower body simultaneously. Regardless of my personal tastes, there are a considerable number of Precor customers who opt for just the lower body model. They have no desire for the upper body workout feature, and do not want to pay for it. What they do want is the most ergonomic elliptical motion available. It is a motion that feels very natural to your body. It is also a motion that gives you more results with less effort.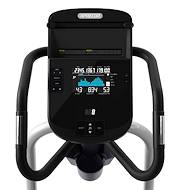 Console — The Precor EFX 221 elliptical comes with the 20 console. It has a 5″ high contrast LCD display. There are 10 preset programs and 2 user IDs. There is also wireless heart rate monitoring and SmartRate® target heart zone. It shows you what zone your heart rate is at.
Our Review – Precor EFX 2.21 Elliptical Trainer
Having talked to various people at Precor, I was surprised to find that a significant portion of their clientele want only the lower body workout ellipticals. And the fact is many people who exercise on an elliptical trainer tend to go through the motions with the upper body workout and get minimal benefits.
Regarding the manual adjustment to the CrossRamp, when I exercise on my elliptical I change the incline continually. I would find having to get off the machine to make adjustments annoying, but there are numerous people who want the Precor quality and are willing to compromise in order to afford it. Which says something about how superior Precor ellipticals are in comparison to the competition.
The attraction of the Precor EFX 221 is the fact you can get the superior workout of a Precor elliptical for a reasonable price, and if the upper body and power incline feature are not a necessity, this becomes a logical choice.
Consumer Magazine Review
A popular consumer magazine, whose name I cannot mention, gave the previous version of the Precor EFX 221 across the board "Very Good" ratings in their most recent review.