Sold Through Wal-Mart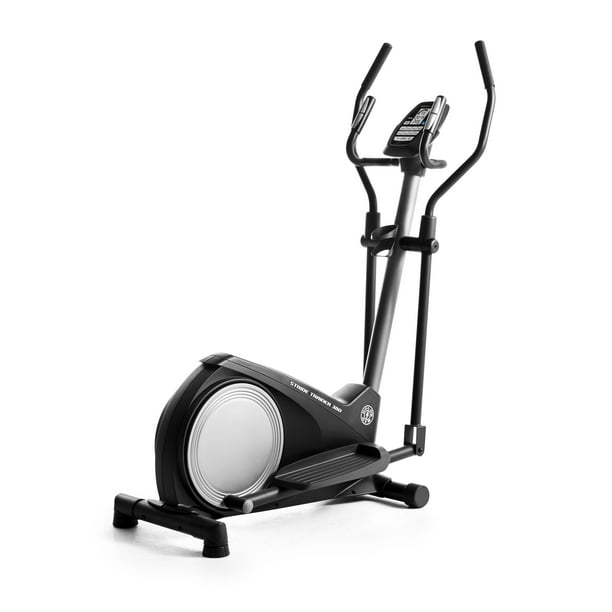 Gold's Gym is another famous fitness brand, though you may know them more popularly because of their multiple gym clubs. They are not a well-known equipment manufacturer, primarily because Icon Fitness manufactures all of the equipment sold under the name of Gold's Gym. Icon Fitness has an excellent reputation in the fitness industry since it also builds gym equipment for NordicTrack, ProForm, Weslo, etc. They are renowned for their superior quality ellipticals.
In the case of Gold's Gym, Icon bought the right to use their name for their fitness equipment and then decided to sell it through Walmart. Therefore, it is safe to conclude that Gold's Gym does not have any relationship with the production of this equipment. This system isn't new; even popular companies like Reebok have also been engaged in similar contracts.
Things You Should Know About Gold's Gym Ellipticals
Before purchasing a Gold's Gym elliptical, here are a few factors you should keep in mind:
Research and Development
Research and development play a major role in manufacturing a piece of gym equipment as people use it daily, and it is essential to get all the features right. Icon Fitness is known for conducting good research before manufacturing its products. However, if Gold's Gym funded these activities, the results would have been much better as they have the capital to do so.
Also, most of the Gold's Gym ellipticals are from NordicTrack and ProForm, which are rebranded as Gold's Gym. This reflects that not much effort has been put into manufacturing and producing Gold's Gym ellipticals. Therefore, there is a lack of trust in co-relating the brand with proper research and development.
Parts
When you buy a piece of fitness equipment for your gym or your home, you look at the manufacturing of parts. Some of the best elliptical manufacturing companies design all of their parts in-house, which acts as a promise of quality. This process is called vertical integration and is an important feature that defines the quality of the final equipment.
Like some fitness companies out there, Gold's Gym ellipticals purchase all of their parts from third-party companies, which are then brought together and built into a piece of equipment by Icon Fitness. Therefore, buying a warranty plan for Gold's Gym ellipticals is tricky. All the parts are sourced from different companies, and they have varying manufacturing dates, which creates complications when getting a warranty plan for your machine.
You can choose those companies that employ vertical integration if you want to have uniformity in the parts of the ellipticals. Two great options are NordicTrack or ProForm ellipticals as all of their components are manufactured by their parent company and then joined together to build the final equipment.
Also, the consumers have received several complaints regarding the parts of the Gold's Gym ellipticals as they are cheap and do not have the best quality. These parts can cause a lot of trouble, and there is a high possibility that you may incur costly repairs a few years down the line.
Customer Service
Customer service is that feature that sets a company apart from its competitors as it increases trust in the consumer. A company will fail to survive without proper customer service. Companies invest in onboarding people who can represent the company in answering any question that a customer may have.
The customer service of Gold's Gym fitness equipment is quite tricky to understand. You will always be confused about the correct person or company to contact. Since Gold's Gym fitness club isn't connected to Gold's Gym equipment, you will have to reach the company that manufactures the ellipticals, which is a challenge.
It would be best to reach out to either Walmart or Icon Fitness. You may have to go back and forth between the two parties, which could cause you to become frustrated and ultimately give up the equipment.
Durability
Durability is another essential factor to consider if you are buying a piece of fitness equipment. You want your equipment to be rock solid and sturdy to have the best workout experience. It is important that the equipment is heavy enough to stay in place while you are exercising so that you don't fall and hurt yourself.
There have been many complaints about the Gold's Gym Elliptical regarding its durability. It is not sturdy enough, and hence there is a high chance that the machine will shake or tremble when you use it. Also, this machine is pretty lightweight, and therefore, using it is a big challenge.
Gold's Gym ellipticals are also made out of cheap components, so the machines do not last as long as they are expected to.
Golds Gym Ellipticals vs. Other Elliptical Brands by Icon Fitness
As you already know, Gold's Gym Ellipticals are nothing but ellipticals manufactured by other companies and then rebranded as 'Gold's Gym'. Therefore, it is important to consider whether you should go for a Gold's Gym elliptical or buy ellipticals from other popular companies like NordicTrack or Weslo.
The quality of Weslo ellipticals isn't up to the mark. They will not be an excellent alternative for Gold's Gym ellipticals as they are made of cheap and non-durable parts, and the machines are pretty lightweight. This is one of the primary reasons they come with a 90-day warranty period, which is negligible in the fitness equipment industry.
However, if you consider the models from a bit superior brands, like the ProForm or NordicTrack, it is the right way to go. They are almost equally priced, but you will buy directly from the company, which will help build trust, and you will know who to reach out to in case of concerns.
If you wish to buy a Gold's Gym elliptical, it will help if you do so from the nearest Walmart store. You can go to the store and buy the elliptical, and they will offer you free delivery. However, if you order online, you will have to pay a delivery charge of around $50 to $70. Therefore, you should only go with Gold's Gym ellipticals if you have the time to go to the store and pick one for your home or are willing to pay a high delivery fee.
Gold's Gym Ellipticals Product Review
Golds Gym Stride Trainer 380 Elliptical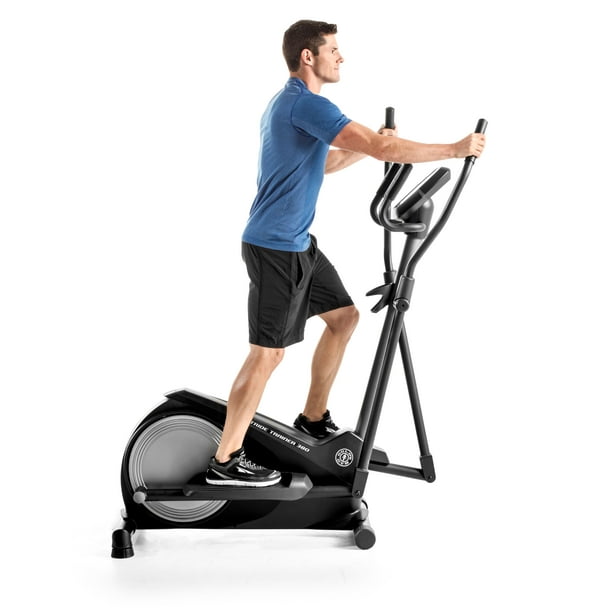 According to the trials and reviews we have received, the Gold's Gym elliptical is not worth the price. The stride length is quite restraining, and it is pretty difficult for someone to work out on these ellipticals if they are taller than 5′. Also, the elliptical is relatively lightweight as its ways around 100 lbs which is not ideal for fitness equipment.
Another problem with the 380 elliptical is that the components used in making the elliptical are pretty cheap, and it ends up giving you a substandard workout. Also, the warranty coverage of the entire equipment is not comparable to others in the industry.
Review: Reasons Why You Should Not Buy Gold's Gym Stride Trainer 380 Elliptical
While the price might be a profitable factor for you to buy the Golds Gym ellipticals, there are several reasons why they are not a good buy. Some of these reasons are:
Small Stride Length: The stride length of these ellipticals is 14 inches which are quite small and restraining. This might work for someone who has a height under 5 feet, but the workout can be a little messy for someone taller. The motion will be oval and not elliptical, which is not a good workout. As per industry standards, a 20-inch stride is ideal as it accommodates people of varying heights.
Lightweight: A good elliptical needs to be heavy and rock-solid to bear the weight of the user. However,

Gold's Gym ellipticals

are pretty light as they are believed to weigh around 100 lbs. The weight of an average user who uses an elliptical is 250 lbs, and a machine that weighs 100 lbs will not be able to stabilize the weight of the user. It is almost impossible for the machine to remain stable while someone works out using it. Therefore, it is ideal to buy an elliptical that weighs around the user's weight.
Cheap Components: What makes an elliptical great is the parts that are used to make it. Golds Gym is not directly responsible for producing these ellipticals, and hence not a lot of money is spent on the engineering of the parts. Therefore, the compiled machine is of a substandard quality which does not provide a good workout experience to the users. Also, the elliptical motion of the machine gets disrupted, which is not a sign of a good machine.
Short Warranty Coverage: The low warranty period confirms that even the manufacturer is unsure about the machine's warranty. A 90-day warranty does not provide assurance that the parts will be repaired or replaced. It would be better to throw the machine away if it needs any major repair as none of the repairs are covered under warranty.
The other models like the Maxx GameFit Elliptical have features like video games that you can play during the workouts, and you can consider some of their high-end models as they are not that bad. The Stride Elliptical Trainer 500 has an adjustable incline ramp, but it has not received good reviews on Walmart from the people who have bought it. Some of their models are comparable to models of ProForm and NordicTrack and that is because a similar technology is used to make all of these machines.
An Overall Review
The price is the main reason why you should consider the Gold's Gym Stride Trainer 380 Elliptical Trainer. On the other hand, the lack of quality can deter utilizing it regularly, primarily if you're used to the high-quality machines at your local gym.
There are a lot of favorable customer ratings; however, as you reach into this pricing bracket, you're more likely to have service troubles. Our suggestion is to start with the Stride Trainer 380, however, compare it to other, more expensive equipment to see if it meets your requirements. You want an elliptical that you'll use that won't break down due to mechanical problems. You can go with either an elliptical by ProForm or NordicTrack if you are looking for a good elliptical at reasonable prices.