Quality German Engineering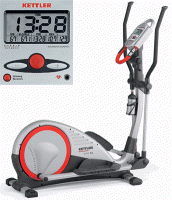 Kettler Elliptical trainers are made by a German company that also makes exercise bikes, toys and patio furniture. All of their products are quality built, which is typical of German engineering. Although Kettler is well-known in Europe, their fitness equipment has limited distribution in the US.
It is easy for me to review the Kettler elliptical trainers, since I worked for a company that private labeled one of their models. And I must say it was a well built machine. Besides being solid and durable, it was relatively problem free, which is important. You don't want to mess with getting fitness equipment repaired.
For those that have been researching online for an elliptical trainer, you may have come across the Smooth CE, which has been Smooth's largest selling elliptical trainer for a number of years. Recently they have been getting their ellipticals built in Taiwan (CE 2.1, EVO Rev 400 and the CE 7.4).
I have personally tested the CE and it has two important features going for it. First, the 48 lb. flywheel. There is no erratic or jerky motion with this machine. You will particularly notice when you stop exercising and the elliptical actually slows done, rather than immediately stopping. Second, the Kettler elliptical trainers take up a very small footprint. For example, the Kettler Ergometer XTR2 Crosstrainer is 57″ x 22.5″. Compare that to some other brands. With the case of Kettler, less is more.
Fitness Source Review – Kettler Elliptical Trainers
Having seen first hand how reliable the Kettler Elliptical Trainers overall this machine offers a good value. They are not only built to last, but have some of the smoothest elliptical motion in the $1,000 – $2,000 price range. We do recommend that if you want heart rate control, you buy the extra wireless chest option. You really don't want to use the ear clip. That is a ridiculous way to measure your heart rate.
We find that the console and display have something to be desired. Many companies have made vast improvements in displaying feedback information. The Kettler consoles are small and the displays are basic.
Also, in our review of Kettler we find the stride a bit small if you are over 6′ tall. We would recommend you try one out first before you buy. You can find dealers at http://www.kettlerusa.com/page119.html.
The warranty is reasonable at this price range with 3 year on parts and electronics and 1 year on labor.
For Kettler Fitness Equipment in the UK click here.