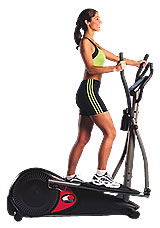 A Very Basic Budget Elliptical
The Eclipse 2100 HR elliptical trainer is a very basic budget elliptical. However, it is also a very popular seller because of the price point. This type of elliptical is attractive to individuals with a limited budget, who have a desire to burn excess calories and get back into shape.
If it has been awhile since you have exercised, and you are uncertain about your commitment, you may consider limiting your investment. That may be a wise fiscal decision, but if you get a machine that is not suited to your fitness goals, it is a waste of money. So to help you make a smart buying decision, I want to explain exactly what you are getting with this budget elliptical.
Features of the Eclipse 2100 HR…
Elliptical Drive – The drive system is cheap, there is no getting around it when you build an elliptical for around $400. It will not have that smooth motion you will find in higher price machines. It is moderately quiet at best.

15″ Elliptical Stride – I recently read a review from a woman who was 5'6″ and bought an elliptical that 18″ and wish she would have gotten a machine with a 20″. At 15″ you are getting a very restrained elliptical stride. Rather than elliptical, it tends to be more circular and bouncy.
96 lbs. Machine Weight – This is not a very heavy machine, and when you get a lightweight elliptical it is less solid and stable.
275 lbs. User Weight Limit – A 275 lbs. person working out strenuously on this elliptical would make a good YouTube.com video. Get real!
One Year Limited Warranty – You get coverage for parts and labor for a full year — for the price that is not bad. But before I bought this elliptical, I would qualify what the "Limited" means.
Our Review – Eclipse 2100 HR Elliptical Trainer
Buying this elliptical is risky for two reasons. First, it is not all that durable. You get what you pay for. Second, with the 15″ stride, the quality of the exercise is compromised.
My recommendation: Save up a couple of hundred dollars more and get a Schwinn 420 Elliptical Trainer. It comes with an 18″ stride. It also received some impressive customer reviews on Amazon.com.