An Elliptical With a Winning Formula!
The Schwinn 470 elliptical trainer came out in 2014, and is the fourth generation of this model, which suggests it has a winning formula. I have been a fan of their ellipticals for a number of years. They build some impressive budget crosstrainers that tend to be very durable relative to their pricing.
And in fact, a leading consumer magazine recently gave the Schwinn 470 elliptical trainer the third highest ranking in their reviews. Considering that it cost considerably less than most of the other ellipticals that were reviewed, this is very impressive. They gave the the Schwinn 470 "Very Good" for ergonomics, construction, ease of use and exercise range.
Schwinn 470 Elliptical Trainer Features…
20″ Elliptical Stride — The other Schwinn models come with an 18″ stride length. That use to be the standard for elliptical trainers, but these days the longer 20″ stride is found on the majority of crosstrainers. The extra 2″ tends to give a more elongated and natural elliptical motion. It is also better for individuals that are over 6′ tall.
Incline Adjustment — The Schwinn 470 allows you to adjust the incline. By adjusting the incline of the elliptical motion you are able to target more lower body muscles and get a more intense cardio workout.
Articulating Foot pedals — Articulating pedals help eliminate foot lift as you move. You'll find that this machine does a pretty good job, but your foot will still lift up a bit.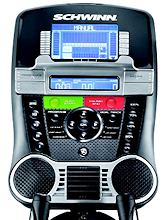 LCD Display — Monitor you stats on these 2 LCD displays. There is also a tablet ledge.
25 Installed Programs — This array of programs will help keep you interested in your workout.
SchwinnConnect — It's rare to find a piece of fitness equipment these days that doesn't track your workout stats in some sort of app. Schwinn Connect can link with MyFitnessPal to track your goals and progress.
Fan and Speakers — Okay sound on these speakers and an okay breeze from the 3 speed fan. Nothing too exciting here.
210 lb. Unit Weight — This is a fairly solid machine especially considering it's in the budget elliptical category.
Warranty — This is where Schwinn comes up short. The offer a 2 year parts, 1 year electrical and 90 days labor and wear parts warranty. You probably want to get an extended warranty to protect your investment. Service can be expensive.
Note: They put the user weight limit at 300 lbs. More realistic is around 230 lbs.
Our Review – Schwinn 470 Elliptical Trainer
The Schwinn 470 elliptical trainer is one of the better choices at under $1,000 because of the overall quality of the construction and the numerous features. Schwinn has always had a very competitive model at this price range and I feel very comfortable recommending the Schwinn 470. And my endorsement is supported by a leading consumer magazine.
Schwinn 470 Elliptical Trainer Customer Reviews
I'm very pleased with this elliptical. It operates very smoothly and quietly, and it offers plenty of features that make your workout as easy or challenging as you wish. I

So far, this appears to be a quality machine for this price range. I have been using it for a week and a half and am much happier with it than my old elliptical. If anything changes in the future, I will immediately update my review. Otherwise, assume I am still loving it. If you have any questions, please ask and I will do my best to answer them.