Unquestionably a "Best Buy"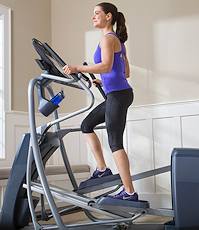 The new and improved Precor EFX 425 replaces the award winning EFX 5.33. There are two features that make the Precor EFX 425 elliptical trainer extremely appealing. First, you have the Precor reputation for excellence. Precor has always been considered one of the most durable elliptical trainers on the market. That is why they are so popular with health clubs. Their commercial models withstand countless hours of daily abuse. You will find that the EFX 425 utilizes many of the design features found on their commercial models, in addition it incorporates many of the same components.
Precor CrossRamp Technology
The other feature that solidified Precor's reputation for one of the very best crosstrainers is the CrossRamp technology. This allows you to adjust the incline of your elliptical stride from 10%-40%. Similar to the ability to adjust the incline on a treadmill. Precor was the first to come up with this concept, and since then many others have tried to duplicate this feature. However, Precor holds the patent on the CrossRamp Technology. Consequently, other companies have an incline that compromises the natural elliptical motion.
Why would you want to incline your elliptical stride? There are two reasons. First, at a steep incline you get an intense workout. It will kick up your cardio exertion in seconds, and you will be able to burn more calories in less time.
Second, by inclining your stride you concentrate the resistance on different parts of your lower body. At the lower levels you generally work all muscle groups, while at a higher incline you specifically target your glutes, quads, and calves. In addition to the ability to adjust the incline you are also able to vary the elliptical stride from 21″ to 21.4″, which gives you even more diversity to your workout. And diversity is important in achieving your fitness goals.
Additional Precor EFX 425 Elliptical Trainer Features
Natural Elliptical Motion — The patented biomechanical design of the EFX 425 allows the elliptical path to perfectly mimic a natural running stride. This allows the exerciser to keep their heels down through all the ranges of motion for a more comfortable and effective ergonomically correct workout.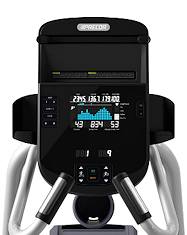 Console and Display Functions — You get 10 installed workout programs, 10 display metrics and 4 summary metrics. There is also a USB port and a place to plug in headphones.
Two User IDs — If you have multiple users, each can store their own stats for future use on getting the proper feedback from your workout.
Warranty — Lifetime on frame, 10 years on parts, 3 years on console and one year on service. Note that the parts warranty is one of the most generous in the industry, which says something about the durability of the parts.
Heavy Unit Weight — The Precor EFX 425 weighs in at 240 lbs. This makes the machine rock solid, just like their commercial models.
Our Review — Precor EFX 425 Elliptical Trainer
The primary reason you are going to spend so much money on a Precor elliptical is because you are getting the best of the best. Not only will you be able to pass-on this crosstrainer to your next generation, you are also going to get a superior cross training workout. Precor is known for its' smooth and natural elliptical strides. It has a high comfort zone. Furthermore, the EFX 425 is designed to accommodate individuals of different heights and weights.
So often people get spoiled working out on a Precor at their club. Many will decide to buy a typical residential machine for the home and will find they are disappointed because it isn't like the Precor they have come accustomed to. That's because these non Precor ellipticals cannot come close to the durability, stability and the ergonomics of the workout provided by Precor. If you got the money and you want the best, this is a no-brainer.
Precor EFX 425 Customer Review
A home product that feels and looks like the one at the gym but is smaller, lighter and reasonably priced. I tried it at my local fitness store the other day and am going to buy one this week. I think it is even smoother than the one at my gym. Thank you Precor! Keep working on those gym quality machines that will fit in a smaller space at home!
Go to www.Amazon.com
to learn more!