Get Your Machine FREE with 3-Year iFit Membership!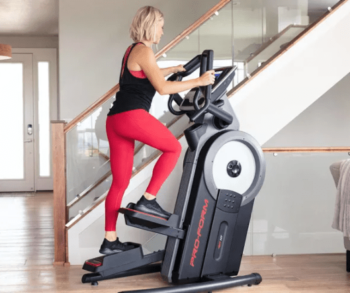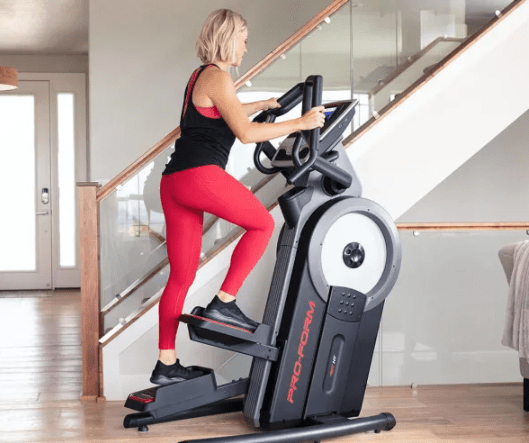 It is normal to see new machines offered by at-home fitness manufacturers at the start of a new year. What we don't normally see is companies changing how you purchase those machines.
That is exactly what we are seeing with the ProForm+ program and it's an exciting shift. This new way of doing things allows you to get a new Carbon HIIT H7 for free, yes free, when you purchase iFit.
You may be thinking you read that wrong, but you didn't. Instead of purchasing a new machine and then having the option to buy iFit's interactive training technology at an additional cost, you commit to a 3-year subscription to iFit and get the machine at no cost.
Let's look at the numbers to put things in perspective. The 3-year commitment to iFit is $39/month, that's $1403 total. And you get the Carbon H7 for free.
To highlight what a great deal that is, let's look at the alternative. You could purchase a Smart HIIT Trainer from ProForm and decide later if you want to pay for iFit. That machine would cost you $1999 on its own, not to mention the added cost if you decided to add iFit. By taking advantage of the ProForm+ option, you're saving nearly $600 and gaining access to everything that iFit has to offer.
ProForm Carbon HIIT H7 Elliptical Trainer Features
First and foremost, let's talk about what makes the Carbon HIIT H7 different from treadmills and ellipticals that you may have used in the past. The Carbon H7 is essentially a vertical elliptical and it's designed to get you a killer workout in the shortest amount of time.
The steep incline combined with the multi-function handlebars activates more muscle groups in both your lower and upper body. They don't call it an HIIT machine for no reason. High-intensity interval training is exactly what you'll get every time you use it. Benefits of an HIIT session include a full-body workout, boosting your metabolism and facilitating fat burning even after your workout is complete.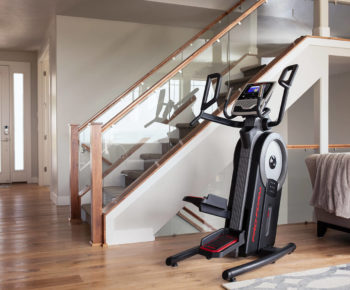 30 Lb. Flywheel — This is a heavy flywheel for an at-home fitness machine and it's a major perk. A heavier flywheel helps the machine to work more efficiently, meaning a longer lifespan for the Carbon H7 and more workouts for you.

It also ensures a smoother, quieter experience. This is great for both the user and those around them. The people that share your home, or your neighbors, don't necessarily want to participate in your workout too.
Smaller Footprint – The Carbon HIIT H7 is great if you live in a small space, share that space with others, or just don't want your fitness equipment to be the focal point of a room. At just 66.7" x 29.25", the Carbon H7 takes up far less space than a treadmill or elliptical without sacrificing any of the performance.
The Carbon H7 is also fitted with front-mounted transport wheels so you can easily move it out of the way when you aren't using it.
24 Resistance Levels — There's no doubt that you'll be able to challenge yourself on the Carbon H7. With 24 resistance levels, even the most seasoned of users will find a challenge.
Full-Body Workout — We mentioned this above, but it's worth pointing out that with the Carbon H7 you're working all of your major muscle groups at once. The vertical elliptical engages your lower body, the multi-function handlebars challenge your upper body, and the combination of the two will keep your core working the whole time.
7" Smart HD Touchscreen— Since the Carbon H7 is made to be used with iFit, it should come as no surprise that it has an HD Touchscreen. This isn't the largest screen on the market, but it will allow you to immerse yourself in everything iFit has to offer.
Also keep in mind that giant HD touchscreens are a key factor that drives up the price of any machine. Since you're getting the Carbon H7 for free…you're still coming out ahead
iFit Interactive Technology — With the ProForm+ program, you're paying for the iFit subscription, so what exactly does that get you and why should you care?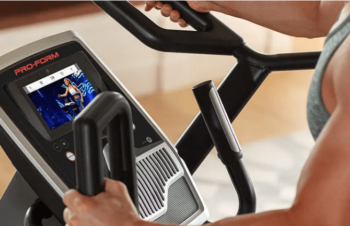 Live Interactive Training — We all love the idea of training at home, but that's not the same as actually knowing what you're doing to get the best results. With iFit you have the benefit of a professional trainer in your home with you anytime. You can join a studio session and get that motivational group energy, or "meet" your trainer for a guided outdoor session that's all about you.
During these sessions, the trainer controls the machine to ensure you're doing exactly what the routine requires. This means you're getting the results you want without having to wonder if you're doing it right, or worrying about changing setting at the right time.
Video Routes — Why limit your scenery to the furnishings of your living room? With iFit's video routes recorded all around the globe, you can climb your way up mountain vistas or trek along a beautiful beach. Take in the amazing scenery and take your mind off the work.
Extensive Video Library —Maybe you don't want a trainer or a virtual trip to exotic locations, iFit still has you covered. While the Carbon H7 may not have the pro-programmed workouts that you're used to, it has a workout library that packs way more than your typical routines.
This includes something for every ability level and workouts you can do off your machine. Take advantage of iFit on your rest days with some yoga, or get in your strength training. You won't miss those pre-programmed workouts, we promise.
Our Review — ProForm Carbon HIIT H7 Elliptical Trainer
The Carbon HIIT H7 as part of the new ProForm+ program genuinely doesn't seem to have any downsides. I know that sounds too good to be true, but let's look at the facts.
The Carbon HIIT H7 is an amazing machine, built by a company that we trust to put out high-quality performance machines. This particular machine provides a high-intensity workout in a low-impact package, making it great for everyone. You'll work more muscle groups, boost your metabolism and continue to burn fat even when your workout is done.
For the cost of $1403, you get a quality machine, plus all of iFit's interactive training to guarantee you're getting the most out of each workout.
ProForm backs this up with a warranty that is exactly what we would expect from them. You get 10-year frame, 2-year parts and 1-year labor coverage. This is the same warranty that you get with any of their machines, including those that you'd pay full price for. That says a lot about ProForm as a company and the quality of their machines.
All in all, you can't go wrong with this. ProForm is changing how you work out at home and they're hitting it out of the park with this one.
To learn more, visit ProForm.com