A Fine Product at an Affordable Price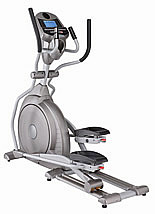 The Spirit Fitness XE195 elliptical trainer is the least expensive of the Spirit models. It weighs a little less than the higher end Spirit elliptical trainers, and the parts used in this machine are not quite as high quality as those used in the more expensive models. Nevertheless, the XE195 is a fine product at a fairly affordable price.
Many of the same features found on the top-of-the-line Spirit ellipticals are also found on the Spirit XE195. For example, all of the Spirit elliptical trainers have a 20" stride. They also have heart rate monitoring systems with built-in sensors and Polar telemetry belts.
What you won't find on the Spirit Fitness XE195 model that is found on the more expensive ones is an LED display or an infinite pedal angle adjustment. The XE195 has a cheaper LCD display in the console and only a three-position pedal angle adjustment. The parts warranty on the XE195 elliptical trainer is only 5 years versus the 10-year parts warranty that comes with all other Spirit elliptical trainers. So, you get a little less with this model, but you also pay less for it.
---
NOTE: You may also be interested in the Pompano elliptical from Yowza Fitness.
---
What additional features are found on the Spirit XE195 elliptical trainer?
Even on this lower-end Spirit Fitness elliptical machine, reliable and durable components are used. Below is a list of additional features found on the Spirit XE195 elliptical trainer:
Compact footprint—perfect for smaller homes and apartments.
Flywheel—24 pounds of steel; smaller and lighter than flywheels on other Spirit elliptical trainers, but it is still fairly heavy and sturdy. Overall the motion is much smoother than many similar priced models.
Frame—constructed of commercial grade steel for durability and stability.
Cooling fan—located in the console to keep you cool and comfortable during workouts.
8 user programs—6 preprogrammed and 2 custom user programs for variety to keep you motivated and challenged to reach your fitness goals.
Child safety software protocol—great safety feature for households with small children.
Our Review—The Spirit Fitness XE195 Elliptical Trainer
For a low-end model elliptical trainer, the Spirit Fitness XE195 elliptical trainer is a bit pricey, although it IS more affordable than other Spirit elliptical trainer models. Of course, part of the expense is related to the fact that Spirit Fitness equipment is sold primarily in small, specialty fitness equipment stores as opposed to larger chain stores or online. But as far as low-end elliptical trainers go, this one is really a decent, dependable one.
Because of its heavy steel frame and steel flywheel, you'll get a smoother, more stable workout on the Spirit XE195 than you would on most other low-end elliptical trainers. This one should also require very little maintenance, and it should last through quite a few years of constant use.
You won't be sacrificing much with the Spirit Fitness XE195 elliptical trainer as far as quality goes. You'll simply be giving up a few minor niceties, such as the LED display and the infinite pedal angle adjustment. But, hey, you still get pedals with angle adjustments, and you still get a nice LCD display! The footprint is a bit smaller than that of other models. However, the compact platform and lower price may be ideal for your needs!