Defined by Quality & Durability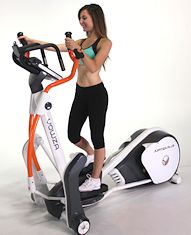 Yowza is best known for their Cardio Core elliptical trainers, which redefined cross-trainers.  The Cardio Core utilizes an upper body workout that forces your body to twist and in the process target your abs.  However, Yowza didn't want to neglect potential customers who want a more traditional elliptical trainer, and that is why they released the Yowza Jupiter elliptical trainers.
This company used to be downright awesome, but things have been a bit rocky in the last year.  Until things get figured out, we'd suggest you look at some other brands on our recommendations list.
GreenMaster is the parent company that builds Yowza products.  They have been in business for over 30 years and ship fitness equipment to over 47 countries.  They are a major player in international fitness equipment sales.  I worked for a company that re-branded GreenMaster treadmills and ellipticals, and their service record was impressive.
Watch the full video review taken on a recent visit to Yowza.
Yowza Jupiter Plus Elliptical Features
Note: There are three models, the Jupiter Pilot, Jupiter and the Jupiter Plus.
Rear Drive Design — There is some controversy on which is better and more ergonomic, a rear or front drive elliptical trainer.  The original elliptical trainers were a rear drive, and until recently was covered by patents, which resulted in companies creating front drive ellipticals to get around the patent.  Some consider the rear drive design to be more ergonomic because it tends to better center the user and it has a more natural gait.
Variable Stride Length — Actually you don't adjust the stride, it increases as you adjust the incline.  The Yowza Jupiter  and Jupiter Pilot goes from an 18"-22" stride length and inclines to 25%.  The Yowza Jupiter Plus has an 18"-24" stride and inclines to a heart pounding 35%.   The benefit of the incline feature and the adjustable stride length is that you can target different lower body muscles.   You can also reverse the motion and target further muscles. Note: Very tall individuals may find the 18″ stride length while level confining.
Soft Gel Self Pivoting Pedals  — A common complaint with elliptical trainer users is the numbness and strain that comes with your foot constantly lifting up to meet the elliptical motion.  Yowza came up with a simple, but brilliant solution.  The pedal on the Yowza Jupiter pivots on a rocker arm, but pivots based on the appropriate pressure that is applied.  This design significantly reduces the foot lift issue and the Soft Gel insert is a must have but something you rarely see on other manufacturers.
Sealed Bearings  — You would normally pay much more money for this feature in other brands but Yowza features sealed bearings in the joints which are quieter and last longer than bushings.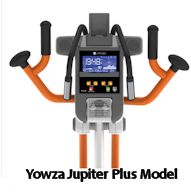 Multi-Grip Handlebars (Plus Model Only) — The multi-grip handle bars allow you to target different arm muscles.
Speakers & MP3 Input — Most $1,000 plus elliptical trainers come with speakers and the ability to plug in a player device.  When I was at the Yowza headquarters the CEO mentioned that they wanted a sound system that was well above the industry standard, which it is.  There is also a rack for your tablet or smartphone.
3-Speed Fan — Another feature found on most ellipticals.  Because you can increase the fan speed it is better than most, but you will not get blown away.
202 lbs. Unit Weight — The heavy weight guarantees the Yowza Jupiter elliptical will be very stable and can handle heavier users. You may want to opt for the inside delivery option because of the weight.
Warranty — The warranty is typical at this price range, although some brands have less coverage for their $1,300 models.  The warranty is lifetime frame, flywheel and magnetic braking system, 5 years parts and 2 years labor. (NOTE: The Jupiter Pilot is a smaller, entry level machine – unit weight 167 lbs, and a lesser warranty – Life time Frame, 2 years parts & electronics, 1 year in-home labor.
Our Review — Yowza Jupiter Plus Elliptical Trainer
What is the profile of a Yowza Fitness Jupiter customer – Someone that wants an ergonomically design elliptical that can take abuse.   A similar version of the Jupiter was sold under a different brand name for years and had an excellent service record.   In fact, a leading consumer magazine gave the re-brand version very high ratings.
It's a good machine, but we suggest you check out the NordicTrack SpaceSaver SE7i instead.  It's another quality rear drive machine with a long respected company.