Need a Sitting Machine?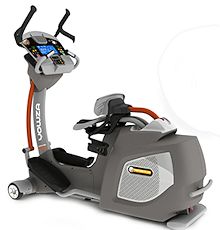 The Yowza Naples, Naples Plus and Naples Elite are basically elliptical trainers that you can sit down on.  The price may give you sticker shock, but quality is unsurpassed and the innovative features will provide you with a very low impact workout that targets both your upper and lower body.
Yowza is built by GreenMaster, one of the leading fitness equipment companies in the industry.  This series of machines is certainly unique, but we are sad to say the company has had a bit of a downslide these last several months.  We no longer feel confident in their service and product availability.  You'd be much better off checking out the Proform Hybrid Trainers which offer similar "sitting down" benefits.  The price tags on the hybrid trainer series are also MUCH more friendly.
Note: There are three versions of the Yowza Naples –  Regular, Plus and Elite.  The Elite comes with Intelligent Weight Management and MyLiveLight, which are described below.
One of the impressions we got from meeting the staff was their commitment to building some of the most innovative fitness equipment in the industry, and the Yowza Naples Plus is a perfect example.  The Naples Plus and Elite incorporate the unique and innovative features found on Yowza elliptical trainers.  These features like the Cardio Core and pivoting pedals have made their crosstrainers very popular.  The Yowza Naples Plus and Elite are designed for those who want the benefit of an elliptical trainer, but without having to support 100% of their body.  Thus you are able to sit as you workout rather than having to stand, but you can also electronically adjust the amount of support and effort you put on the lower body throughout your workout.
Our Video of a recent trip to Yowza featuring the Naples Elite
Yowza Naples Plus & Elite Innovative Features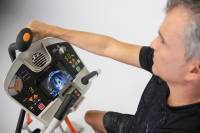 Cardio Core Training — What makes the Yowza Naples Plus and Elite so superior to a regular exercise bike workout is the Cardio Core Training.  You have handle bars that pivot left and right.  In the process you are not only working your arms and shoulder, but also you abs.  This feature is found on most of the Yowza ellipticals and it is what has made Yowza a player in the fitness equipment market.  The feedback from customers regarding the Cardio Core has been overwhelmingly positive.
Ergonomic Seating — The thought behind the seating is rather impressive.  First, the seat is powered and has memory for positioning.  When you get on the Yowza Naples Plus and Elite the seating is at its lowest level, for ease of getting on and off (8" inch step-up height).  With the press of a button the seat automatically adjusts to your favorite position. You can adjust the seat higher and lower and this will allow you to redistribute the resistance between your lower and upper body.  So often with an elliptical trainer people will concentrate most of the resistance with their legs and go through the motions with their upper body.  By raising or lowering the seat you can go from a 50 – 50 split to a 30% to 80% distribution of upper and lower body resistance.
Additional Features
Sound System with MP3 Port – Yowza equips their machines with some of the best sounds systems found on any fitness equipment.   There is also a USB charging station.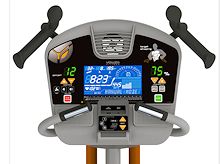 Tablet Holder — Tablets and smartphones are becoming a popular distraction as people workout.
3-Speed Fan— It won't blow you away, but it offers some relief.
400 lbs. User Weight — I usually feel companies overrate their user weight limit, but the 400 lbs. is in the ball park.  The user weight also says something about the quality and stability of this machine.
Commercial Grade Brake System (referred to as "Eddy Current") — The electromagnetic  brake system is top of the line found in commercial grade machines and will result in a very smooth elliptical motion, in addition to being whisper quiet.
Sealed Bearings — All joints feature sealed bearings rather than bushings. Although sealed bearings cost more, they last longer and are very quiet.
Warranty — The warranty is a reflection on the quality of the components, which is Lifetime Frame and Braking system, 7 years parts and 2 years labor.
Yowza Naples Elite Features
IWM (Intelligent Weight Management) System — So many individuals stride to lose weight and get into shape, but lack direction.  The IWM system works with a blue tooth scale.  You weigh yourself and based on your targeted weight, the system creates a workout designed to achieve your goals and downloads it onto the Yowza Naples Elite.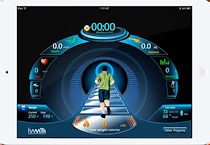 MyLiveLight — MyLiveLight is a free fitness app that works in conjunction with the Yowza Boca Treadmill.  It also works in tandem with IWM to create custom programs, manage your personal profile, and it allows you to store and track your progress.  Studies show that individuals who monitor their exercise progress are more likely to achive their goals.  The Naples Elite comes with a tablet holder and with MyLiveLight where  you can track your progress in real time.  In addition, the app allows you to share your progress through social media with others who may be part of your support group.
Our Review — Yowza Naples Plus & Elite
Obviously the Yowza Naples is not for everyone.  It targets individuals that may have physical limitations that make it difficult to exercise in an upright position.  But the Naples Plus & Elite does not limit the benefits of your workout, which include…
Getting a strenuous cardio  workout while sitting,
Getting a low impact elliptical motion workout,
And getting an upper body workout that also targets the abs.
In addition to the health benefits the Yowza Naples Plus & Elite are very durable machines, engineered with quality components.  We would suspect that the Naples would hold up in a light commercial environment.
Since the Yowza company has been experiencing some instability these last few months, you would be better off going with another option like the ProForm Hybrid Trainers.  The Hybrid Trainer and Hybrid Trainer Pro offer another "sitting" option.  Plus, the price tag is very reasonable.