A Unique Design That Provides a Challenging Workout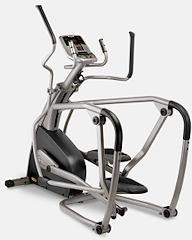 The AFG 18.1AXT Elliptical Trainer has gotten some notoriety after receiving a "Recommended" review from a prestigious consumer magazine. In particular they gave it an "Excellent" for construction, and a "Good" rating for ergonomics. Out of all the elliptical trainers that were reviewed the AFG 18.1AXT ranked second in the overall ratings. The top rated model was $500 higher in price.
The AFG 18.1AXT is not your typical looking elliptical. It has a unique design that provides a challenging workout while being extremely stable.
The AFG 18.1AXT Elliptical Features
Incline Adjustment and Variable Stride Length — The combination offers two benefits:
Intense cardio workout that burns calories more efficiently.
Ability to target and tone different lower body muscles.
At zero degree incline you simulate a walking or jogging motion, when you crank up the incline it is like climbing steps. During the process you not only increase the intensity of the workout, but also utilize different muscles.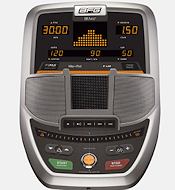 Engage the incline feature on the Ascent Trainer and note how quickly you feel your glutes, hamstrings, and abs working. As you simulate uphill climbing, you will burn more calories and really give your muscles a good workout.
The stride length actually changes with the degree of incline. Most incline equipped ellipticals utilize a ramp design that tends to make the elliptical motion choppy as it gets steeper and often uncomfortable. According to Horizon…
"The incline mechanism was designed to increase the complexity of the workout without making the workout uncomfortable. The Ascent Trainer actually extends the stride length of ellipse as you incline while maintaining the narrow ellipse that is comfortable for all users."
The problem with your standard elliptical trainer is that you get locked into a constant motion and stride. Your body adjusts to the motion and consequently you limit the results.
Solid & Stable Feel — Unlike most elliptical trainers, the AFG 18.1AXT Elliptical offers a wider base, giving it more stability while you are in motion. It takes up a little more width space, but it is shorter in length than most elliptical trainers. It also weighs a hefty 270 lbs., further adding to the stability.
Nike + — This feature automatically saves all your workout data directly to your iPod® so you can track your progress on nikerunning.com. I did read one customer review that said it only worked on older iPods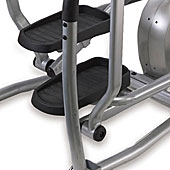 Large, Articulating Pedals — The large pedals on the AFG 18.1AXT Elliptical Trainer gives you more room for foot placement and the pedals angle with the motion. An interesting note, unlike most front drive elliptical trainers, the pedals do not ride on wheels. Consequently, you have less parts to wear or cause obnoxious noises. This particular design creates a smooth, perpetual motion.
Speakers and iPod/MP3 Input — Music is a great motivator when exercising. Having speakers direct towards you in close proximity allows you to get a clearer sound at less volume. Music can brightens up each exercise session and keeps you pumped up and energized.
Warranty — The warranty is what I consider subpar. You only get 3 years parts and 1 year labor. Most models at this price range offer 5 year parts and 2 year labor. You can upgrade another year or two.
Our Review – AFG 18.1AXT Elliptical Trainer
When I tested the AFG 18.1AXT Elliptical Trainer I was impressed with the quality of the components. I found the workout challenging since you can both incline the motion and change the stride length. As mentioned the square base design makes this machine very stable.
The AFG 18.1AXT Elliptical Trainer represents a unique approach to crosstraining. I would put this model on your "A" list for consideration.
Customer Review
I love the challenging workouts. I use it several times a week and actually look foward to doing so. Smooth Operation, very sturdy. […] Well worth it. Previously, I did aerobics, but my knees and back started to hurt. This machine is easy on your joints and I have no more pain.