A Few Good Things Going For It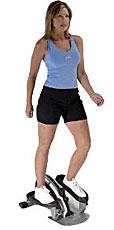 For sale at Sears and Amazon.com for under $100, the Stamina InMotion E1000 elliptical trainer has gotten some fairly high ratings for such a small, inexpensive machine. Although this "elliptical trainer" doesn't compare to a higher priced, full-size elliptical, it does have a few good things going for it.
In addition to being affordable, the Stamina 55-1610 E1000 elliptical trainer is small enough to stow away in a closet or some other out-of-the-way cubbyhole. According to several people who have bought and used this machine, one can get a really decent cardio workout on it, as well.
What exactly IS the Stamina InMotion E1000 elliptical trainer?
The Stamina InMotion E1000 elliptical trainer is a very simple machine. It appears to be nothing more than a set of foot pedals attached to a tiny steel base. There is no huge frame or flywheel. There are no upper handle bars or console. The entire unit weighs a mere 24 pounds!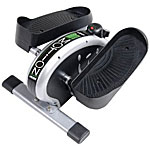 The base of the Stamina E1000, to which the pedals are attached, has an adjustable tension for controlling the intensity of your workouts. There is also an electronic display that shows number of strides per minute, total number of strides, calories burned, and exercise time. The display is capable of scanning all the stats so that you can easily monitor your progress during each workout session.
The foot pedals on the Stamina InMotion E1000 elliptical machine work in both forward and reverse motions. This allows you to work muscle groups in different ways for more variety and challenge. Once you get cranking on those foot pedals, you can really raise your heart rate level to build endurance and burn calories.
What do others say about the Stamina 55-1610 InMotion E1000 elliptical trainer?
People who have tried and reviewed the Stamina InMotion E1000 elliptical trainer have often commented on the ease and convenience of setting up this machine. Many individuals were attracted to this machine's small size and affordable price.
Some users were amazed to discover that they really could get a good cardio workout on the Stamina InMotion E1000 elliptical. For the most part, people were satisfied with this particular machine.
Of course, there are a few drawbacks with the Stamina 55-1610 InMotion E1000, too.
There is the issue of balance and stability due to its small base and nothing to hold onto during workouts. However, in most cases, it has not taken long for users to adapt to this machine and for balance to become less of an issue.
The lack of handle bars means that you won't get the same upper body exercise that you would get with a typical elliptical trainer. And it is the combination upper and lower body workout that makes elliptical trainer such an affective cardio machine. In addition to the fact that you are toning your upper body to a degree.
There is no console, workout programs and digital feedback.
Nonetheless, the Stamina InMotion E1000 does give you the low-impact lower-body workout of other elliptical trainers. This means that there is little-to-no risk of injury to the hips, knees, back, and ankles during workouts.
Our Review – The Stamina InMotion E1000 Elliptical Trainer
If you have limited space and limited funds and don't expect too much from the Stamina InMotion E1000 elliptical trainer, this could be the right machine for you. It requires little assembly. It is easy to move and can be stored in small spaces. It doesn't take a rocket scientist to operate it.
For an elliptical trainer that costs under $100, it is remarkable that the Stamina E1000 has received such positive reviews. Be aware, however, that the quality of this unit isn't going to be all that great. There are no guarantees that it will last very long. Fortunately, if this machine does break down, you haven't thrown away too much money on it.
Workouts on the Stamina InMotion E1000 elliptical trainer may be a little wobbly and unsteady. If you do not think you can deal with the balance issues and lack of a console and handle bars, this is not the machine for you.
Customer Reviews – Amazon.com
I had mixed feelings about purchasing this because of its size and I was afraid I wouldn't be able to get a good cardio on it. Boy was I wrong. When I workout on this my heart rate ranges from 145-160 which is exactly where I want it to be. It's very sturdy but does take a little getting used to as far as balancing on it but you can get a great workout from it. The strides are much smaller than what you find in a gym but that's expected. I think it's a very effective piece of equipment for the price.

---

This is a fairly compact, noiseless and easy-to-assemble machine and it does its job.

The counter is placed out of the way, between your ankles, so you don't have to stare at it while exercising (unless you exercise while staring at your ankles) which to me is a plus. Also, the counter only accounts for the actual time you spend exercising, so if you go get a drink of water and return, it self-pauses, which is cool.

The machine does occasionally rock slightly from side-to-side during use which I'd imagine could cause injury. Also, the machine doesn't glide easily during strides as it does on a regular elliptical; it occasionally jolts. This can be jarring, especially if you're not used to the unusually short strides on this machine. I recommend using this while you have something to stabilize yourself if this happens (I use it in a doorway)

Not the best machine out there, but it's certainly affordable and easy to use, a great purchase for a small space or for someone who wants to be able to stow away exercise equipment easily.

---

Very easy to assemble and does a good job for a low price. Some people may have a bit of trouble keeping their balance, but I had no difficulty after a few spins on this — I think trying to maintain balance only enhances the effects of the workout. Small computer does a decent job.

Biggest cons would have to be that 1) the range of motion is definitely smaller than on a "real" elliptical and 2) the resistance setting isn't all that great.

All in all, if you have a small place and don't want to pay $40+/mo for a gym membership, this is a great alternative to running up and down stairs.
Also see the Stamina 1772 Elliptical Trainer review.