(Last Updated On: May 9, 2022)
Hundreds of people stand waist-deep on the shores of Rancho Seco Lake, waiting for the starting signal. Emma stands nervously in the water – anxious to start her first triathlon. She adjusts her swim cap and goggles for the fifteenth time, and finally the countdown begins – ten…nine…eight… reviews her plan, remembering where her bike is, how she's going to transition – five…four…three… She takes a deep breath – they sound the blowhorn – and Emma starts swimming. The first leg of her very first triathlon has begun.
Emma grew up running – she had played soccer competitively and also had run two half-marathons, so she was familiar with races. She also loved swimming – she was always in the water and swam the 50 free on the high school swim team. But biking – not so much. In fact, not at all. But despite her unfavorable history of bike accidents, Emma was ready for a new challenge. So, she signed up for a triathlon.
Unlike any other race, a triathlon combines three totally different exercises – and pushes your body to its absolute limit. For that reason, it's one of the most challenging types of races – but also one of the most rewarding finish lines to cross.
You might be thinking – I'm a runner, but I've never swam or biked before – how am I supposed to do a triathlon? Where do I even start? Well, here's everything you need to know for your first triathlon! We'll cover everything from choosing the right distance for your first race to remembering to sight while you're swimming. With all this triathlon advice, you'll be more than ready to cross that finish line on race day – and you might even get hooked on triathlons!
The San Diego Origins of The Triathlon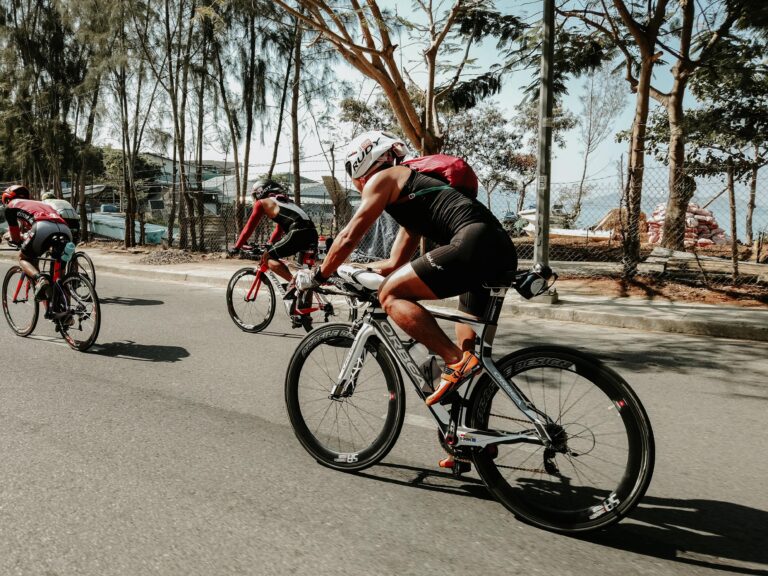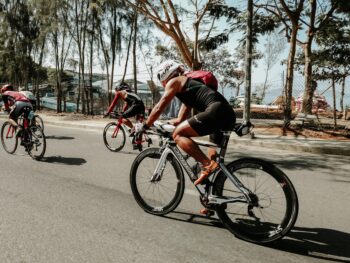 Believe it or not, the triathlon is a relatively new sporting event. It started in the early 1970s as a type of alternative workout (basically like cross-training) to track running. The first triathlon took place in San Diego, California – the perfect sunny location with warm waters for swimming, a beautiful coast to run along, and plenty of roads to bike.
We can thank the early members of the San Diego Track Club for creating the triathlon. They got together to try something new – and ended up creating a new event that today hundreds of thousands of people know and love. They eventually created the Triathlon Club of San Diego, the most well-known triclub in the world (1).
Those first triathlons in the early 80s were quite different from our modern triathlons today. Most of the time, athletes just showed up with their swim suits, a borrowed bike and their trusty running shoes and hopped in the water. As the years went on, however, rules were created, triathlon gear became more professional, and the triathlon slowly became what it is today.
But the history of the triathlon is still a big part of the sport. During your race you'll probably hear shouts of "Finish strong!" "You can do it!" and of course, "Go TriClub!" If you're new to triathlons, you might wonder which triclub they are talking about, but as all experienced triathlon athletes know, there's only one triclub, and it's the original Triathlon Club of San Diego (1).
Which Distance is Best for Me?
The Triathlon Club of San Diego's first event was made up of a 10km run, an 8km bike leg, and a 500-meter swim. Since then, the distances have evolved and today there are many different options you can choose when deciding what distance you will do for your first triathlon.
When the World Triathlon was founded in 1989 in France, the official distance for the event was set. The Olympic committee decided that it would be a 1,500m swim, a 40km cycle and a 10km run (2). Even though now the triathlon is an Olympic sport, you don't have to do the full Olympic distance to call yourself a triathlete.
In fact, there are a few different options that you can choose today when planning your first triathlon…
Sprint
Most beginners start with a sprint distance triathlon. It's the shortest distance available and it's a great way to get into the sport and see if it's something you like. Plus, it takes less time to train for and there are lots of sprint distance races to choose from.
A sprint distance triathlon includes a ½ mile swim, a 20 km bike, and a 5 km run. Really, it's the perfect entry-level distance for beginners. And although it's called a "sprint" triathlon, it's no walk in the park. Typically, sprint triathlons take between 60 and 90 minutes, or more.
Generally, for sprint triathlons, you should usually spend about 12 weeks training. If you're in super great shape and have experience in all three disciplines, you could plan for 8 weeks. Really, it just depends on your fitness level, your schedule, and your motivation.
If a sprint-distance triathlon still seems like a big step for you, you can try a super-sprint triathlon. It's a little shorter than the sprint distance – with a 500-meter swim, a 10 km bike, and a 1.6-mile run (3). Super-sprint races are a little harder to find, but there are still many organizations that include them as part of their races.
Olympic
Like we mentioned before, an Olympic distance triathlon is made up of a 1,500m swim, a 40km cycle and a 10km run. It's exactly double the distance of a sprint triathlon, and usually takes anywhere from two to three hours.
Olympic athletes can usually complete the triathlon in less than 2 hours – a very impressive feat, to say the least. In this year's Olympics, Kristian Blummenfelt from Norway won the gold medal with a time of 01:45:04 (4).
But, for the average athlete, you can expect an Olympic-distance triathlon to take a little over three hours, especially if it's your first triathlon. For that reason, endurance training is super important. It's a good idea to give yourself 12 to 16 weeks to train for your first Olympic distance triathlon. If you have less experience, you might want to plan for 20 weeks of training.
Half-Ironman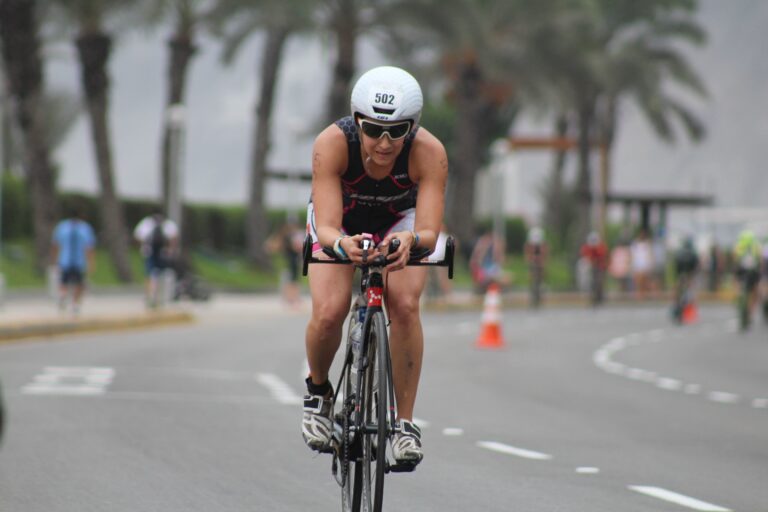 If you feel like the Olympic distance is just too little for you, and you really want to challenge yourself, the next step up the triathlon ladder is the half-ironman. This is considered a long-distance triathlon, and consists of swimming 1.2 miles, cycling 90 km, and running 13.1 miles (a half-marathon).
The total distance is 70.3 miles, which is why sometimes you'll see car stickers with just the numbers 70.3 on it – if you know, you know.
Since it is a longer distance, completing a half-ironman takes a long time. It usually takes anywhere from 5 to 7 hours or more, depending on your experience and fitness level. The average time for men is 5 hours and 50 minutes, and for women, it's 6 hours and 24 minutes. 
Full-Ironman
The length of a full-ironman is double the length of each leg in the half-ironman. That means it's a 2.4-mile swim, a 112-mile bike, and a full marathon run, or 26.2-miles.
A full-ironman, the longest of all the triathlon distances, usually takes anywhere from 12 to 15 hours. Since a full-ironman is such a huge endeavor, it usually takes anywhere from 6 to 8 months to train for one.
If it's your goal to do a full-ironman, it's a good idea to start out with some of the shorter distance triathlons first, then build your way up to this extreme event.
Choosing a Race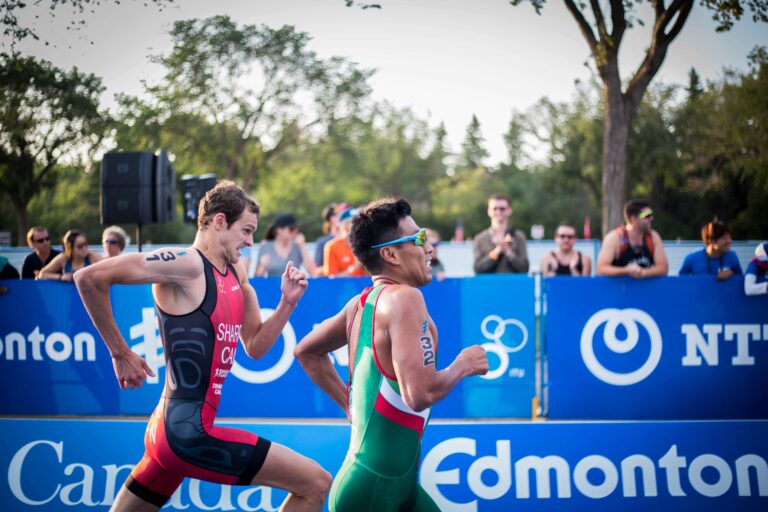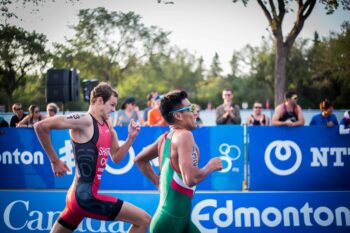 If you've never done a triathlon before and are unsure about whether or not triathlons are for you, the best way to find out is to sign up for a sprint triathlon and see what you think. If you are already an avid runner, biker, or swimmer, it won't take too long to train for and you'll be able to have your first triathlon experience in no time.
If you are a confident runner, biker, or swimmer, and want to jump right in to the triathlon world, you can start training for an Olympic-distance triathlon. Once you've got a few of those under your belt, you can branch out into the ironman world – complete your first 70.3 and slowly build your way up to doing a full-ironman.
Once you've thought about your goals and decided which distance you'd like to start with, it's time to choose a race. First, decide how long your training plan will take. Like we mentioned above, for the average athlete, it'll take anywhere from 8-12 weeks to train for a sprint distance triathlon, and 12-16 weeks to train for an Olympic distance triathlon.
Choose a start date for your training plan, and then start looking for races that are scheduled for around the time when your training plan ends.
Usually, with a quick google search for races within your desired time frame, you'll be able to find the perfect race somewhere near you. You can also check out trifind.com or trireg.com to find a huge list of all the triathlon events across the country.
The Most Popular Triathlons
Although triathlon events take place all over the country – and all across the world – when most people think of a triathlon event, one comes to mind – the Kona, Hawaii World Championships. This is one of the most popular triathlon events and is watched by thousands of people across the country. Every year, the Ironman World Championship in Hawaii inspires thousands of triathletes. Maybe someday, you too will be able to cross the finish line in Kona.
Apart from that event, there are many other popular triathlons across the country. Another popular one is the "Escape from Alcatraz Triathlon" in San Francisco, California. Athletes start by jumping off a ferry near Alcatraz Island in the San Francisco Bay and swim 1.5 km in the freezing waters to the coast, then bike and run through the famous city, crossing the finish line in Marina Green next to the Golden Gate Bridge.
If you're looking to make a vacation out of your triathlon (why not?) you could plan to do the London triathlon – rated the best triathlon in the UK – with views of Tower Bridge and St. Paul's (5). Or, if you want a more tropical destination, check out the Laguna Phuket Triathlon in Thailand. You'll swim in beautiful turquoise water, bike along pineapple fields, beautiful beaches, and ancient temples, and run in a fast, flat loop through lagoons around a resort (5).
Regardless of the destination, wherever you decide to do your very first triathlon, it will be an unforgettable event.
All the Essential Gear You'll Need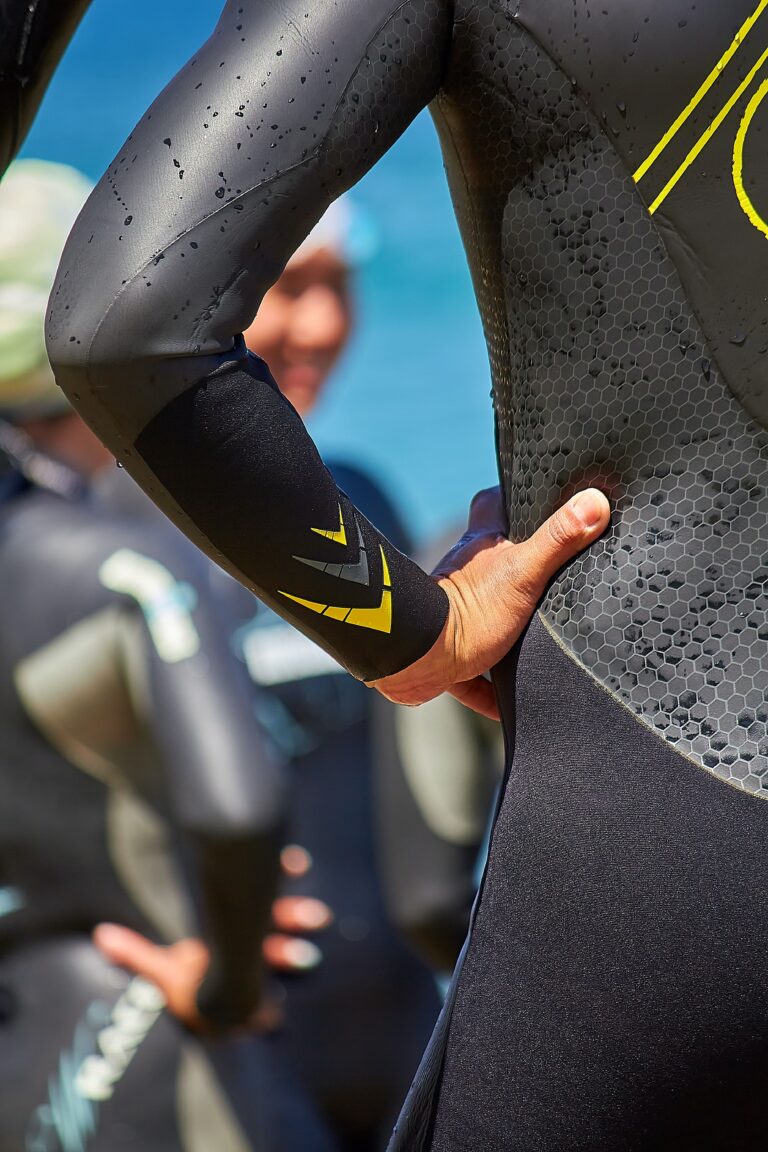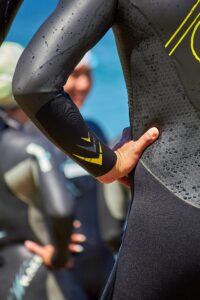 One thing that makes triathlons different from other racing events is the gear. For most running events, all you have to do is show up with your running shoes (and maybe some energy gels), and they give you your racing bib, and you're all good to go. For triathlons, it's more technical. Let's go over all the gear you're going to need.
For the Swim  
The best gear option for you if you want to be comfortable and shave minutes off your final time is something called a tri suit, or race kit. There are a couple different tri suit options – you can get a one-piece one or a two-piece top and bottom one. It's a much better option than swimming in your swim trunks, then throwing on a t-shirt for the other legs of the race. 
This piece of gear is super important because "it's specifically designed for triathlon because it's made of a material that will dry quickly after the swim, and has a built-in chamois that will make the bike ride more comfortable but isn't thick enough to make you feel like you're wearing a diaper on the run." (6)
Depending on where and when you are going to be swimming, you might need a wet-suit. Make sure to choose one that is tight so that it will keep you warm, but not so tight that your movement is restricted.
Pro Tip: Before race day, cut a couple inches off the bottom legs of your wetsuit. This will make it much easier to take off during the transition from swim to bike (7).
You'll also need a good pair of goggles that won't fog up, and if you have long hair, a swim cap. During your training you can test out different pairs of goggles to figure out which ones are most comfortable and work best for you. 
For the Bike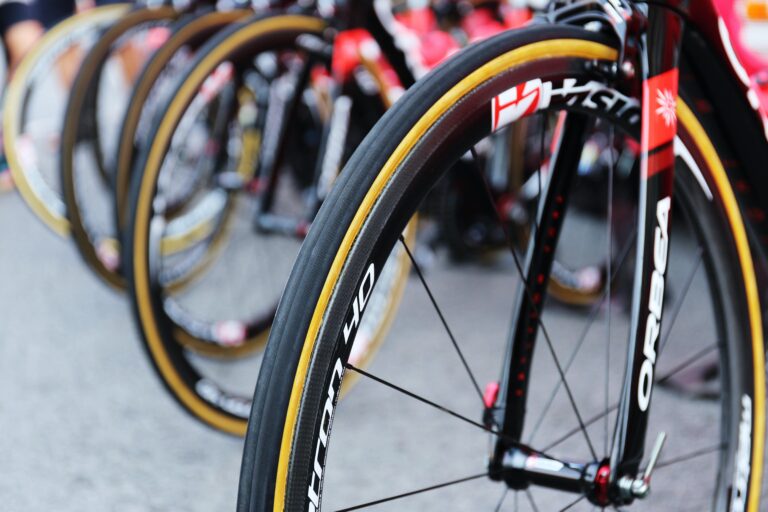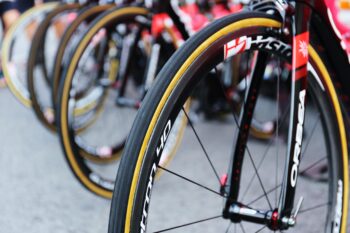 The most important (and most expensive) gear you'll need for your first triathlon is a bike. Having a reliable, light-weight bike can make all the difference during the bike leg of the triathlon. And since you'll be spending most of your time on the bike, if you plan on doing more than one triathlon, it's worth it to invest in a nicer bike.
A good triathlon bike can cost you anywhere from $500 to a couple thousand dollars – or more. Make sure you buy one that is compatible with your height and weight – check out your local bike store for sizing and other tips before buying one online.
With your bike, you'll need to decide if you want to wear clip-on shoes or not. Clip-ons can make your transition faster and also make the bike leg easier. Just be aware, it takes a couple rides to adjust to clip-on shoes, so make sure you train with them if you're going to use them on race day.
Once you have your bike and your shoes, you'll need a helmet (of course), and it's also a good idea to bring sunglasses. You'll also need a small flat tire repair kit to go on your bike, just in case disaster does strike on race day.
For the Run
When you transition from bike to run, you'll ditch your helmet and bike and jump out of your clip-on shoes and into your running shoes and you'll be ready to go. So, all you need is a good pair of running shoes and maybe socks. Some triathletes choose to ditch the socks – claiming they are unnecessary and a waste of time – while others are used to running with socks and can't imagine going without them.
It's up to you whether you choose to use socks or not. If you've never run without socks before, taking a few more moments to put on socks to make the run more normal and comfortable certainly won't be the end of the world for your race time.
Another unique piece of gear for triathletes during the run is elastic laces. Rather than waste time tying your shoes before starting the run, with elastic laces you can just pull them tight and get going. It's a good investment if you're looking to shave off a few minutes – and you won't have to stop and tie your shoe if it comes undone during the race.
Triathlon Training Tips
Training for a triathlon is unique because instead of just running every day, you get to do three different activities. This variety can be a sigh of relief for runners who are used to hitting the pavement every day. And it's one of the reasons why so many people enjoy triathlons.
Once you decide what distance triathlon you are going to do and when, you'll need to create a training plan. Every week, you should swim, bike, and run at least twice. Some of those exercises can be done back-to-back, in what they call a "brick." For example, you could bike 10 miles then immediately after run 3 miles. It's also important to add rest and recovery days to your training schedule and listen to your body – you don't want to get injured for overdoing it or not getting enough rest.
Every week, aim to increase the distance of your swims, bikes, and runs by 10%. To be prepared for race day, "prior to the race, you should be able to complete at least 10 percent more than the total race distance in each sport" (8).
Since triathlons consist of three different sports, it's only natural that you'll have a strong sport, and a weak sport. For example, since Emma had done a couple half marathons and swam in high school, swimming and running were her strong sports. Since she had a history of bike incidents, biking was definitely her weak sport.
For your strong sports, you'll train like normal, focusing on different breathing techniques and mixing sprint workouts and endurance workouts, and building strength in the muscles needed for those sports. For your weak sports, you might have to go back to the basics and start slower. It's a good idea to focus more time on your weaker sports as well, so you can feel confident on race day and not be worried about things going wrong.
Prepare for A Disaster – Getting A Flat Tire on Race Day
As part of your triathlon training plan, you should learn how to change a flat tire. It's always best to be prepared, and while you probably won't get a flat tire during the bike leg of the triathlon, if you do, you're going to need to know how to fix it.
Equally importantly, you're going to need to have the tools necessary to fix it. So, make sure to get a flat tire repair kit and keep it on your bike just in case of emergency. So, if you do get a flat tire on race day, it won't be the end of the world – you'll be able to fix it and keep going.
Practice fixing flat tires a few times during your training weeks (you could even time yourself to see how fast you can do it) and if you don't know how to change a flat tire, learn how to do it! Check out this article by Triathlete about How to Fix a Flat Tire.
Swim Tip: Learn How to Sight for Open Water Swims
Almost always, the swim part of the triathlon is done outside of a pool. Although you will probably be training in a pool, it's important to learn how to swim in open water. Keep in mind that on race day, there might be waves or rougher water, and you'll be swimming pretty close to other people – it's pretty different from lap swim at your local pool.
For that reason, sighting is important. Sighting is when you look up ahead of you while swimming to make sure you're staying on course. In open water swims, there will be giant brightly-colored buoys to point you the right way. When you sight, you want to look to the buoy to make sure you are going in a straight line on course.
This isn't too difficult, but it does take a little bit of getting used to. It's a good idea to practice sighting in your local pool. During some training swims, try sighting every 3-5 strokes so that on race day you're used to looking up and quickly finding the buoy.
The Art of the Transition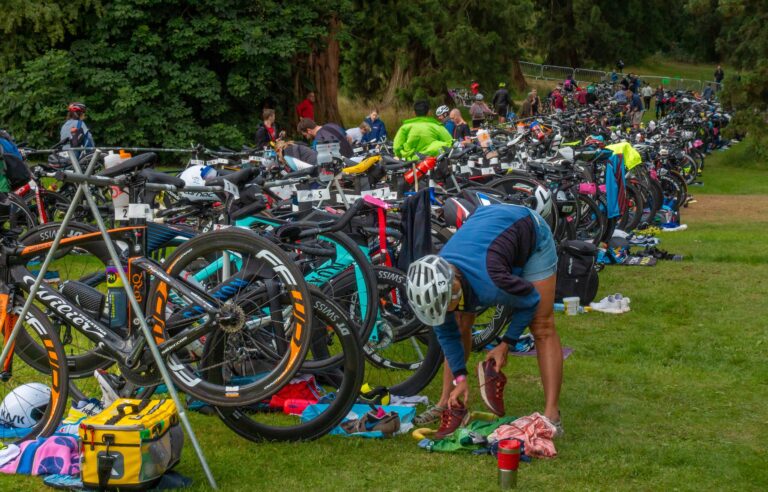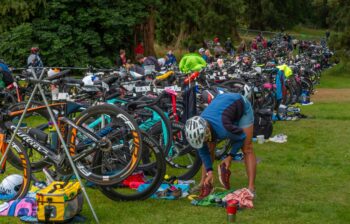 Something that most beginners don't think about when preparing for their first triathlon is the transition. However, the transition should be an essential part of your training. A good transition can shave off minutes – and a bad transition can be the difference between beating your PR and just missing it.
Things like starting to take off your wetsuit while you're running to your bike, leaving your shoes clipped to your bike, and making sure you don't forget to take off your helmet before starting the run (believe me, you really don't want to be that guy) can make all the difference on race day.
To practice, you can set up a transition area in your backyard and time yourself on every transition. If you do that once a week, on race day, it will be second nature and you won't even have to think about your transitions.
What's the Hardest Part of Doing a Triathlon?
Besides the memorable training moments, like almost getting run over by a garbage truck on a practice ride or bumping your head on the pool wall while doing a flip turn, what the majority of people remember most about their triathlon experience is the run. The run is always the last leg of the triathlon, and by that point, your legs feel like jelly. You feel like you're running so slowly and it feels like your legs are going to collapse at any moment.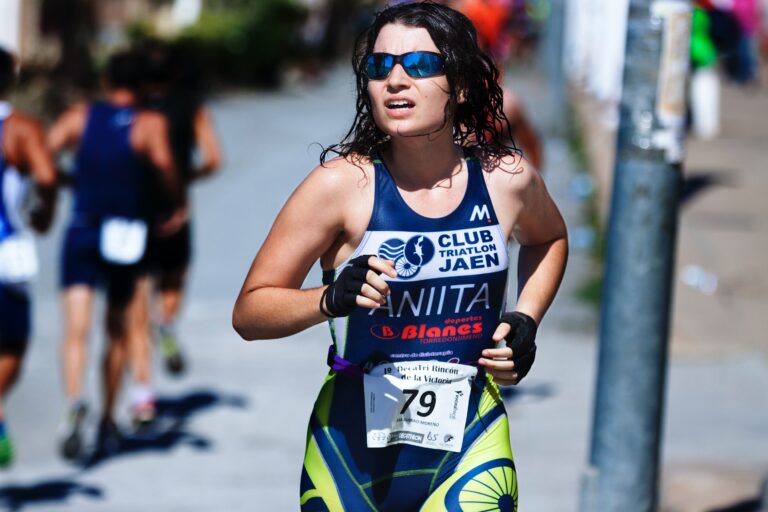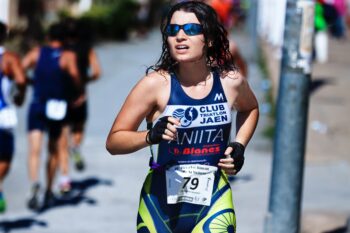 At that point, it's all just a mental game. You know that you can run the distance – you've run much more during training. But you have to be determined to keep running. Decide beforehand that you are not going to stop and walk. Decide in training that you are going to make it all the way to the finish line.
The hardest part of doing a triathlon is usually the mental challenges. If you get a flat tire, you can fix it. If you are worried about the long distances, you can train to prepare your body to endure. If you are worried about wasting time during your transition, you can practice transitioning and time yourself. But, if you decide that you can go no further, that you are too tired, that triathlons are not for you – then you will not cross the finish line.
Mental challenges will be different for everyone – maybe for you, it's open water swimming, or maybe it's the intensity of your training program. Maybe since it's your very first triathlon, the uncertainty of what will happen and what it will be like is what worries you. No matter what it is, the best way to overcome mental challenges is to be prepared.
Your mind will tell you to stop, even when you need to keep going. If you practice during those training weeks to keep going even when you want to stop, then you will be prepared to make it all the way across the finish line on race day.  
How to Prepare for Race Day
On race day, you'll want to get to the race site early so you can choose your transition area. Ideally, you'll want to be on the edge of the bike rack so you have more space and so you can leave as fast as possible.
You'll bring your bike to the rack and set it up with your clip-on shoes already clipped onto your bike. It's a good idea to bring a couple towels as well – put one on the ground so you can wipe off your feet before jumping on the bike and have another one handy just in case.
Then, remember where your transition area is. Mentally review how you're going to transition and go over, step by step, how you're going to come into the transition area, adjust, and leave. Then, you can do a quick warm-up and stretch before heading to the water to wait for the starting signal.
Most importantly, on race day, remember to have fun – you've trained for weeks and weeks waiting for this day, and now, it's time to enjoy it. Talk to your fellow racers, enjoy the race-day atmosphere, and have fun! Have a good time, do your best, and everything will go smoothly.
Crossing the Finish Line
The moment you train for is the moment when your feet finally cross that finish line. It's an unbelievable feeling, especially when your legs feel wobbly and ready to collapse and you're completely exhausted. All that disappears in the moment you finish the race and throw your arms into the air with joy. Everyone is cheering and you've done it – you've finished your first triathlon.
It's not an easy feat – no matter what distance you choose. But it's the experience of a lifetime and it's an unforgettable moment that you'll always look back on with pride. And, who knows, you might even want to do it again – and again and again and again!
Are you ready to join the triclub?
Sources: