(Last Updated On: December 14, 2022)
Side-by-Side Comparison:  Which Vertical Elliptical is Best for You?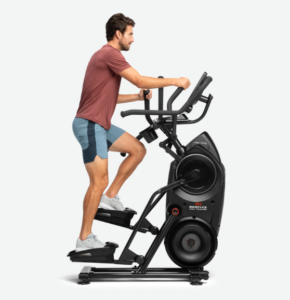 Let's take a closer look at the Bowflex Max Trainers and ProForm HIIT Trainers (formerly known as the CardioHIIT Trainers or plain HIIT Trainers.)  Both machines use a vertical elliptical / stair-climber motion to allow the user to burn more calories in less time.  There are some significant differences between the models that might help you choose which will work best for your body and budget.
Ways They Are Similar
Space Saving Design – Both of these machines are much smaller than typical ellipticals. In fact, they take up about ½ of space and are perfect options for smaller homes or offices.
HIIT Training Platform – The marketing draw for the Max Trainers and SMART HIIT Trainers is that they offer very high intensity interval workouts that can deliver major results with minimal time commitments. Bowflex even states that only a fourteen minute workout three times a week will be enough for jaw-dropping results.  We are skeptical of this particular claim and recognize that diet and lifestyle are going to play a huge role in the results you see.  Still, you can't deny that HIIT (high intensity interval training) is used by top athletes and provides real results!
Easy to Mount/Dismount – Both of these machines are easy to mount and dismount especially compared to rear-drive ellipticals. There is no need to step over any part of the machine mechanics.
Upper Body Workout – Both machines have multi-grip handlebars that allow you to get a great workout on your upper body, core and back muscles along with your lower body.
Ways They Differ:  Who Wins Each Category?
Elliptical Pattern – The pattern on the Bowflex models is like an upright oval. It feels a bit like pedaling on a bicycle while standing up.  In contrast, the pattern on the ProForm model is a bit more up-and-down with a 10" vertical and only 5" horizontal path.
Winner- Tie! (Which kind of motion do you think you'd prefer?)
Resistance System – The following levels of resistance are included on each model: Max Trainer M6 (16 levels), M9 (20 levels), Max Total 16 (20 levels), Pro HIIT H14 (26 levels), and Carbon HIIT H7 (24 levels).
Winner – ProForm has way more resistance levels!
Fitness Tracking – The ProForm machines have iFit which allows you to run virtual courses synced to GoogleMaps, set your goals, and track your results online. You can customize your own fitness programs and keep track of four different user profiles on each machine.  The downside to iFit is that it requires an annual subscription.  A 1-year membership costs $396, or you can pay $39/month.  This ongoing cost needs to be factored into the machine's price. Similarly, The Bowflex machines are compatible with the interactive JRNY app. The app automatically tracks and stores each workout session, and helps to keep you motivated with an array of programs and trainers to choose from. Again, JRNY is an additional subscription cost. JRNY is cheaper, $19.99/month or $149/year. The iFit technolgoy likely provides more benefits but the cost makes us view this category as a Bowflex win. *Note: At the time of this writing, you can get a one-year free trial to either iFit or JRNY with the purchase of an elliptical from either of the brands.
Winner – Bowflex offers a more affordable fitness technology
Machine Stability – The Bowflex machines weigh 145 lbs. (tested for users up to 300 lbs.) and the ProForm machines weigh closer to 200 lbs. (tested for users up to 350 lbs.), so the ProForm machines have a slight edge on stability. A Bowflex representative said that if you do experience any sort of wobbling on their Max Trainers, it is likely that the feet or levelers need to be adjusted.
Winner – ProForm is a heavier machine that offers higher stability. 
Flywheel / Braking System – The Bowflex Max Trainer machines do not have listed flywheel weights and use classic eddy current braking systems. In contrast, the ProForm HIIT Trainer and Trainer Pro have effective flywheel weights of 30 lbs. respectively.  The ProForm machines use patented Silent Magnetic Resistance systems for a smoother ride.
Winner – ProForm
Display Type – The following displays are available: Bowflex Max Trainers (backlit LCD – M6, 10″ HD touchscreen – M9, and 16″ HD touchscreen – Max Total 16), ProForm HIIT H7 (7" Smart HD Touchscreen), and ProForm SMART HIIT H14 (14″ HD touchscreen.)
Winner – Bowflex offers at 16″ HD touchscreen on the Max Total 16 model.
Tablet Holder – All the Bowflex Max Trainers have tablet holders, the ProForm models do not.
Winner – Bowflex.
Warranty – Bowflex offers 3-years for frame and parts, 1-year electronics, 90 days labor. In contrast, ProForm offers 10-years frame, 2-years parts, and 1-year labor.
Winner – ProForm offers longer warranties.
Price – The machines have the following pricing: Bowflex Max Trainer M6 ($1499), M9 ($1999), Max Total 16 ($2499), ProForm HIIT H7 ($1,403), ProForm HIIT H14 ($1699)
Winner – ProForm seems like a better deal. You can get a 14″ HD touchscreen on the HIIT H14 for $800 less than the Max Total 16 16″ HD touchscreen. 
High Customer Ratings – The Bowflex Max Trainers have a long history of very high customer satisfaction. This says a lot about the quality of the products.  The customer service department is excellent and will take any time necessary to answer questions that you have about the product.  We have also found that the reviews on the ProForm HIIT trainers are majority positive. Users seem to be very satisfied with these machines. However, it should be noted that there have been reports of the ProForm customer service department being subpar.
Winner – Bowflex has a longer history of customer satisfaction and a more interactive customer service department.
Final Thoughts:  Bowflex Max Trainers vs. ProForm SMART HIIT Trainers
These machines are very similar and directed at the same market.  In fact, the HIIT Trainers were developed specifically to compete with the Max Trainers. Both lines of fitness equipment offer their own benefits.