Dirt Cheap Ellipticals!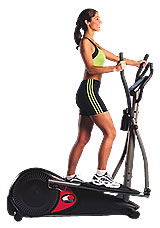 Eclipse Elliptical Trainers have one important selling feature, their price. They are dirt cheap. Their primary market is individuals who wish to get back into shape and lose weight. That represents a significant portion of the American population.The Eclipse ellipticals compete for the low-end market with ProForm. They currently have four models that cost between $350-$550. If you are considering purchasing an Eclipse, the question you have to ask yourself is whether this is a value or a cheap substitute for a real machine?
Fitness Quest is recalling about 23,000 of its Eclipse 1175e Elliptical Trainers. The cranks that connect the foot platforms to the rear wheel of the machine can break during exercise, posing a fall hazard to consumers.
Short Stride and Light Weight

With a 15″ stride you have a very limited elliptical stride, that tends to be bouncy. The elliptical stride is more circular than elliptical, which is not ideally what you want in an elliptical trainer.
These machines are not built for tall users. Anyone that is above average height will find the elliptical stride and the upper body motion restricting. One customer stated, "The movable arms are too short for my hands so my hands are never fully stretched."
The various models weigh around 90 lbs. And the designs are very compact. This can impact the stability of the machine, especially if you weigh more than average and you plan to do some rigorous workouts.

The warranty is very suspect. I can't find specifics regarding the warranty, except that it is a 1 year limited warranty. One retailer that sells Eclipse ellipticals states that there is no service warranty, only parts. Service and extended parts warranties can be purchased. Actually this is the first time I have run across an elliptical trainer that did not come with at least a 90 day service warranty.
One comment I see over and over regards the noise. Apparently these machines tend to be noisy, but at these prices what do you expect.
Fitness Source Review
There are two concerns with the Eclipse elliptical trainers. First, they are cheap machines built with cheap parts. Therefore they are more likely to breakdown when subjected to regular, rigorous use. Second, they are compact and light weight machines. For some, the workout will feel restricted and uncomfortable.
If you are use to working out on a commercial elliptical trainer at the gym, you are going to find the Eclipse very disappointing. Of course, the cost is about a tenth of the commercial grade models. But reviewing numerous customer comments, there are a number of satisfied customers.
I would suggest before you make a purchase, go out to one of the large sporting goods stores and try one out. Sports Authority sells Eclipse. Compare their ellipticals to other models in the $1,000 price range, like Sole and New Balance. See if the feel of the workout is comfortable to your size and weight.
ConsumerSearch Review
Consumer Search gave the Eclipse 1110 HR/A a "Best Buy" in the budget category. They stated:
While reviews warn that machines in this price range won't hold up like Precor or Life Fitness elliptical trainers, the warranty and variety of programs might make the Eclipse worth a look.
Customer Reviews – Various Eclipse Models
The customer reviews I found are very mixed. Some users found the machines to provide a satisfying workout at a bargain price. While others were disappointed by the quality of the machine and the service.
Sports Authority
Tony h –
"After 2 years of use the machine developed a irreparable mechanical problem!!!!"
Mike A –

"The machine is sturdy and the controls only take a minute to figure out. It assembled easily, with all tools needed in the box. The unit is quiet enough that I can use it with my 20 month and 2 month old asleep in the same room. The only draw back is the short stride. Great for my wife but took a bit for me to get used to."
Epinions.com Customer Reviews Superb Workout
–

Pros: Compact, solid construction
Cons: NoisyAlthough the unit is relatively compact, it is VERY solid. It does not rock or sway even when I'm going at it really hard. The biggest downside to this nifty piece of machinery is the noise. It wasn't that noticeable in the first 2 months or so, but after that I noticed that the crank mechanism makes a lot of squeaking and creaking noises about 10 minutes into my workout.
Great elliptical for the price
–

Pros: Very compact, fits just about anywhere and is on wheels. Relatively inexpensive.
Cons: Foot pedals cut off your circulation to your feet after awhile.
"Alright, first off, I'm probably bigger than most people that would use this machine. When I got this machine at the first of the year I was 250lbs. Now I'm down to 240lbs after a month. This might be the cause of the problems I have had, but they aren't serious enough to make the machine bad."

"The machine does require some maintenance. I had to regrease it after a month and after 2-3 weeks I had to open it up and tighten the bolts holding the pedals on."
One last note on customer comments. One customer raved about the customer service and how attentive they were. Another was in rage over the misinformation and delays they encountered. They stated they ordered a model that was no longer available and were sent out a cheaper model. Between the two customers it sounded like they were dealing with different companies.
Also see Schwinn 420 Elliptical Trainer Review
Eclipse reviews: