The Most Ergonomic Elliptical Trainers on the Market
Nowadays, most of us try to get into a healthy lifestyle by following a proper eating and exercise routine. So naturally, purchasing fitness equipment has become one of the necessities in almost every household to keep people's health on the right track.
However, there are very few fitness machine manufacturers that you can rely on for their product quality. Horizon Fitness Ellipticals are among the best picks in terms of quality. We went to visit Horizon Fitness' North American headquarters recently, which is operated and managed by Johnson Health. Vision Fitness and Matrix Fitness are both owned by the same parent company.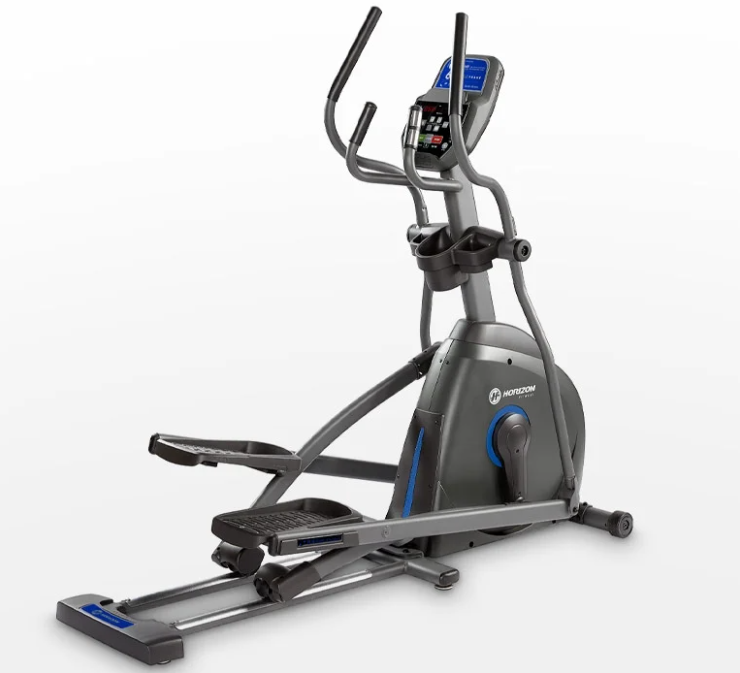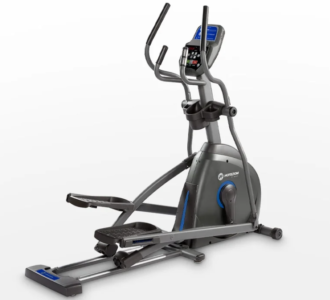 The amenities present in the Horizon head office were remarkable. The office has a large gym where employees can test out the machines they design and market. Who does not know the importance of product testing before it makes its way to the market? Horizons fitness machine manufacturer has set up this gym to try out their products' efficiency before they sell them on the market. Everyone seems to like trying out the Horizon Fitness ellipticals.
Horizon Fitness adopted a fresh approach to creating the latest iteration of Horizon ellipticals. This involves questioning and communicating with their existing users and potential customers to learn about their top objectives when shopping for an elliptical.
This revolutionary approach has served the company in so many ways to understand the business and fitness equipment markets so well. They built the basis of their Horizon ellipticals with the SIX STAR Certification as a result of these meetings. It was undoubtedly a ground-breaking feature for their product.
Horizon Fitness ellipticals have a number of biomechanical elements that make them seem natural and easy to use. 
What Sets Horizon Fitness Apart?
They Manufacture Their Own Components 
When it comes to the manufacturing of any equipment, the making of parts of the machine and their sturdiness become crucial to determining the product's durability. There are very few companies that have the capacity to manufacture the equipment components on their own. They purchase most of the equipment components from third-party companies. So, it becomes tricky to pursue the warranty plan if any of those imported components are not working.  
Concerning fitness equipment manufacturers, the same issue prevails here as well. However, Horizon Fitness builds its ellipticals with all its self-produced equipment parts rather than purchasing them from other parties. This setup is known as vertical integration, and it is super beneficial for the product owner in the event of any machine malfunctioning. Added to that, vertical integration helps the machine retain its sturdiness better and also requires less maintenance.
Excellent Customer Service
During our last visit, we were able to observe the call center. They have equipment set up for customer service employees to look at conceptual frameworks while on the phone with consumers. We were glad to discover a well-stocked call center with several competent agents ready to receive income calls, as customer service is an area where many businesses suffer.
To deal with clients, any organization needs well-versed staff and seasoned employees. Customer service is the term for this system. Without customer assistance, no corporation can be considered a viable entity. Customers are so much like God to corporations. It is critical to provide them with decent and professional service as needed when running a firm. Horizon Fitness has scaled up its business by incorporating decent customer service that works day and night to provide its customers with the best solutions. 
Strong Company Culture
Good communication within the office zone is considered to be formed in a positive organizational culture. When an atmosphere of good communication prevails, employees can develop ways of understanding with others, including the board of directors. They can freely express their new ideas and creative thinking. This open company culture aids in the development of trust among staff and customers.
This trustworthiness, as well as the plethora of unique ideas provided by various personnel, aids the organization in determining the best road to ascend. A poorly structured organizational culture, on the other hand, fails to build an effective communion culture. There is a lack of originality and inventiveness in ideas when there is no unrestricted interaction amongst employees.
Keeping these crucial factors in mind, the management of Horizon Fitness has developed a strong and positive company culture within the office and business. It is quite an undeniable fact that when a company chooses to care for its employees on purpose to help the company grow, it is definitely going to care for its customers even more.
The company's atmosphere that fosters the health and well-being of its employees impressed us. We can provide two examples to help you better understand. The firm has a staff fitness center and organizes company-wide yoga and fitness sessions in the front yard.
Horizon Fitness Elliptical Reviews
Horizon EX-59 Elliptical — $699 (Best Buy Recommendation)
This is one of the better budget elliptical trainers.  It has a 4.5″ Yellow-Green LCD Display, 18″ stride, and 10 levels of magnetic resistance.

Horizon 7.0AE Elliptical – $999
23 lb. flywheel, 20″ stride, 20 incline levels, 7″ LCD touchscreen

Download the Horizon Elliptical Comparison Chart Here
Horizon Fitness Elliptical Optional Interactive Technology
Passport — Passport lets you simulate running or walking famous landscapes throughout the world. Your Horizon Fitness elliptical trainer can connect to your TV and provides high-definition videos on your television. The videos are synced with speed and intensity of your workout. This feature is designed to take the monotony out of exercising in place. There is an additional cost for the Passport box.
Exclusive App Discounts — Horizon offers something pretty special to their customers known as the Digital Pass. After purchasing an elliptical from Horizon, consumers can enjoy some pretty big savings on top fitness apps that work with your machine like Peleton, Daily Burn, and Studio.
---
SIXSTAR Certification
1. Ideal Pedal Placement 
Exercising with the help of equipment delivers the maximum result to help you pursue your fitness goals. However, faulty or not-so-ergonomic equipment makes your exercise regimen a bit bizarre by causing bodily injury and pain. So, it becomes tricky to stick to your fitness goal for a long time with an injured physical state. 
In the case of poorly built ellipticals, you can experience hip and back pressure that is not at all healthy. It can lead to hip and back injuries. It generally happens when the padel placement of the ellipticals is poorly done. Horizon ellipticals are well-designed and optimally engineered with an optimal pedal placement initiative. To relieve stress and tension on the hips and back, the pedals are arranged with no space between them. This attribute makes the machine ideal for women to use for exercising due to its unique physique.
2. Optimal Handlebar Spacing
Ergonomic design planning is important for any kind of fitness machine. This is even more crucial for ellipticals, as the whole body of a user gets in motion while exercising. So, every component of this fitness machine requires special attention to ensure that ergonomic demands are met properly.
If the handlebar spacing is not correct, a user may experience pain after a vigorous session of exercise. The handlebar spacing needs to be optimal to suit both short and tall people. If a tall person gets to exercise with minimal handlebar spacing, it will exert pressure on his or her hands and shoulders, which will lead to muscle soreness.
On the other hand, if a short user has to deal with a wide handlebar space, he or she will not even get to use the handlebars. So, the result of the exercise will not be fruitful. Keeping these crucial factors in mind, Horizon Fitness has come up with an optimal handlebar spacing idea to provide optimal grips within reach and distance to the users.
3. Straight-up Body Posture
When we are exercising on an elliptical, we tend to lean forward, and that keeps us from using the handlebars properly. This also aids in post-workout back pain in users. Once the pain starts to bother you, you start to skip the exercise regimen daily, and your fitness goal plan does not succeed. So, using properly planned and ergonomically designed fitness equipment is as important as your exercise routine.
The ergonomic design on Horizon ellipticals improves comfort by keeping your body upright. We have discovered that when we use a front-drive elliptical, we invariably bend forward to reach the handlebars. That is why we frequently skip the bars and instead imitate running.
4. Long, Natural Elliptical Stride
Optimal stride length is critical for ensuring not only progress is in your fitness journey, but also maximum physical safety. The only factor that can accurately determine an individual's ideal stride length is his or her height.
Horizon ellipticals have long and natural strides. They help to minimize user fatigue by mimicking a natural and organic movement motion.
5. Low Pedal Placement
Pedals placed low to the ground are easier to step on and off.
6. Smoother Momentum
The large drive pulley ratio creates a smoother and more efficient motion.
Horizon Fitness Ellipticals
The new generation of SIXSTAR Certification Horizon ellipticals are a vast improvement over their previous generation of crosstrainers. The new elliptical machines appear more stable, durable and provide a more natural elliptical stride.
Horizon EX-59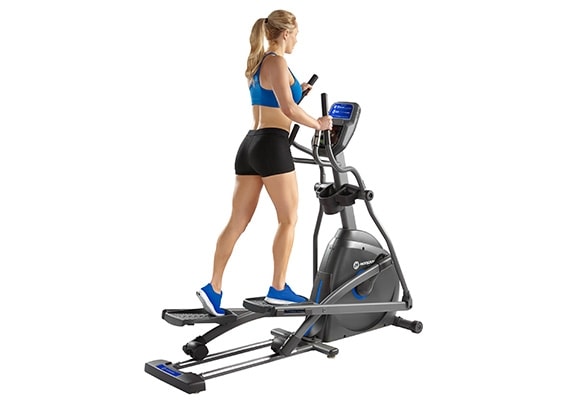 Our team has its own opinion stating the pros and cons of using the Horizon Fitness EX-59 Elliptical Trainer. However, it is also important to know about customers' reviews of the same product. Customer feedback is even more vital to know because they use the products for several days and then review them. This helps us to understand the product's potential from a practical perspective. 
The EX-59 garnered overwhelmingly good reviews on Amazon.
"As if you were running on air."
Consumer Magazine Feedback
In addition, a well-known consumer journal gave the Horizon EX-59 elliptical trainer high marks. For ergonomics, usability, workout range, the convenience of use, and craftsmanship, they gave it a "Very Good" assessment.
The Horizon Fitness EX-59 is one of your finest options if your budget is about $700.
Horizon 7.0 AE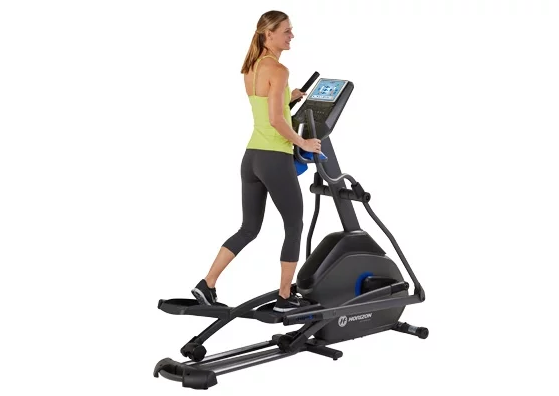 The 7.0 AE delivers the same high standards of performance and quality, the convenience of use, and the low-maintenance that we have grown to expect from the manufacturer, Horizon. Looking at the specifications and functionalities of the 7.0 AE, one would predict a significantly higher price. The 7.0 AE elliptical boasts features like:
A

23-pound

 

flywheel

20-inch

 

stride

20

 

levels

 

of

 the 

slope

7-inch

 

LCD

 

touchpad

Bluetooth
325 lb. weight limit
Horizon Fitness Ellipticals – Our Opinions/Overall Review
Overall, Horizon Fitness has made some significant improvements to their line-up in the last few years, and offers some of the best values in their price range.  See a complete comparison chart of all Horizon Ellipticals here.
Go to Horizon Fitness to learn more!