A Best Seller For Good Reason!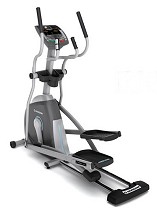 The Horizon EX-59 elliptical trainer is one of Horizon Fitness's best sellers and there are a couple of reasons why. First, it sells at a value price. There are cheaper ellipticals, but if you pay much less you are getting a substandard machine. Second, for the money you are getting a well engineered cross-trainer, designed to give you a rewarding workout.
Although it is important to realize that at this price range you are not getting commercial grade quality, and there are limitations to the type of user(s) that this machine can accommodate.
Horizon Fitness Ellipticals come from the third largest producer in the world called Johnson Fitness.  It is the same company that produces top brands like Vision Fitness and Matrix Fitness.
Horizon Fitness EX-59 Elliptical Features
Economical Price — $600-$700+ is not a whole lot of money of a decent exercise machine. Horizon generally offers good value for budget ellipticals.
SixStar Certification — The SixStar Certification is a set of six criteria that goes into the design of all Horizon elliptical trainers.  They are primarily ergonomic features that contribute to a comfortable and rewarding crosstraining workout.  For example, they minimize the distance between the pedals to reduce stress to your hips and back.  And because this is a front drive machine, it is relatively easy to mount and dismount.
30 – Minute Simple Assembly — We like how quickly this machine can be set up.  We've spent hours and hours dealing with equipment set up, and this quick 30 minute assembly is a great feature!
145 Lbs. Unit Weight — For the price this is a reasonable weight.  One of the major problems with cheap elliptical trainer is their light weight.  The overall weight of the machine plays a major role in the stability. Based on the EX-59 weight we would put the user weight limit at around 180 lbs. Anything more and you have to worry about stability.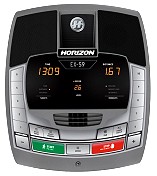 Console — You get three LED readouts that allow you to track multiple stats. You also get speakers and a fan. The fan offers minimal relief, and quality of the speakers is what you would expect at this price range.
18" Elliptical Stride — The 18″ stride length is a good fit for medium height individuals. In fact, in one of the customer reviews on Amazon they suggested that the EX-59 was best suited for someone 5'6" and under. Although another customer that was 6'1" called the EX-59 an "Excellent Economy Elliptical".  So obviously they did not have an issue with the short stride.  It depends a bit on the person.  Team member Fred Waters is 5'8″ and prefers a 20″ stride.
14.3 Lbs Flywheel — The flywheel is not particularly heavy.  The heavier the flywheel the more natural and smooth the elliptical motion.  However, at this price it about average and the feedback from customers was that it provided a natural motion.
Warranty – 1-year labor and parts, which is average.
See a complete comparison chart of Horizon Ellipticals here.
To learn more, check out HorizonFitness.com.
Customer Reviews
You've heard my pros and cons, but what do customers have to say about the Horizon Fitness EX-59 Elliptical Trainer? Overwhelming the EX-59 received positive reviews on Amazon. Last I looked it rated 4.5 stars out of 5, which is impressive at this price range. Most customers were impressed with the quality and found it easy to assemble. Not to mention, Horizon has one of (if not the best) customer service records in the industry.
Consumer Magazine Review
The Horizon EX-59 elliptical trainer got a strong endorsement from a popular consumer magazine. They gave it a "Very Good" rating for ergonomics, exercise range, ease of use and construction.
My recommendation is if you can afford it, spend more money and get a heavier duty crosstrainer. If your budget is around $700 the Horizon Fitness EX-59 is one of your best choices.