Considerable Thought for Ergonomics and Biomechanics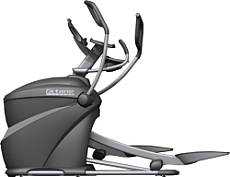 We have a dedicated and well-equipped team, and our members love their jobs! No matter how far the fitness machine manufacturers' headquarters are, if we get to know a new company, we begin our mission to the head office to find out their production and product quality.
When we came to know about Octane Elliptical, we did not wait a minute and geared up to visit their headquarters. We also hear that Octane is a company that is solely dedicated to manufacturing ellipticals. This made us very hopeful about finding a genuine fitness manufacturer. The Octane also has its entire concentration on cross-training equipment manufacturing. We thought that commitment to one type of training equipment is shown not just in the machine's excellence but also in its creative features. So, we were very excited to explore.
We headed towards US Fitness in Cary, NC, to try out a few of their models. We met with the store manager, Brandyn, and he claimed that Octane dedicates itself to manufacturing high-quality machines. As soon as we heard that, we started examining the ergonomics, biomechanics, and other factors of their ellipticals to know the truth.
What Is Our Take On
Octane Elliptical After The Primary Research Gets Done?

Every machine requires a special building or engineering blueprint to become ergonomically as well as functionally beneficial for the users. When we exercise on a fitness machine, our goal is to burn calories or get into the right shape. We do not want to experience pain and injuries from exercising due to poor design.

So, we looked into this factor that is crucial to ensure that Octane Ellipticals are not only safe but also effective in pursuing a fitness goal. We examined its overall construction quality, stride facilities, pedal condition, display design, handlebar quality, etc., to learn about its practicality as a fitness machine.

Our findings led us to believe that since Octane is solely dedicated to manufacturing ellipticals, it has extensive knowledge and skilled people who are the masterminds behind building the fitness machines. However, we feel that they could even excel better at introducing the latest technologies and innovative features to make the fitness machine even more beneficial for the users. In our opinion, the current market has numerous fitness training machines that have way more advantages in the same price range. The Sole fitness machines are well-known because of their budget-friendly products offering various latest technological advancements to make your exercise experience way better.

So, despite having well-equipped features, we would like to recommend the Sole ellipticals over the Octane ellipticals.
What are the key factors making us suggest the Sole ellipticals over the Octane ellipticals?
Construction Of The Machine:
Since a fitness machine is designed to deal with substantial human weight, the machines must be strong and stable. After researching the Octane ellipticals, we learned that they are fairly strong and stable. Even when I attempted to move the pedals from left to right, there was almost no movement. However, there was not much information regarding how much human weight the fitness machine is able to carry. So, things get confusing here, and if you are not sure about this thing, it might be a big risk to use this machine. If the machine cannot take your weight, you may fall down and could also get hurt.
If we consider Sole ellipticals that belong in the same price range, we can see that these ellipticals offer a way more solid and reliable construction. The Sole fitness equipment is built to withstand repeated usage and human weight. All of the elliptical models weigh between 189 and 215 pounds. The sole ellipticals also have a long bottom platform that provides the user with maximum security and training convenience. The machines are built with heavy-duty steel frames, delivering strong and durable equipment. The elliptical foot pedals include two wheels that glide along the lines.
Pedal spacing:
When we looked for detailed information regarding the pedal spacing of Octane fitness equipment, we discovered that Octane ellipticals have pedals that are no more than 1.8″ apart. This implies the fact that the pedal spacing is very low. This allows short people to get the most out of their elliptical stride. It also helps them to prevent lateral hip shifting and back and knee tension.
If your exercise machine's pedal spacing allows you to modify its height and strength to fit your body structure and strength, you'll be less likely to sustain a body injury when exercising. The shorter pedal space of Octane ellipticals might be inconvenient for taller people. So, we looked for an alternative and learned that Sole ellipticals have the most convenient feature to overcome this issue.
The Sole ellipticals have included an adjustable pedal spacing facility to modify the pedal spacing as per convenience. The adjustable foot pedals on the Sole elliptical trainer make it simple to adapt your machine to suit your body properly, reducing the likelihood of training accidents. The adjustable foot pedals on sole elliptical machines are a terrific way to get rid of stiffness and soreness in your feet if you have flat feet or high arches. It also helps ladies who have hip ailments as a result of workout strains.
Speaker Facility:
Many people prefer to work out with some sort of outside motivation such as music, fitness video trainings, or maybe a video call with a friend. This factor requires having an in-built speaker facility in the fitness machine. However, it seems that Octane ellipticals are not updated enough with the trend of technological advancements in fitness machines. So, they have not included such a facility in their ellipticals. When you are paying a huge amount of money to purchase an elliptical, it is always a good idea to invest in a model that has the latest features and technological facilities. We suggest you have a look at the Sole ellipticals that come with an in-built speaker facility. While exercising, you may connect your iPhone or iPad to the in-built speaker of your Sole machine and listen to your favorite music to increase the intensity of your workout. Nothing could be more beneficial to you in terms of keeping your fitness routine enjoyable.
Wireless and Bluetooth Technology for Fitness Tracking
In order to achieve a long-term goal, it's vital to keep track of our progress and adhere to an exercise regimen when we first start doing something.
This aspect has brought us wireless technology that has enabled the fitness machine to track our progress via Bluetooth in a very effective way. We looked for this feature in Octane ellipticals and discovered that their machines do not yet have this advanced technology. Although their machines track the physical exertion rate while working out, that is not as effective as the wireless Bluetooth technology. However, the latest elliptical models launched by Sole Fitness have this feature to help you be motivated in pursuing your health journey. This feature of Sole models connects your fitness machine to your tablet or smartphone, making it easy to track and assess your workout information and stats. The bulk of their equipment is also compatible with the most up-to-date fitness monitoring software.
Handlebars With a Multi-Positioning System
While doing exercise, the multi-position handlebars let you modify the upper body position at various angles. This is an important and very functional feature because it lets you exert the amount of pressure you want to exert on a specific area of your body. The multi-position handlebar facility becomes very beneficial if someone has an agenda for working on their upper body muscles.
It also becomes very useful for someone who is a beginner and wants to put the minimum amount of pressure on his or her body while working out and also wants to gradually intensify the workout routine. Unfortunately, Octane ellipticals do not possess such a feature. However, if you are opting for the Sole elliptical, you will get to enjoy this feature.
Customer Review on the Octane Ellipticals:
"I climbed on the Octane Q37e and fell in love with it right away; it felt exactly like the Precor in terms of shape and structure." The machine is fantastic, and the upper body element is fantastic, not to forget the pricing, which ranges from $2,300 to $2,700 based on where you get it. However, because it is a domestic unit, the insurance is not as good."

"Ergonomically constructed grips put your muscles to the test in all the correct spots." You'll get a wonderful all-over exercise with the challenging upper-body resistance program and two lower-body workouts. So that kids can't damage themselves, a particular attribute disables switches."
Our Final Thoughts:
It is very important nowadays for companies to manufacture their products while ensuring an optimal user experience. The current technologically improved fitness machine manufacturing industries concentrate on the above-mentioned factors to deliver the best exercise machine possible to the customers. Their fitness machines not only help users to carry on an effective exercise regimen but also have in-built technologies to navigate the exercise performance of the users to assess the fruitfulness of the fitness routine.
Our experienced team, which runs many tests and possesses experience in reviewing hundreds of fitness machines, believes that the features provided by the Octane Ellipticals are not very beneficial according to today's fitness journey needs. The specifications are a bit old-school and there are many other options on the market that can offer you way better features and functionality within the same price range.
Our suggestion would be to opt for the Sole Fitness ellipticals instead of the Octane Ellipticals to enjoy the latest technology. Click here to learn more information about Sole Fitness ellipticals.