Sole Fitness Sets the Standard for Quality and Durability in 2023
GREAT DEAL! For a limited time, Sole is offering a FREE 90 day trial membership to their interactive fitness technology Studio with the purchase of any Sole elliptical. 
Sole Fitness is quite the reputed fitness equipment manufacturer and has been serving customers for years on end. Our team of experts has always liked the quality of Sole fitness equipment. The major reason why Sole fitness is our experts' favorite company has to do with the quality and durability of the product. Sole Fitness' products are not only high quality but also long-lasting. For several years, one of our experts has used Sole ellipticals for fitness training. He was more than satisfied with the product quality, durability, and low-maintenance facility. 
We recently visited their headquarters and noticed several additional characteristics that can make a significant difference in comparison to other products on the market. And, who does not know that additional and advantageous features of a product help its parent company to go uphill in no time? The significant advancements brought to Sole Elliptical and bike machines have made them top value picks in their budget range, including interactive wireless connectivity. 
Our Complete List of Sole Fitness Reviews
Sole Elliptical E35 – $1,499 (*BEST BUY)
Sole Elliptical E55 – $1,699
Sole Elliptical E95 – $1,799
Sole Elliptical E95S – $2,199 (*BEST BUY)
Sole Elliptical E98 – $2,499
Sole Elliptical E25 – $999
Sole Elliptical E20 – $649
Sole R92 Bike – $1,099
---
New Fitness Technologies and Advancements Brought by Sole Fitness
Fitness Tracking Through Wireless Technology
It's critical to maintain track of our progress when we start doing anything and stick to a routine in order to reach a long-term objective. It allows us to track our progress toward our goals. We might alter our plan and work accordingly if the status report indicates that we are behind schedule. On the other hand, if the report shows that we are making good progress, we become inspired and can devote ourselves to our objective in a more systematic manner.
The same approach may be applied to our workout program. If you want to get in shape or strengthen a certain body region, you'll need to commit to a long-term commitment and workout routine. In this circumstance, keeping track of things becomes crucial. In order to sustain a long-term fitness habit, it is necessary to follow up.
The Sole machines have brought a new advancement in fitness equipment with their fitness tracking facility with Bluetooth technology. Sole modified its models to include Bluetooth functionality. This feature allows the fitness machine to interface with your smartphone or tablet to monitor and analyze your workout statistics. The majority of their equipment is also interoperable with other of the latest fitness monitoring applications.
Handlebars with Multi-Positions Facility
The multi-position handlebars let you adjust the upper body position at different angles while working out. It helps and allows you to focus more on strengthening the upper body muscles.
Slope 

of 

Power



The power incline aspect of the Sole Ellipticals allows users to effectively target and strengthen specific bottom muscles. It also increases overall cardio burn and simulates the feeling of trekking up a hill. 
The New STUDIO Program by Sole Fitness
STUDIO refers to a fitness community-driven leaderboard brought by Sole fitness to help its customers to pursue their fitness objectives. Give it your all while you are exercising and compete on Sole Fitness STUDIO's community-powered scoreboard against other beginners or pros. This specially designed scoreboard will assist you in determining where you stand in terms of achieving your fitness goal. Your heart rate determines your position on the leaderboard. Learn more about the interactive STUDIO fitness technology on Sole's website.
The Main Features Of Sole Ellipticals And Bikes
Ellipticals With Changeable Inclines
This elliptical feature holds similarities with the inclines found on treadmills. In many ways, having an incline facility on the fitness equipment is advantageous. It gives customers more control and pressure-regulating power during their workout.
We all know that it is more challenging and also takes more energy to walk uphill than on a flat road. It implies the fact that it leads to more calories burned too.
Since having inclines on ellipticals lets you face higher slopes while exercising, you end up burning many more calories. So, your exercise regimen can be boosted with one of these top features that Sole ellipticals have. 
If you want to focus on strengthening the lower body or the backside of the body, ellipticals with inclines are the best option. You may notice that your quadriceps are working harder if you drop the foot pedal level. You may also adjust the orientation of your stride and concentrate more on your hamstrings and glutes. This happens because of the reversible movement of the foot pedals.
So, it can be evident that cardio workout lovers and people who want to target lower muscle strengthening should opt for this elliptical characteristic.
Foot Pedals With Adjustment Options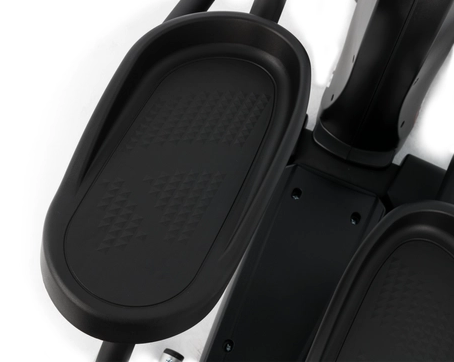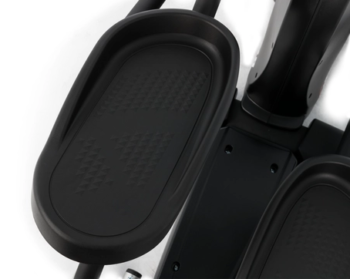 When a person carries on his or her exercise regimen with fitness equipment, the fruitfulness of the exercise increases. However, it also increases the chance of getting body injuries and pain if not handled properly. The sole ellipticals possess adjustable foot pedals that have the power to overcome potential exercise risks. 
If your exercise machine lets you adjust its height and strength as per your body structure and strength, it can definitely lower the chances of getting body injuries while working out. This feature of having adjustable foot pedals on the Sole elliptical machine makes it easy to customize your machine to fit your body perfectly, lowering the chance of experiencing workout injuries. 
The adjustable food pedals on sole ellipticals are a great solution for eliminating stiffness and discomfort in the feet due to flat feet or elevated arches. It also benefits women who suffer from hip injuries due to workout strains. The hip strains happen to women when exercising becomes difficult for them due to having the pedals too far apart. However, adjustable foot pedals eliminate the issue completely. 
Solid Flywheel 
Having a smooth and solid flywheel in exercise equipment like ellipticals and bikes is important because they are responsible for providing you with workout motion. If the motion is not smooth and seamless, people can get distracted by repeated obstacles while exercising. It can also cause workout disturbances, and people's exercise goals may not be achieved. 
When it comes to Sole ellipticals and bikes, we can assure you that their flywheels are of top-notch quality. As soon as we started testing the quality of the flywheels, we were awestruck to experience how seamless and solid the stride and cycling motion was. Sole ellipticals possess heavy 20-pound flywheels that are capable of creating this top-notch quality moving experience. 
We moved forward and wanted to test its vitality, so we experimented with different Horizon and ProForm ellipticals at the same time. The result was astonishing. The quality of flywheels present on Sole ellipticals and bikes was way better than on Horizon and ProForm ellipticals. However, these devices are, of course, less expensive, but you have to remember that quality is broadly dependent on the price of an item. 
Elliptical Stride Length: 20-24 Inches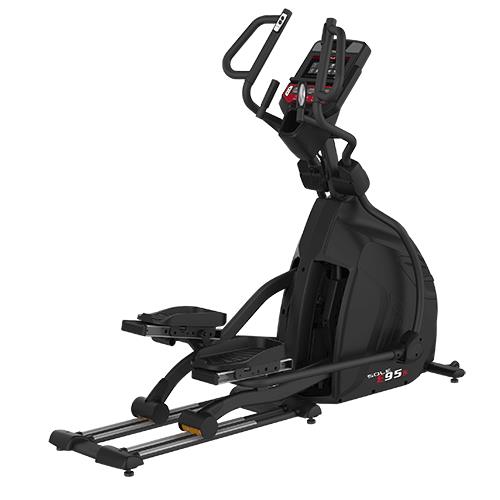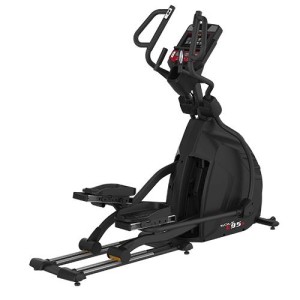 Stride length is the distance between the foot pedals on an elliptical trainer when they are the furthest apart. While this may not seem significant, it has an effect on the exercise outcomes and convenience of your workout activity on your body parts. So, it is very crucial to have proper stride length to ensure not only a positive exercise outcome but also the utmost body safety. 
The only parameter that can flawlessly decide the best stride length for an individual is his or her height. A tall individual with a short stride may feel claustrophobic, cramped, and uneasy. Short people who take long strides may feel strained and unbalanced. However, if a short-height person has long legs, they can easily use long strides, and if a tall person does not have long legs, he or she can find difficulty adjusting to long strides.
The sole ellipticals mostly possess a stride length ranging from 20 to 24 inches. We can consider the stride length to be longer than usual. We tested the thing with the help of our review team member named Fred Waters, whose height is 5′ 8′′. When he used the 20-inch stride length, he appeared to be very comfortable with exercising. However, when he switched to a 16-inch stride, it felt unpleasant and constricting for them. As a result, we can conclude that if your height is less than 5'3″, the 20″ stride may not be a good choice for you. 
A Sturdy And Strong Feel
An exercise machine needs to be solid as well as stable enough since it deals with heavy human weight. If an exercise machine is not built well, it may break after only a few uses. Also, cause damage and injury to the users. Besides that, a user can not experience the fun of exercise with a feeble and poorly built machine. It can definitely have a negative impact on the user's exercise regimen. 
The Sole machines are designed to give the customer the best exercise experience. All of its fitness equipment is large and strong, with no rocking issues. The Sole exercise machines are heavy enough to deal with constant abuse and heavy human weight. All of the models weigh between 189 and 215 pounds. This is why we recommend inside delivery of products in case anyone buys them. This is highly recommended because, unless you are an expert or have any special technical support, it is quite impossible for you to drag such a heavy product into your home. 
The sole ellipticals also possess a lengthy base that ensures utmost security and exercise convenience for the user. Heavy-duty steel frames are used to construct the machines, ensuring a strong and sturdy machine quality. Each of the two wheels on the elliptical foot pedals moves along the tracks. This helps to minimize the side-to-side motion. Single wheels are seen on the majority of front-drive ellipticals that cause the problem with a side-to-side motion.
However, the Sole machines take care of the issue by installing two wheels on the foot pedals. 
Built-In Speakers 
Whenever we are exercising, we tend to lose energy due to heavy physical activity. It requires an extrinsic motivating factor to boost intrinsic dedication and energy. When you are working out vigorously, music plays a crucial role in elevating your energy and dedication level. Keeping this important factor in mind, Sole machines have introduced built-in speakers.
The in-built speaker quality may not wow hardcore audiophiles. However, having an integrated music system on your exercise machine can double your energy while working out with its great music intensity. You can connect your iPhone or iPad to your Sole machine while working out and play your favorite motivating song to level up your exercise intensity.
No other thing could be better for you to help you continue your exercise regimen in a fun way.
We have two small concerns that can be considered very minor issues with respect to the general product quality and product engineering: 
As with most training equipment, the built-in fan provides very minor comfort. 

The display quality is not satisfying. The market has better fitness equipment on display in the $1,000–$2,000 range.
Check Our Comparison Chart for Sole Ellipticals
Individual Product (Recommended) Reviews From Sole Fitness 
When we last went to Dick's Sporting Goods, they had elliptical trainers from different companies, including Sole, Horizon, and ProForm. 
We inquired as to which item was the biggest seller. He said sole without any doubt or even thinking. "The quality blows away the competitors," he said when we inquired about the reason. 
In our opinion, this elliptical is one of the greatest deals in the $1,000-$1,500 price range. If you're unfamiliar with the brand, Sole treadmills are used for in-room exercises at the Hilton hotel chain, which speaks to its longevity. Their fitness machines are designed to last in general. We have yet to get negative feedback regarding this machine, but we have had multiple excellent customer reviews.
You can upgrade your equipment, but it will cost you a lot more cash. As all of the above features demonstrate, this is a fantastic bundle that is intended to provide a satisfying cross-training session. It comes with a long warranty, indicating that this elliptical is built to last.
The outstanding reputation that Sole has for sticking behind its products is also crucial. We haven't heard a single complaint regarding their customer support, and we've only received one email about a treadmill issue. That is a solid recommendation.
The overall size of the E95 is the only criticism. This elliptical is quite long and takes up a lot of room, but its length and weight make it very stable and solid.
Although you won't receive the same hard HIIT exercise on a bike as you would on an elliptical or treadmill, it's a good method to get in your daily aerobic movement. Using a piece of stationary cycle equipment will get your blood circulation going rapidly without risking injury or causing pain. The recumbent bike is also a terrific alternative for people who are just beginning out on their fitness routine, the aged people, those who need to prevent joint stress, those who deal with discomfort, and those who simply like cycling.
The Sole R92 recumbent bike is a great option for anyone searching for a low-cost recumbent bike for their apartment or office. The R92 received the good prospect already this year, despite its $1,000 price tag. This says volumes about the machine's engineering and sturdiness. Despite its low price, it is nevertheless a high-quality piece of exercise equipment.
If a recumbent bike seems like the ideal fit for your workout program, we recommend the Sole R92 recumbent bike.
Our Final Thoughts/Overall Review On The Sole Ellipticals
Sole's ellipticals and bikes have a stellar reputation. These machines not only offer unquestionable quality and durability but also ensure the greatest warranty facilities in their price range. The same warranty benefits are applicable to the treadmills too. Several respected sources and sites have rated them a "Best Buy," and the Hilton company uses them for their in-room fitness curriculum. The more sturdiness a product offers, the longer its guarantee period remains. Sole machines possess a many-year guarantee on their products, and that clearly implies their high-quality manufacturing process. 
A ground-level experience will better help you understand the unrivaled popularity that Sole ellipticals hold. We contacted a sales representative from Dick's Sports Authority to find out which elliptical manufacturer was the most popular among the users. He led us straight to a wonderful selection of Sole Elliptical Trainers. "Try the other ellipticals, then hop on the sole. The difference in quality is clear," he said when we questioned why they were the incredibly popular ellipticals.
Customer Service That is Well-Equipped
Any company requires a well-versed team with experienced professionals to deal with clients. This system is known as providing customer service. No business can be considered an entity without customer support. So, customers are like God to businesses. Satisfying them with proper service as required is very important to running a business. 
Sole Fitness has been able to gain the trust of customers around the globe not only with their top-notch product quality but also with their excellent customer service. I have gotten no negative comments from the users about their customer service since I began assessing and reviewing their ellipticals and treadmills. That is really unusual for any business. In addition, I've only received one email about a trivial technical issue. This is a powerful testimonial for the items and the company, in my opinion.
---
Customer Reviews for Sole
Customers' Feedback On Sole Ellipticals: 
"My Sole E95 has exceeded our expectations. Great workout and the various plans are really challenging. Thank you for the information."

"Extremely solid, sturdy, and seamless(and we're not small people—5'11 200+ and 5'8 175+). Our 8-foot ceilings were more than enough for us. It is considerably better on my knees than the treadmill and provides everything the training you could possibly require at any level! We've been using it every day for almost a month and couldn't be happier with our investment!"

"In conclusion, in terms of ellipticals, this product has the highest quality value. Sole ellipticals are the greatest under $2000 ellipticals, and they even fight well against those above $2000!"
See the Sole Elliptical Trainer Review Video.
---
FAQ
Who owns Sole Ellipticals?
Sole Fitness is owned by the parent company Dyaco. Dyaco also manufactures Spirit Fitness, and XTERRA Fitness.
Is Sole a good brand for ellipticals?
Sole is one of the most reputable fitness equipment brands on the market, producing durable and comfortable ellipticals.
How long does a Sole elliptical last?
Sole Fitness offers a lifetime warranty for the frame on their ellipticals. With the proper care and maintenance, consumers can expect a Sole elliptical to last for 10-15 years.
Where are Sole ellipticals made?
Sole ellipticals are a United States based company but their equipment is manufactured in Taiwan.
How much do Sole ellipticals weigh?
Sole ellipticals have a unit weight ranging from 212 lbs. up to 249 lbs.
*This Sole Fitness Review is based on not only on product testing, but also comments, testimonials, reviews and ratings of customers, and third parties. We attempt to be as accurate as possible. Warranties, features and prices can change without notice.