Sole Fitness Sets the Standard for Quality and Durability
COVID-19 UPDATE: Of all the brands we cover and review, during the pandemic Sole has seen the biggest increase in market share, even though their fulfillment is often 30 days out. This is a statement about the quality and reputation of the Sole machines.
Our team has been impressed with all of the fitness equipment from Sole Fitness we have seen since they hit the market many years ago. This company is totally focused on building quality machines that are extremely durable. In fact, one of our expert reviewers has owned a Sole elliptical for a number of years and can attest to the durability and the low maintenance of the machine.
Recently we visited their corporate headquarters and further discovered some features that make the Sole Elliptical and Bike machines some of the best value picks in their price range, including interactive Bluetooth technology.
Our Complete List of Sole Fitness Reviews
Sole Elliptical E35 – $1,599 (*BEST BUY)
Sole Elliptical E55 – $1,699
Sole Elliptical E95 – $1,799
Sole Elliptical E95S – $2,199 (*BEST BUY)
Sole Elliptical E98 – $2,499
Sole Elliptical E25 – $999
Sole Elliptical E20 – $649
Sole R92 Bike – $999
---
Top Features You'll Find on Sole Ellipticals/Bikes
1. Adjustable Incline on Ellipticals — This elliptical feature is similar to the inclines you find on treadmills. Being able to change the incline offers important benefits.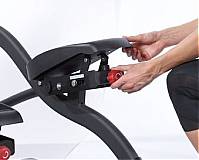 It kicks up your cardio workout.
You can target muscle groups in your lower body like your glutes and quads.
2. New! – Adjustable Footpedals — This feature on your Sole elliptical machine allows you to adjust your machine for the perfect fit for your body, which in turn reduces your risk of:
Numbness and stress in your feet due to flat feet or high arches.
Strain on your hips due to pedals too far apart, which is a common issue for women.
3. Heavy Flywheel — When we have tested both Sole ellipticals and bikes, we immediately noticed how smooth and sturdy the stride and cycling motion was on their machines. This can be attributed to the heavy 20-30 lb. flywheel. At the same time we have tested several Horizon and ProForm ellipticals and the difference was like night and day. Of course, these are cheaper machines, but in this case you get what you pay for.
4. 20-24″ Elliptical Stride — We particularly liked the 20-24″ stride length on the ellipticals, which is longer than most. Team member Fred Waters is 5'8″, and the 20″ stride length seemed very comfortable. When he tried a Horizon with a 16″ stride, it felt awkward and constraining. If you are under 5'3″ you may find the 20″ stride too long.
5. Solid and Stable Feel — All the sole machines are heavy and sturdy machines with no rocking motion. There are several reasons why.
All the models are between 189-215 lbs. We recommend inside delivery.
Sole elliptical trainers sit on a lengthy base. These are not cheap, compact models.
Most of their machines are constructed with a heavy-duty steel frame.
The elliptical foot pedals each have 2 wheels that run along the rails. This noticeably reduces side to side motion. Most front drive ellipticals have single wheels.
6. Built-in Speakers — The speakers may not impress true audiophiles, but it's convenient to have a sound system with the apex focused directly at you. You can plug-in your iPhone or tablet and rock out while burning calories and getting in shape on your Sole machine.
We have two criticisms that are minor issues in comparison to the overall quality of the components and engineering.
The built-in fan provides minimal relief, which is true with most fitness equipment.
We would rate the console and display as average. There are better displays in the $1,000 – $2,000 range.
7. Bluetooth Fitness Tracking – Sole introduced Bluetooth capability for their updated models. With this feature, the machine communicates with your smart device to help you track your workout stats. Most of their machines are also compatible with other popular fitness tracking apps you may already be using.
Check Our Comparison Chart for Sole Ellipticals
Our Review on the Sole Elliptical
Sole has an excellent reputation for their ellipticals and bikes, and like their treadmills these machines have the best warranty in their price range. They are rated a "Best Buy" by several reputable sources, and are used by the Hilton chain for in-room fitness. The length of their warranty is a reflection on the quality of their machines. To offer that kind of extensive warranty on an elliptical that has service problems would literally put the company out of business.
We've spoken with a Dick's Sporting Goods sales rep to see which elliptical brand was their best seller. He immediately took us over to a nice line up of Sole Elliptical Trainers. We asked why they were the best sellers and his response was: "Try the other ellipticals and get on the Sole, the difference in quality is obvious."
Responsive Customer Service
What is equally important is Sole Fitness has an excellent reputation for customer service. Since I have been reviewing their ellipticals and treadmills, I have received no complaints about their customer service. That is rare. In addition, I have only gotten one email regarding a minor technical problem. This is what I would consider a strong endorsement on the products and the company.
Sole Fitness machine are definitely some of the better values in the $1,000-$2,000 price range.
---
Customer Reviews for Sole
My wife and I are very pleased with our
Sole E95
. Great workout, and very challenging with the different programs. Thanks for your info.
Randy
---
Extremely stable, very sturdy, very smooth (and we are not lightweights-5'11 200+ and 5'8 175+). We found our 8 foot ceilings more than ample for us. Programing is very user friendly, it is much easier on my knees than the treadmill and gives all the workout you could possibly need at any level! Have used daily for about a month and couldn't be more pleased with our purchase!
---
In summary, this is absolutely the best bang for the buck as far as ellipticals go. Sole ellipticals are the best ellipticals under $2000 and they even compete very well with the ones above $2000 as well!
See the Sole Elliptical Trainer Review Video.
*This Sole Fitness Review is based on not only on product testing, but also comments, testimonials, reviews and ratings of customers, and third parties. We attempt to be as accurate as possible. Warranties, features and prices can change without notice.