Solid, Stable & Rugged – A Winning Combination!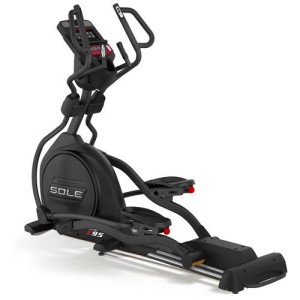 GREAT DEAL! For a limited time, Sole is offering a FREE 90 day trial membership to their interactive fitness technology Studio with the purchase of any Sole elliptical. 
The Sole E95 ranks as one of the best values in the $1,500 – $2,000 price range. The E95 may not match the quality of a high-end and very expensive commercial elliptical like Life Fitness or Precor, but at less than half the price there are some features that match or exceed those machines.  And with the recent addition of Bluetooth technology that includes fitness tracking capability it is even better.  Read more about the technology in this article.
Sole ellipticals have an excellent reputation for being stable, durable and requiring low maintenance. The are also backed with industry leading warranties.
We were recently at the Sole corporate headquarters and gave the E95 a test run and found it gave a very rewarding cross-training experience, besides being rock solid.  We had a dialogue with the VP of Sales and Marketing, and he talked about the Sole philosophy — which is giving the highest quality at the best value. They appear to have succeeded with the Sole E95.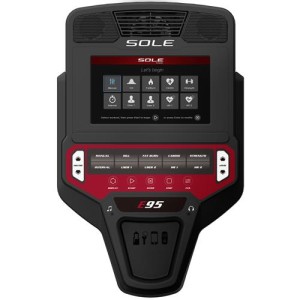 Team member Fred Waters personally owns a Sole elliptical, unfortunately not this high-end one, and over the last several years he has never had any mechanical issues.
Here is what Fred liked about the Sole E95 Elliptical…
Bluetooth Working Tracking Capability–  The new Sole E95 now has Bluetooth capability so the machine can communicate workout stats to your smart device.  Simply download a free Sole Fitness app and you can begin tracking progress towards your goals.  This technology is also compatible with other fitness tracking apps you may already be using.
Adjustable Power Incline — Having the ability to adjust the incline of the elliptical motion takes your crosstraining workout to a whole new level. It allows you to target specific lower body muscles like glutes and quads.
27 Lb. Flywheel — For a residential elliptical this is a heavy flywheel. The advantage of the extra weight is that it provides a more natural and smooth elliptical stride. You'll notice when you start and stop that the motion gradually increases and slows down.
Stable Dual Wheel Design — Most front drive elliptical trainers have single wheels that one along a rail. This can lead to a slight shifting and instability. The Sole E95 has two concave wheels that makes for a very solid motion.
20-22″ elliptical stride — When we tested the Sole ellipticals we were thoroughly impressed with long, smooth elliptical stride. It was how the elliptical should feel, and was similar to Precor and Life Fitness. You'll find lesser priced machines have more of a circular motion, resulting in having to raise your knees higher.
20 resistance levels — Some ellipticals have less than 10 levels, and the resistance can be dramatic from one level to the next. Not the case when you have 20.
New! Elongated Handlebars — The handlebars are designed to allow you to grip them at various positions. The benefit is that you can target different upper body muscles. A smart design.
Includes Heart Rate Control —There are those who swear by heart rate control, and claim it optimizes their workout by letting their heart rate determine their level of exertion.
Adjustable foot pedals — You can adjust the foot pedal to an exact angle with a worm screw. This can further reduce the strain to your feet and ankles. In addition, the pedals have a 2 degree tilt inward to add further comfort.
The Sole E95 weighs a hefty 215 lbs —This heavy weight contributes to the stability and sturdiness. Important factor, especially for users that push their machines to the limit, or have a few extra pounds. You may want to consider inside delivery due to the weight.
Handlebar Controls — You can control the resistance and the incline with switches on the moveable handlebars. That means you do not have to break your stride and mess with buttons on the console. A smart idea.
10.1″ TFT LCD Backlit Display — A 10.1″ TFT LCD display which simultaneously shows Speed, Incline, Time, Distance Traveled, Calories, Pulse and Pace. Included is a 1/4 mile track feature and a peak and valley graph. Also, the console tilts for optimum viewing based on your height.
Generous Warranty — You get lifetime coverage on the incline motor, 5-years on the parts and 2-years service.
83″ Length – Although all of Soles elliptical trainers are very stable the E95 with an 83″ length is rock solid. The downside is it is a space hog.
The only real flaws in this otherwise flawless package are the speaker system and the fan. The sound is not quite up to the standards of some of the competitors, and the fan provides moderate relief.
Check out our comparison chart showing all of the Sole Elliptical models.
Fitness Source Sole E95 Elliptical Review
You can get a better machine, but not without paying considerably more money. As shown by all the features listed above this is a overall sweet package that is designed to give a rewarding cross-training experience. It is backed by a generous warranty that suggests the durability of this elliptical.
Equally important is the excellent reputation Sole has for standing behind their products. We have yet to receive a complaint about their customer service, and have only received one email referring to a problem with one of their treadmill. That is a strong endorsement.
If there is a complaint it's the overall size of the E95. This elliptical is rather long and takes up considerable space, however the length and weight make it extremely stable and contribute to a solid feature.
Should I Purchase Direct from Sole or Dick's Sporting Goods?
Recently, a customer sent this message to us which we felt beneficial for our readers.
We purchased a SOLE ELLIPTICAL E 95.
We have used a treadmill for years as will as a Total Gym.  My wife and I are in our late fifties and try to keep active.  Both of us have suffered feet problems having planter fasciitis.  We were instructed by our doctors to find a lower impact form of workouts.  We needed a device to allow us to get a good workout as well as keeping our feet flat.  We did our homework and decided an elliptical was the way to go. We visited several websites, read hundreds of reviews.  We went to several sporting good stores to get some actual hands on education.  We found that in the upper rated machines were from two leading manufactures.  At Dick's sporting goods we tried the SOLE brand, they had only three on display, the E-35 and the E-55.  We very much like the design and the smoothness of them.  They were very well built and had a solid quality feel and look.  We liked the E-55, they only had the display model and it was filthy, besides the last thing I wanted was a floor model.  We asked if they would check the stores at other locations, he did but they would not come down on the price, and wanted a delivery charge, Dick's is no longer on our list of further for shopping, they were all but rude, well its our money and we will part with it from a company that cares.  We visited the SOLE website and happy we did.  For not much more than Dick's wanted for a dirty floor model we were able to purchase a SOLE E-95 ELLIPTICAL.  They offered this wonderful elliptical for $ 1,499.99, tax free and free shipping right to my door.  Within one day of my on-line purchase I received a call from SOLE to confirm my purchase and advise me that the shipping company would be in touch.  The same day I received that call from ABF Freight to set up delivery, four days after purchase it arrived at my door in Oklahoma.  Every person from SOLE as well as ABF were extremely nice and very professional.  The unit was well packed and took me about three hours to set up.  We are extremes impressed with this unit, it has more work out options then several we reviewed and the quality is outstanding.  The workouts are as easy or as hard as we will ever need or want.  We are totally sold on SOLE.
Thank you.
Please feel free to contact me and use this review.
Rodger Runyon
mrrdrunyon@att.net
Customer Reviews of the Sole E95 Elliptical Trainer
The Sole E95 has an average 4.5 rating out of 5 from customers on Amazon.com.
"My wife and I are very pleased with our Sole E95. Great workout, and very challenging with the different programs. Thanks for your info." Randy

---

"Well, it has now been about 4 months since we purchased the Sole E95 elliptical and there are absolutely no regrets. The solidity persists and you can just tell that this machine will last a very long time. Considering the reputation for reliability that Sole treadmills have established, I have absolutely no worries about the future and besides, there's a solid warranty to cover us just in case. 2 years labor, 5 years electronics, and lifetime for the frame."

---

I ordered the Sole E95 directly from Sole and I am extremely pleased with the service and timely delivery.  I've had the elliptical for just over 30 days and it's as good as everyone said it is.  The machine is extremely quiet and provides lots of options for workouts and the heart rate monitor is very beneficial for me.  I looked at a lot more expensive machines and several that were less expensive.  If I had it to do over again, I wouldn't consider anything but a Sole.  The only question would be which one, the E35, the E55, or the E95.  I went to a retail store before purchasing from Sole and tried the E35 and the E95.  The E35 is very good but I'm glad I decided on the E95.  It's extremely well built and I believe it will last me a long, long time and the additional cost spread over the years is small in comparison to the benefit.
---

"I purchased the Sole E95 on September 27th of 2006. Delivery was right on target. (14 days) I purchased it directly from Sole for $1699. It took me about 1.5 hours to assemble. Not too bad considering I'm not experienced at building things. I purchased another unit several years back for about $600 which broke shortly thereafter and did not get much use from it. After researching many of the machines out there, I chose to purchase this one due to a couple of reviews and an outstanding warranty. (lifetime on frame, 5 years on parts and 2 years on labor). From the time I built it, I knew that it was a very solid piece of equipment. It is silky smooth and very quiet."

---

Solid construction, built to last

I purchased the top line model Sole E95 directly from soletreadmills.com. The main differences between the E35 and the E95 are a more full-featured control panel, adjustable foot pads, a shroud cover for the rear rails for better wheel control, and a heavier duty frame.

The heavier duty frame was important to me because I weigh 315 lbs. Some brands of ellipticals support only a 275 lb. user. The E35 holds 300 lbs. The E95 holds 400 lbs.

The service from Sole was fairly good. The semi-truck arrived with the E95 eight days after I ordered it. It arrived in two boxes. The heavy one was 230 lbs. Fortunately I had a little chrome chart that the driver and I used to wheel it into the garage.

You really cannot go wrong with any of the Sole ellipticals.

---

The elliptical is bigger than most others, and very heavy.  On the highest 2 resistance settings, there is increased noise when using.  For some reason, even at level 1, the lowest setting, it has a lot of resistance to it.  This makes it very different from usual gym machines, much more difficult.


***
Go to www.SoleEllipticals.com/E95 to learn more.*
---
Other Sole Elliptical Reviews:
*This Sole E95 Elliptical Trainer Review is based on not only testing the equipment, but also comments, testimonials, reviews and ratings of customers and third parties. We attempt to be as accurate as possible. Warranties, features and prices can change without notice.
.04