A Best Buy! You Won't Find a Better Elliptical at this Price Range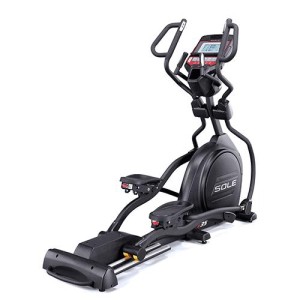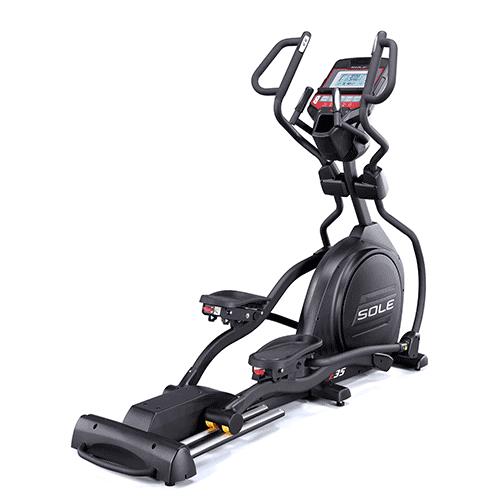 GREAT DEAL! For a limited time, Sole is offering a FREE 90 day trial membership to their interactive fitness technology Studio with the purchase of any Sole elliptical. 
One of the main reasons you want to seriously consider the Sole Elliptical E35 is its all about reliability and quality. For the price you are not going to find a more low maintenance cross-trainer. Team member Fred Waters has personally owned a Sole elliptical for over 8 years, and other than occasionally lubricating the railings, he has had NO problems.
There are other factors that make the Sole Elliptical E35 a "Best Buy" including the stability, ergonomic features and the challenging workout.  This most recently released model has Bluetooth capability and an upgraded console.  The elliptical is able to communicate with your smart device with the help of a free Sole app.
Check out our Team Member Review of the Sole E35
We tested the Sole Elliptical E35 at their corporate offices and for a mid-priced elliptical it has a very smooth elliptical motion. That is partially due to the heavy 25 lb. flywheel that provides a comfortable and natural stride. It's also very quiet if you keep the railings lubed. In the past we have tested it side by side with several Horizon and ProForm models and the difference in stability and noise level was dramatic.
Note: The Sole Elliptical E35 was rated "Best buy" from a popular consumer magazines whose name we cannot mention. In their review they gave it an "Excellent" for construction and exercise range.
Features of the Sole Elliptical E35
Bluetooth Capability – The recently upgraded version of the Sole E35 comes with Bluetooth capability.  The machine is able to communicate with your smart device via a FREE Sole Fitness app.  Track your workout stats to help you make better progress to your goals.
It's a Hefty 231 lbs – The Sole Elliptical E35 is a heavy piece of equipment with dual wheels that run along the railing, giving it a solid and stable feel. In addition, the 71″ length adds further to the stability. The downside is this elliptical takes up considerable space.
Note: Standard delivery is to the curb. Sometimes they will back into your driveway, but not always. Either plan to have some strong individuals to move it indoors, or go for the optional inside delivery.
Power Incline – The Sole Elliptical E35 comes with a power incline feature, allowing you better target and tone various lower muscles. It also gives you an increased cardio burn and feels like hiking up a hill.
Long Smooth 20″-22″ Stride Length – We found the 20″-22″ stride to be smooth and comfortable. If you are under 5'5″ you may want to consider a machine with with a smaller stride. However, this is an ideal stride length for average to above average users.The stride is elongated, which is what you want with an elliptical. Cheaper units will often have an 18″ stride with a flywheel weighing considerably less. The result is a choppy circular motion that requires lifting your knees. It's not as comfortable and consequently you'll probably exercise less and getting fewer results.
Adjustable Foot pedals- To add to your comfort level the Sole Elliptical E35 is designed with articulating foot pedals. They angle with the elliptical motion. To increase your comfort level, you can manually make further adjustments to the angle of the pedals. If you have flat feet or higher arches, you can adjust the pedals to an ideal angle that will further reduce stress and potential numbness.
Console and Display– The Sole Elliptical E35 comes with 10 programs, for a variety of challenges. There are 6 installed programs, 2 user defined programs and 2 heart rate programs.Included in the console are built-in speakers and a plug-in for a MP3 or iPod player. The sound won't impress audiophiles, but it is nice having the apex efficiently directed to you. There is also a small fan that provides moderate relief. You get a 7.5″ white backlit LCD display which simultaneously shows Speed, Incline, Time, Distance Traveled, Calories, Pulse and Pace.
Included is a 1/4 mile track feature and a peak and valley graph so you can visualize your progress. Also, the console tilts for optimum viewing based on your height.There are also 20 levels of resistance, making the switch from one level to the next marginal. This allows you to make small incremental adjustments. A feature that we really like is resistance and incline controls located on the moveable handlebars. When you want to make adjustments you don't have to break your stride and hit buttons on the console.
Multi-Position Handlebars – We're not sure why more manufacturers do not offer this feature. With the extended handlebars you can change the positions of the upper body workout, thus allowing you to target more upper body muscles.
Check out our comparison chart of all Sole Elliptical models.
Our Complete Elliptical Review – Sole Elliptical E35
When we last visited Dick's Sporting Goods, they carried Sole, Horizon and ProForm elliptical trainers. We asked the salesperson which was the best seller. Without hesitation he said Sole. When we asked why, his response was "the quality blows away the competition".  This updated model with its Bluetooth capability elevates our opinion of the E35 even more. Many other brands have incorporated workout stat tracking into their machines and we're am happy to see that Sole Fitness is joining in.

We feel this elliptical is one of the best buys in the $1,000-$1,500 range. If you are not all that familiar with the name Sole, their treadmills are used for in-room workouts in the Hilton chain, which says something about their durability. In general, their machines are built to last. We have yet to have a complaint about this machine, meanwhile we have had numerous positive reviews sent from customers.
Customer Sole Elliptical E35 Reviews
The Sole E35 received 4.5 stars out of 5 from over 47 customers on Amazon.com

Great elliptical, especially for the price!
I recently ordered the Sole elliptical E35. I have always used and liked the Precor machines at the gym however I was not willing to pay the price to have one in my home. I tried several machines in fitness stores and Sole was the only brand that felt sturdy for my price range ($1,300 is actually more than I had originally planned on spending).
The assembly time estimate on the Sole web site says 25-35 minutes. I think it took me 2-3 hours and I'm a reasonably mechanical person. That said, all the parts went together very easily and the instructions were decent (could have used more pictures in my opinion). I've only used the elliptical twice but find it to be very sturdy. It is also very quiet! I'm not sure how much noise I expected it to make, but it far exceeded my expectations. I hope with time it holds up well and it doesn't become noisy, but so far it is great!
---
I bought a Sole Elliptical E35 and put it together in my home. It was very easy – the hardest part was carrying it up the stairs, but my husband and I carried it up in pieces. I love the machine. It has all the programs I need (I generally use "Manual" but my kids like the "Fat Burn" and others, it's stable and very comfortable. I'm 5'4″ and the stride length is perfect. I like that it's quiet and I can watch TV while I workout. I would highly recommend this machine – I've tested several brands and for the price it is an excellent value.
---
I owned a nordic elliptical for 5 years and had it serviced twice.  I decided I need to up grade.  I search and researched.  The best bang for the buck seemed to be the Sole E35.  I was on a waiting list at a local store for several months.  I finally went on line and ordered it from Sole directly.  The price was $l.000 – free shipping.  That was 3 years ago.  I love this machine.  My entire family uses it including my grandchildren.  The only complaint I have is that the water bottle holder could be higher and the display window could be bigger.  That aside, it performs much like the $3,000 machines.  I have no complaints.
---
Our office building purchased an E35. It broke after 4 months and they would not repair as the unit is in "commercial" use. Commercial use = NO WARRANTY. Keep this in mind if you are buying for your office. I would not buy Sole again and felt we were mislead about the warranty.
---
I tested and read reviews of about a dozen ellipticals before purchasing the Sole E35. In addition to the best warranty in it's class, this unit is the most stable and quietest. The assembly technician concurred stating that he had to return to people who purchased other brand names but could not recall returning for problems with the Sole Elliptical E35. I have mine for a short time, just over a month but it feels secure and would recommend it at this time.
---
Just purchased a sole elliptical E35.  It arrived in excellent condition, with individual parts separately packaged.  Whatever you may think, it's going to take you and someone else to get the main pieces moved to your final location. The assembly was pretty straightforward.  However, the Sole "estimate" of 30 minutes is very optimistic. I'm fairly mechanical, and it took about 3 hours. I read elsewhere that you need lock-tite for some of the bolts. But, I noticed that a few of them are sent with the material already on the bolt. The machine is VERY quiet, and feels quite substantial.  It appears to be a quality machine…..guess we will see over time!
Go to www.SoleEllipticals.com to learn more.
Note: In this review of the Sole E35 we attempt to be as concise as possible with features and pricing. The manufacturer may change either without notification. Please go to the manufacturer's web site for the latest details.