Proform Elliptical are some of the Best Elliptical Values on the Planet!
When it comes to treadmill brands boasting modern technology, it is an undeniable fact that iFit Equipment (Previously ICON Fitness) is the most significant global premium fitness equipment producer. ProForm Ellipticals are one of the best-known models manufactured by them. 
We have had several visits to the ProForm's production headquarters over the years and, after paying our third visit, we were blown away by the progress being made by them. As per the previous records and reviews, ProForm had challenges with product testing, quality management, and customer service quality.
However, they have made admirable progress in these aspects by incorporating beneficial changes in recent years. ProForm Ellipticals offer some great deals, ranging in price points from $800 to $1,700. We enjoy doing ProForm Elliptical Reviews since this equipment is reasonably priced and comes with several innovative features. 
Our Complete List of ProForm Elliptical Reviews
ProForm Hybrid Trainer XT – $599
ProForm Pro HIIT H14 – $1,699
ProForm Carbon HIIT H7 – $1,403
ProForm Carbon E10 – $1,403
ProForm Carbon EL – $799
---
Standard Proform Elliptical Features
When it comes to research and development, iFit Equipment (Previously known as ICON Fitness) has long prided itself on incorporating many innovative approaches and long-term investments. On a contextual note, iFit Equipment is the parent company of NordicTrack that produces ProForm Ellipticals.
Every business has its own research and development sector aiming to bring desirable and groundbreaking changes in product lines. So, it implies the fact that research and development is nothing but a process of creating products and enhancing product performance, operations, or procedures. Every business is entitled to invest time and utilize resources to take chances and experiment prior to actually deploying something new and fresh across the board. It also plays a major role as an opportunity for a company to address concerns and work out how to turn a vision into something tangible and achievable.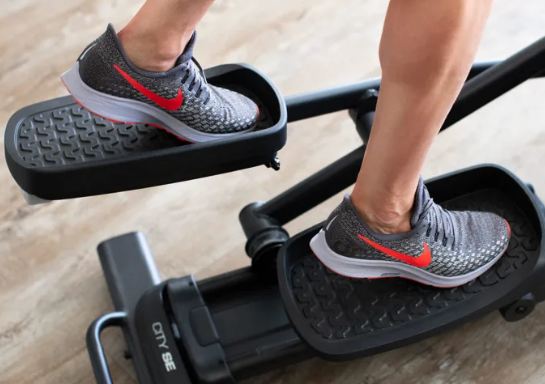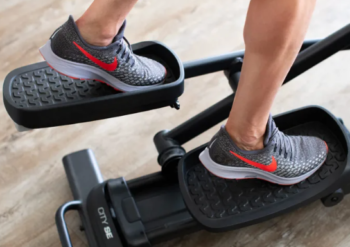 iFit Equipment has also been no exception, investing a huge amount for the betterment of its research and development sector. Otherwise, it would be impossible for them to introduce new product launches that not only benefit customers but are also very economical. 
As mentioned before, since iFit Equipment has invested much in its research and development sector, the company has been able to introduce new products with groundbreaking features. The new and better features not only help to boost the efficiency of the products but also help the company grow in competitive markets. The following write-up is going to discuss the new features of ProForm ellipticals.
Power Ramps
Numerous brands have been manufacturing tea nowadays despite not having proper infrastructure. This leaves their production line unscientific and harmful to the customers. These outdated models typically do not possess any scientific incline facility in a test tube. So, if any customer is trying to adopt a body part-specific exercise regimen, they will find difficulties. Besides that, if a customer wants to shred his or her extra pounds, this outdated inclined trade model would be of no use.
 However, all ProForm ellipticals are designed in such an innovative way with a power ramp that they easily let you control and adjust the elevation of the elliptical action. This feature enables users to carry out a target-based exercise routine. It becomes way easier to target different sections of your lower body by increasing the elevation of your elliptical stride. It also becomes feasible to burn more calories within a short period of time.
iFit Ready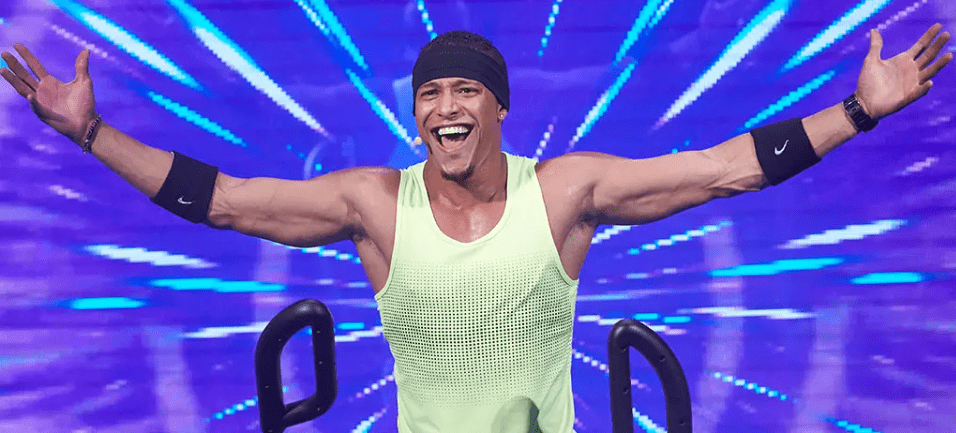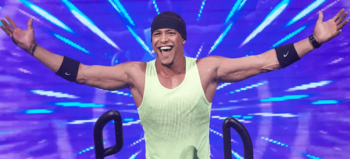 iFit technology is a patented feature of the iFit company. It is obvious that the company's research and development sector has been able to excel in its performance due to the company's unparalleled contribution to the research and development provision. iFit technology is the result of the relentless hard work of the company's research and development department. 
iFit Technology is an exclusive inclusion to all the ProForm elliptical products. Every piece of fitness  equipment from the company has this innovative feature that makes the exercising experience even more fun and fruitful. The following points emphasize the beneficial aspects of using iFit technology in fitness equipment.
Sessions of Interactive and Collaborative Training
If a person has some specific exercise goals, he or she needs to hire a personal trainer to reach those desirable exercise goals. Besides that, if an inexperienced person gets involved in an unscientific exercise routine, he or she might end up having body injuries and pain. This is why having a personal trainer is mandatory to execute a well-planned and well-suited workout routine.
We all have different body types and different food habits. This factor also makes a huge difference in building our body type and fat accumulation. So, if a person wants to shred his or her extra body weight, they need to engage in a workout routine specially designed for their distinctive body type. Nothing other than a personal trainer can help them in this matter.
The iFit technology lets the user connect to the personal trainers in a virtual way. iFit technology is so well-versed that it lets trainers engage with the client's exercise equipment as well. This allows the trainer to monitor the exercise routine more closely.
It is also very beneficial for the customers in so many ways. The customers are only required to participate in an interactive session during their workout time. They only have to concentrate on the exercise objectives and require no attention to be paid to the machine adjustments. This is possible because the iFit technology lets ellipticals adjust their pace and incline automatically according to the trainer's setup.
Virtual Global Pathways And Workshop Classes Streaming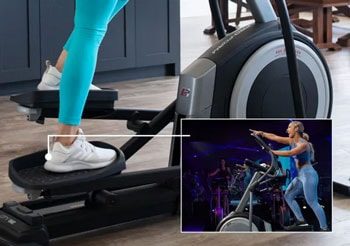 Our modern lifestyle and high work pressure leave very little me-time for us in our everyday lives that you can utilize as your exercise time. However, it is crucial not only to keep our bodies fit but also to rejuvenate our minds with fresh energy. Otherwise, our bodies and minds will not be able to continue their journey with great capacity. However, time constraints and a lack of open space pose significant challenges to the sustainability of this activity. But, any passionate and exercise-loving person would not suffer from this anymore. 
iFit technology has introduced a groundbreaking feature for customers that lets them choose a place virtually to carry out their workout sessions. No matter which country a person belongs to or which type of landscape they love, every person can choose their workout place virtually while being at home. They can choose a new country each day they work out. iFit technology integrates with Google Maps technology to provide this life-changing exercise experience. It requires a user to just click on the equipment to explore trails and street pathways in different nations all over the world. Or, if you want to have an intimate and personal experience, you can opt to join a virtual studio class too.
Fitness Monitoring
When we start doing something, following a routine to achieve a desirable long-term goal, it is very important to keep track of the progress. It helps us to monitor our growth towards the goal. If the progress report specifies that we are lagging behind, we can revise our plan and work accordingly.
On the contrary, if the data shows progress, we get motivated and we can dedicate ourselves in a more planned way to achieve our goals.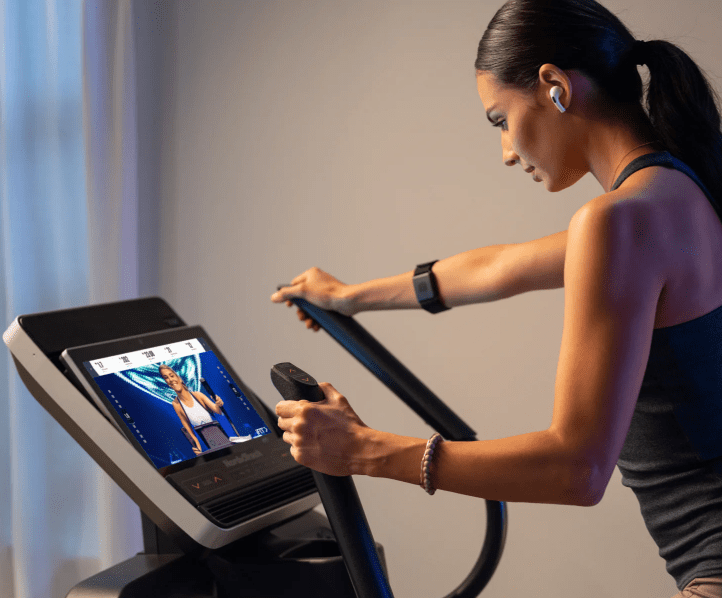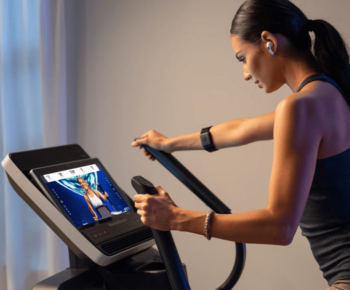 The same theory is broadly applicable to our exercise routine.
If the plan is to get in the right shape or strengthen a particular body part, it requires a long-term dedication and exercise regimen. Following up becomes critical in this case to maintain a long-term exercise routine.
The iFit technology is a very well-versed tool that records and keeps track of our daily progress in workout routines. This data helps iFit create upcoming exercise sessions specially built for each user. This prevents people from reaching a plateau, assisting in continuing to make progress and create new goals.
Furthermore, if people are unable to meet their desired goals, the technology will reflect the revised plan to assist them in returning to healthy exercise practices. If people are already doing it correctly, the progress information provided by iFit technology will encourage them to continue exercising.
Video Collection
We live in a fast paced world, where it's hard to make time for our fitness. And, it is even more difficult to align our time with someone else. In a fast and busy world when we cannot even make it to meet all of our family members in a day, it's nearly impossible to match our workout routine time with our personal trainer. So, are you thinking that you might miss out on all the trainer-related opportunities that iFit can offer you? Well, that's just not the case.
iFit technology is so comprehensive in its approach that it improves the experience of using fitness equipment by a factor of a hundred. The technology features a video library where a customer can get access to over 17,000+ videos to help them with their workout. So, even if you can't make time for live interactive sessions trainers, you can still view their recorded sessions and get your workout in whenever it's convenient for you.
---
Check out a comparison chart of all ProForm ellipticals here.
---
Buying the Right Machine For Your Needs
How to Find the Right Elliptical in 4 Quick Tips
Heavy set? A budget elliptical won't hold-up under the strain or provide the necessary stability.
Excessively tall? Consider an elliptical with a longer elliptical stride, 20″ or more.
Going to workout aggressively? Get a machine designed for the abuse.
Multiple users? Once again, get a machine designed for the abuse.
A Quick Rundown of All ProForm Elliptical Models
ProForm Hybrid Trainer XT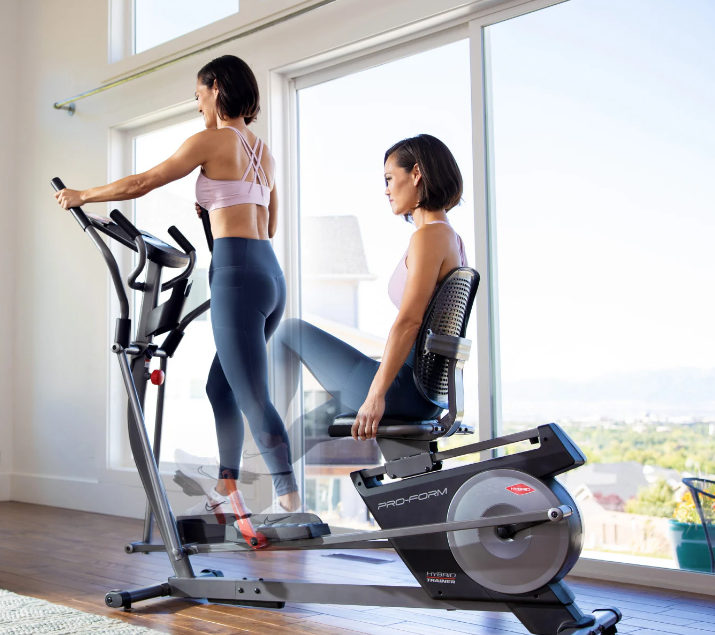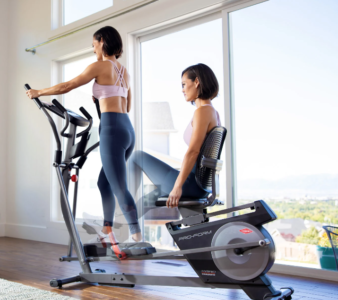 Our initial impressions of the ProForm Hybrid Trainer XT did not receive any positive feedback until we spoke with the firm recently. 
"The hybrid is selling like crazy and is ProForm's #1 seller," they said. 
Now, we are a little bit of an exercise equipment snob, and we rarely recommend any fitness equipment under $700. 
There are two reasons for this, as mentioned below:
We constantly devote ourselves to searching for and reviewing the right fitness equipment for our customers. So, it has always been seen that the higher the price of equipment, the greater the longevity. Since we want to make sure that our customers receive high-quality equipment, we recommend buying anything above $700. These highly priced pieces of fitness equipment are not only well-designed to sustain exercise goals but also fairly durable and low-maintenance.

We don't want to be held accountable for anybody receiving substandard products as a result of our suggestions. So, we always try to recommend quality products that might be a little pricey but do not ever compromise on quality. 
Read our full review of the ProForm Hybrid Trainer XT.
ProForm Pro HIIT H14 Trainer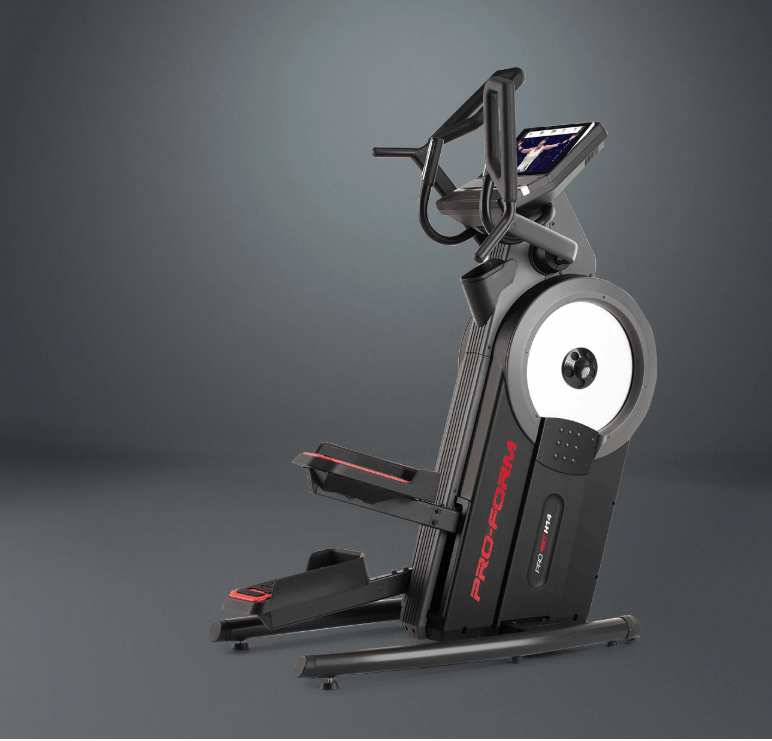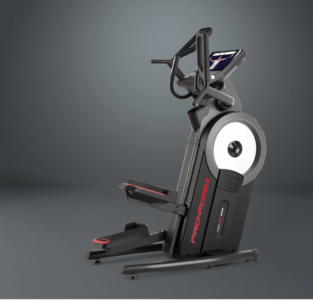 The ProForm Carbon HIIT H7 is the major competitor for the H14 elliptical trainer. When it comes to features and capabilities, these devices are very comparable. The HIIT H14 model has a bigger display-about doubling the size. 
Both of these pieces of equipment, however, are constructed with a 10-inch vertical path and a 5-inch lateral path to stimulate as many muscles as possible and provide a good workout.
With the purchase and registration of a 3-Year iFit Family Membership, you can buy the Carbon HIIT H7 model for a substantially cheaper price at the time of this review publication.
Read our full review of the ProForm PRO HIIT H14.
ProForm Carbon HIIT H7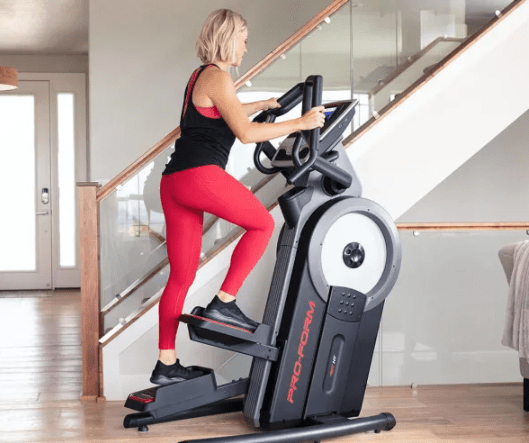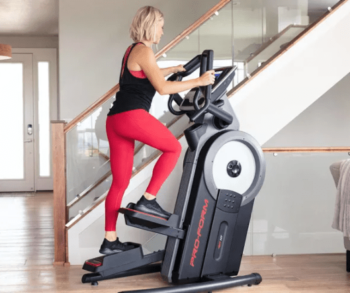 The Carbon HIIT H7, which is part of the growing ProForm+ program, appears to have no drawbacks. 
That may sound unbelievable or too good to be true, but consider the facts and understand the implications. 
The Carbon HIIT H7 is fantastic equipment from a manufacturer we know produces high-performing fitness equipment. 

This machine gives a high-intensity exercise in a minimal and compact package, making it suitable for all fitness levels. 

You will be able to do more muscle training, increase your metabolism, and lose calories even after your workout is finished.
For $1,403, you get high-quality equipment as well as 3-year access to all of iFit's engaging training features to ensure that you get the most out of each exercise session. This also comes with an attractive warranty. 
Read our full review of the Carbon HIIT H7.
ProForm Carbon EL
The ProForm Carbon EL is one of the better cheap ellipticals on the market. It has a lot of fantastic features for only $799.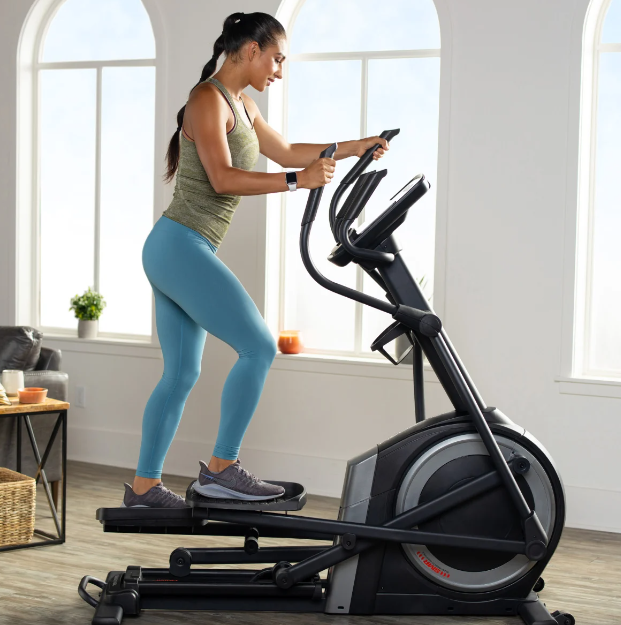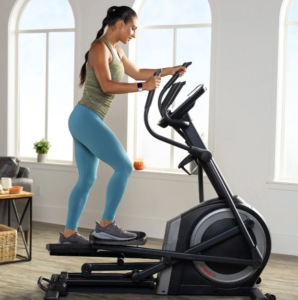 A full-color high-contrast digital display

A wide 19″ movable stride

A 20-degree adaptable ramp with 5 distinct locations

iFit compatible
This elliptical's features provide you with a range of workout alternatives, allowing you to target different muscles and get into tip-top shape. 
Read our full review of the ProForm Carbon EL.
ProForm Carbon E10 
The Carbon E10 has the most features for the price when compared to the other two ellipticals in the Carbon series, the Carbon EL and the Carbon E7.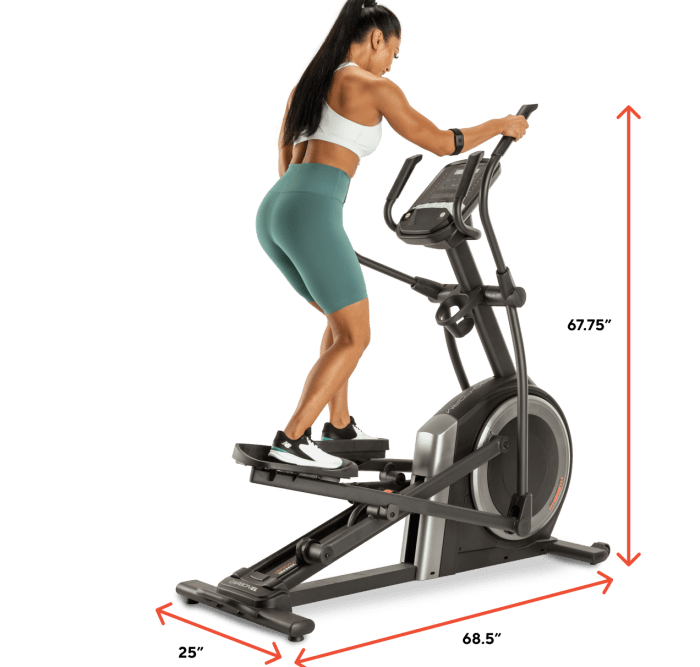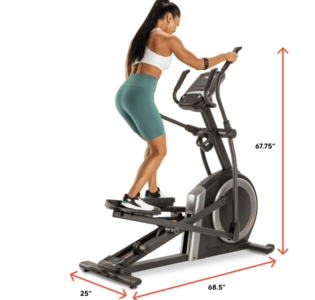 The E10 is the best "value for your buck" in the $1,000 price category. However, if you want to keep your iFit subscription after the 30-day trial period ends, you should choose the Carbon E7.
Read our full review of the ProForm Carbon E10.
ProForm Carbon E7 
*Note: This machine is currently not available for purchase.
For the price range, the ProForm Carbon E7 is an excellent machine.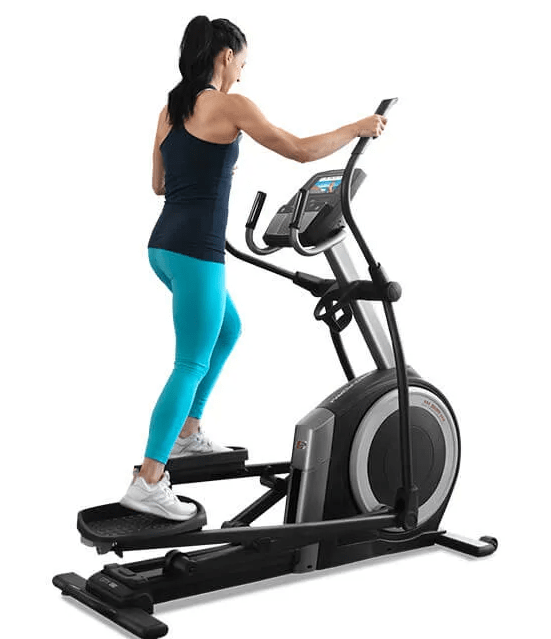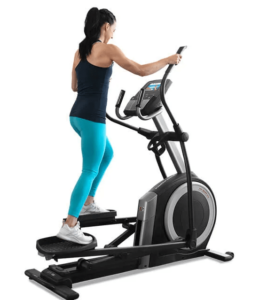 The E7 is often referred to as the FREE elliptical, because when you purchase a 3-year subscription to iFit ($1,403), you get the Carbon E7 elliptical. The E7 is really a great option if you know that you'll be continuing to use iFit and want to get an all-in-one package for your elliptical machine with your interactive fitness technology.
Read our full review of the ProForm Carbon E7.
Our Overall ProForm Elliptical Reviews
We received a phone call from one of the officials from iFit Equipment about seven years ago. 
They inquired as to why we slammed their items in our ProForm Elliptical Reviews. 
"Your quality control and customer service stink," we affirmed, without sounding diplomatic. 
They answered by claiming that, like the Detroit automakers, they were transitioning and that caused the issues. They also added that we should come out to Logan, Utah to see the improvements that were being implemented.
Since then, the organization has achieved significant advances in both quality assurance and customer support. 
We still get the occasional criticism about the products, but given their massive sales volume, the total percentage of service difficulties is low.
iFit Equipment has become a company that is completely focused on offering the best value in their price range. In fact, they are fanatic about it. The quality of their machines and their leading edge technology make the models some of the best values in their price range!
Frequently Asked Questions
Are ProForm Ellipticals good?
Yes. ProForm ellipticals are priced reasonably and come with many interactive features that will help users reach their goals without breaking the bank.
Are ellipticals good for losing weight?
Ellipticals are a great low-impact exercise option for any type of fitness goal. ProForm ellipticals offer iFit technology to help in every step of your fitness journey.
How much do ProForm ellipticals cost?
ProForm ellipticals range in price from $700-$1,700.
Is ProForm better than NordicTrack?
ProForm are NordicTrack are produced by the same manufacturer. However, NordicTrack has always been known for offering a more sleek quality appearance, while ProForm focuses more on offering budget-friendly equipment.
Check out a comparison chart of all ProForm ellipticals here.
Shop now at ProForm.com.