Engage More Muscles – Burn More Calories!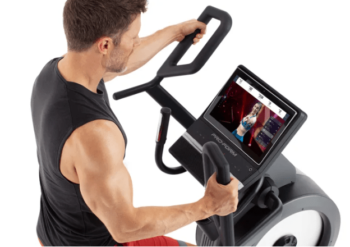 The ProForm Pro HIIT H14 Elliptical features the latest breakthrough in the elliptical world, HIIT elliptical training. If you are not familiar with HIIT training it stands for "high intensity interval training".
This machine combines a unique 10-inch vertical stepping path with an upper-body punching actions. The purpose behind this combination movement is to mimic stair climbing and boxing at the same time, which will activate essentially every muscle in your body — from your quads to your triceps. You're sure to get an effective workout with the HIIT H14. 
Features on the ProForm HIIT H14
Vertical and Horizontal Elliptical Path for HIIT Workouts – As mentioned, the HIIT H14 is specifically designed for HIIT (high intensity interval training) workouts. These short and intense bursts of intense work, followed by brief recovery periods help your body engage more muscle groups and burn the max calories.  The 10-inch vertical path and 5-inch horizontal path of this elliptical will make you feel like you're stair climbing and boxing all at once. This motion will have you burning more calories, and building more strength, while keeping your joints at ease.
Full Body Engagement – The HIIT H14 is designed to recruit and engage a large variety of muscle groups, so you can get the most effective workout possible. 
26 Resistance Levels – The ProForm HIIT H14 uses patented SMR (Silent Magnetic Resistance) to simulate 26 digital resistance levels. This is a broad selection of level options to accommodate from casual to intense workout levels. 
iFit Enabled – One of the biggest perks on any ProForm or NordicTrack machine is their incorporation of the iFit Live programs. At the time of this review, you get 1-Year iFit Family Membership for FREE with the purchase of the HIIT H7 elliptical. iFit is one of the best ways to step up your workout. Enjoy live interactive training sessions with certified trainers, where they can adjust your resistance for you during your workout. Travel the world through global training classes, right from your own living room. Track your progress through iFit to plan future nutrition and fitness goals tailored to your needs. 
14" Smart HD Touchscreen – This is a HUGE screen that will keep you motivated and captivated during your time on this machine. View all your workout stats including speed, time, distance, calories burned, heart rate. 
30 lb. Flywheel – A heavier flywheel allows for a smooth and more natural feeling elliptical motion.
Warranty – There is a 10-Year Frame, 2-Year Parts, and 1-Year Labor Warranty on the HIIT H14. This is a pretty standard warranty from ProForm. 
Other Features Include… 

CoolAire Fan
EKG Grip Pulse Heart Rate Sensor
Audio Auxiliary Port with (2) 2″ BlueTooth Speakers
Water Bottle Holder
Over-sized Leveling Feet 
Our Review:  ProForm HIIT H14 
The main competition for this model is the ProForm Carbon HIIT H7. These machines are really similar when it comes down to features and specs. The HIIT H14 model does include a larger screen — double the size in fact. However, both of these machines are designed to incorporate a combination of a 10-inch vertical path and a 5-inch horizontal path to activate the most muscles possible,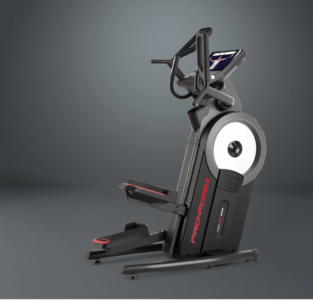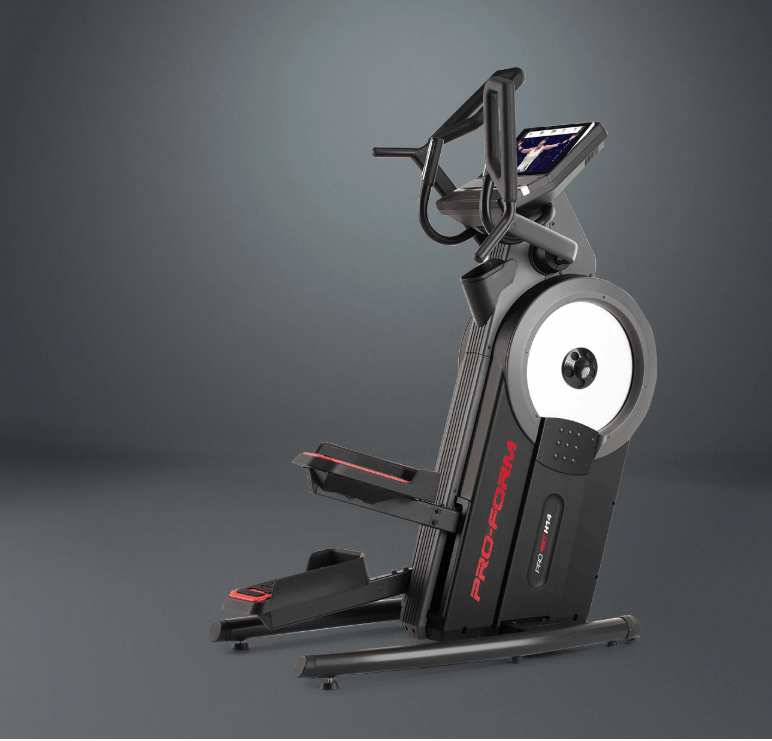 and guarantee an effective workout.
At the time of this review, you are able to get the Carbon HIIT H7 model for a significantly lower price with the purchase of a 3-Year iFit Family Membership.
The main difference between the two is the screen size, so take that into consideration which screen size you prefer, and how much you are willing to pay for a larger screen (There is about a $1,000 difference between these two ellipticals). ProForm is an excellent brand that produces quality product, so you're sure to get a great machine with either purchase here.  
Check out a comparison chart of all the ProForm ellipticals.
To learn more, visit ProForm.com