(Last Updated On: December 19, 2019)
Battle of the HIIT Workout
Gone are the days when you simply had to choose between a treadmill and an elliptical.  Now, at-home fitness includes a new kid on the block… the high intensity interval training machine!
In recent years we have seen an influx of HIIT Trainers that promise you amazing results in less time. There are three machines that we are going to look at today, the Horizon Peak Trainer HT5.0, the ProForm SMART HIIT Trainer line and the Bowflex MaxTrainer.
What Makes Them So Great?
First thing first, what do these machines do? How are they different from the machines you are used to seeing?
These machines get results by using an incline step motion. You can think of it as a vertical elliptical, or as if an elliptical and a stair-stepper merged into one. They deliver a low-impact, high-intensity workout.
Not only will your legs be moving, but you also have the option to get your arms pumping. There are two sets of handles, one stationary and one that moves, so you can step up your workout for a true full-body experience.
Don't forget, when you're using those arms, you will really be engaging your core muscles.
Essentially, these machines will give you full-body toning and a cardio workout. This means you can see results in a shorter amount of time than you would on a traditional elliptical or treadmill.
Claims –
When it comes to new fitness equipment, remember it's the norm for brands to make some pretty amazing claims about the results you will see. Remember that individual results are going to vary. If you aren't using the machine as part of a healthy lifestyle – including good nutrition and regular exercise — you probably aren't going to look like the people in the ads.
Horizon Peak Trainer HT5.0 – With this machine and their Integrated Sprint 8 high- intensity interval training, Horizon claims you can "trim body fat by up to 27% and significantly lower bad cholesterol after just eight weeks of three 20-minute workouts per week."
ProForm SMART HIIT Trainer – This is one area where ProForm plays it safe. They explain how a HIIT workout will help you burn more calories and activate more muscles than other exercise regimen – no percentages or deeper promises are included.
Bowflex Max Trainer – Bowflex may not be claiming to burn 50% body fat, but they do advertise their MaxTrainer as being able to give you a full-body cardio experience in as little as four minutes.
Technology –
Considering the massive LCD Touchscreens we are starting to see on many brands of exercise equipment, the HIIT trainers are keeping things a little more low-key in this department.
Horizon Peak Trainer HT5.0 – This machine utilizes Horizon's Sprint 8 programs, which is specifically designed for HIIT workouts. However, you will be using this program on a 5.5" LCD track display and 3 LED windows.
ProForm SMART HIIT Trainer – As with all ProForm machines, the HIIT Trainer does come with a 1-year membership to iFit. So you do get to try out all the program as to offer. If you go with the standard model of this machine, you get a 7" LED backlit display, but you'll have to use your own device to utilize the iFit features.
You can upgrade to the SMART HIIT Trainer Pro model and get a 10" Smart HD Touchscreen. However, keep in mind that it's going to cost you about $400 more.
Bowflex MaxTrainer – Bowflex uses a program called Max Intelligence, which stores and analyzes data from each of your workouts to provide you with new ones to push you every day. Note this is not available on the Max M3, which serves as the base model in this line.
If you purchase the M6 or M8 models, you can access Max Intelligence, but only through the use of your own device. The newly released Max Total model does come with a built in screen, but the price tag on this one is a doozy and we'll get to that in a minute.
Space –
All of these machines are going to take up significantly less space in your home than a treadmill or elliptical. To keep things in perspective, the footprint of an average treadmill is about 78" x 38" and an elliptical is around 72" x 29"
Horizon Peak Trainer  5.0HT-  47" X 28"
ProForm SMART HIIT Trainer – 52" x 29.25″
Bowflex MaxTrainer –  47.9" X 30.8"
As you can see, all of these are going to be much smaller. The one thing to perhaps keep in mind is that while you have the option of a folding treadmill or elliptical, you don't have the option of a folding HIIT trainer. There's no tucking this one under the bed or hiding it away.
Warranty –
We expect to see a warranty of some sort on any in-home fitness equipment, and HIIT trainers are no different. However, they seem to be a bit all over the place and cost will play a factor.
Horizon Peak Trainer 5.0HT – This one took us by surprise a bit. Horizon offers a 1-year parts and 90-day labor warranty, but nothing on the frame. This is usually the area in which we see the longest warranty time, which could be a cause for pause.
ProForm SMART HIIT Trainer – Parts and labor warranties vary a bit between the models here, but ProForm still puts in a respectable warranty, including lifetime on the frame.
Bowflex Max Trainer – With Bowflex, you get what you pay for. With the base model, it's a flat 1-year warranty across the board. As you work your way up the models you gain a year in frame & parts for each, but you only get 90 days labor.
Price –
You'll have several strong options if you're looking for a lower priced machine under $1000.  Or, if you're more serious about getting your sweat on, then you can also invest in one of the more expensive options.
Horizon Peak Trainer 5.0HT – This machine is currently set at a price of $899, which is a fantastic price compared to others on the market…as you're about to see.
ProForm SMART HIIT Trainer – The base model for this line starts at $999 which is still competitive with the Peak Trainer. If you are looking to upgrade to the Pro model, you're looking at $1399. As we mentioned above, the major difference is that you get an HD Touchscreen. Whether that's worth $400 is up to you.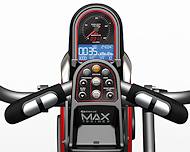 Bowflex Max Trainers – Bowflex is definitely going to be the priciest of the bunch. We start with the M3, coming in at a competitive $999. However, the M6 is priced at $1699 and the M8 jumps up to $2299. Not to be left out, the newly released Max Total is going to set you back a whopping $2799.
There's no doubt that any of these machines are going to provide you with a great full-body cardio workout. Will you shed 27% body fat in four minutes a day…probably not. This doesn't mean they aren't worth it though. Keep this info in mind and be sure you're making an informed decision when you welcome a new HIIT trainer into your home.