Provide an Exceptional User Experience
Precor creates some of the best ellipticals available in the market today. These creations from Precor are customized to give you the exercise experience you desire. Precor launched the first Elliptical Fitness Crosstrainer, or EFX, in 1995. The trainer is famous and a preferred elliptical for those who love to exercise, with over 300,000 ellipticals placed worldwide.
The EFX imitates the natural elliptical motion path of the foot in the course of walking and running to lessen the impact and uses CrossRamp® technology to engage a range of lower-body muscles. Precor elliptical has no affiliates, and the only alternative that assures quality and durability is Sole ellipticals.
Why Consider a Precor Elliptical?
Precor is consistent in its efforts to improve its cardio plans, including EFX with Converging CrossRamp+. The brand works to provide you with exercise equipment at the next level. This Elliptical combines over 20 years of expertise in the field to hold category leadership, attract the lowest warranty claims, and the highest durability.
Customer feedback guides the Precor designers in creating exercise equipment to provide the best ownership experience possible. The patented Precor motion path gives it an edge over its competitors. Get Precor Ellipticals for your gym and watch the exercisers who frequent your gym enjoy the motion path feature. The premium quality will ensure that they will surely come back for more, and its durability will significantly benefit you.
Patented Precor Motion Path That Brought a Revolution in Fitness Industry
Indoor aerobic workouts are high impact exercises that pose two significant problems for exercisers: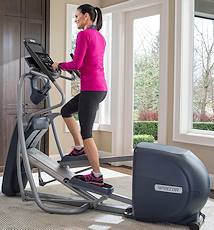 The primary fault of cardio equipment is that it does not deliver a real cross-training advantage, and that is because aerobic conditioning concurrently strengthens and cross-trains other muscles.
But the advantage of the combination of elliptical motion and CrossRamp technology eliminates the above drawbacks with the patented Precor Motion Path. Precor uses CrossRamp technology to lessen the impact by imitating a running human foot's natural elliptical motion path and stimulating a range of lower-body muscle exercises.
Patented Precor Motion Path: The Only Way to Efficient Training
When you run, your foot uses the elliptical path. The Precor elliptical replicates the natural jogging movement by creating a smooth elliptical motion via an innovative circular structure and patent combination that couples a hind flywheel with a foot pedal in the front.
The patented Precor motion path help decrease the pressure on the muscles and tendons to bring down the tension by holding your heels on the pedals.
EFX minimizes impact and helps you move effortlessly by reducing Relative Perceived Exertion (RPE). The seamless exercise is so comfortable that you will not feel much strain although you are working out hard. Hence you will tire less, exercise more, and get fit faster.
People who believe in fitness find the Precor Elliptical a genuine cross-trainer. Both manual and automated cross-trainers are built with an adjustable CrossRamp that changes the path.
A Precor EFX with CrossRamp technology is a genuine Crosstrainer. All Crosstrainers, whether automated or manual, include an adjustable CrossRamp that changes the height of the elliptical path as your foot travels. Variable Stride GeometryTM allows you to focus on particular or all main lower body muscles, allowing you to work those muscles of your body that your wish to, whenever you want, with the least amount of muscle fatigue.
You'll stay more interested and inspired if you switch up your routines, making it simpler to hop back on your EFX with vigor and delight.
Precor Elliptical's Organic Interaction With Your Body
Precor Elliptical is Easy on Your Joints
If you must reduce the pressure jogging exerts on the joints of your body, you must learn the movement of your feet during the run. The Engineers at Precor worked on the human foot's actions in the course of running to discover the elliptical route. The discovery led them to use a circular flywheel in unison with a pedal in the front that moves downwards on an adjustable diagonal ramp to produce a machine to match the elliptical motion.
Revolutionizes the Workout Environment
Precor introduced patented CrossRamp technology to an already pioneering design to give a cross-training advantage. You can now change the CrossRamp angle, which changes the elliptical route, to replicate other workouts like hiking or cross-country skiing. The CrossRamp function builds lower-body strength and keeps training routines new and motivating, so you can push yourself to new levels of activity and achieve your fitness objectives.
Customized to Fit all Kinds of Bodies
Precor tested the innovation on persons of various weights and heights after successfully replicating the natural running action. We modified the equipment by altering the distance between the flywheel and pedals to allow anyone of any size to obtain results on the same machine.
Easy And Comfortable Workouts
The disparity between how hard your brain believes you're working and how hard your heart actually works is RPE. When you jog, the impact on your ankle, knee, and other afflicted joints is minimized, which reduces the perceived degree of exertion. Each foot hit is absorbed to a large extent by our proprietary elliptical technology. As a result, you have a more enjoyable workout that keeps you motivated and on track to achieve your fitness objectives.
Other Features of Precor's Elliptical
Converging CrossRamp gives a natural feel by replicating your stride for a joyful exercise experience. Here is a list of Precor's Ellipictal features:
Unbeatable Quality that Lasts
Here is why we say the Precor excellence is hard to beat. Industry data indicated that one out of 33 pieces of sold fitness equipment has initial servicing issues, roughly 3%.
That is proof that Precor products meet commercial specifications. Many of Precor's commercial elliptical parts are also found in the ones the brand manufacturers as home fitness equipment. Precor's Elliptical is first tested in a commercial environment which later modifies to become a fantastic Precor home Elliptical.
Precor CrossRamp Technology that Makes Exercising Fun
Precor innovators do not stop after the invention of the elliptical trainer. Still, they also work to change the angle of your elliptical stride by developing the CrossRamp technology. After a thorough study, the researchers at Precor discovered that combining the elliptical motion with the incline produced the best overall outcomes. The CrossRamp design is patented by Precor. Other elliptical brands are available in the market with an inclination element, but they all must settle to work around Precor's design.
You can work your quads, calves, hamstrings, and glutes at different angles by using the CrossRamp technology. Also, the CrossRamp technology works much better for glutes and quad workouts than an exercise bike, treadmill, or stairclimber. And to top it all, the strain on your joints is lesser.
What makes Precor incline elliptical trainer better than the others available in the market? The revolutionary ramp's design allows you to hold a natural elliptical motion by increasing the angle of the slope. In fact, that's what contributes to its comfortable, natural feel. It also gives Precor an edge over its competitors.
Precor's competitors can't match this distinctive design, so they settle for an inclination that makes a kidney bean motion with the rising gradient. The drawback of such a mechanism is that it results in abrupt accelerations and decelerations, increasing tension and strain on your joints.
Perceived Exertion at the Lowest
Studies showed the researchers at Precor that the CrossRamp significantly reduces the users' perceived effort levels. In other words, you shed more weight by burning more calories by it does not tire you.
In fact, when treadmill and elliptical users were compared, most treadmill users clearly stated that they worked harder because the impact was recorded as effort, elevating the perceived degree of exertion.
Elliptical trainers reduce perceived exertion significantly. Moreover, Precor ellipticals' superior biomechanics and ergonomics elevate them to be the industry leader.
Precor ellipticals are also among the most ergonomic cross-trainers available. Precor, for example, is one of the easiest ellipticals to stand on. Your heels are kept down on the foot pedal due to the balanced posture. On the other hand, most other treadmill manufacturers have a tendency to raise your heel with each elliptical stride. Because your foot is rising up off the foot pedal, this causes numbness in your feet and may cause knee and hip issues.
The above is true in the case of the front-drive elliptical, for after approximately 20 minutes of use, users have foot numbness. But when the very same users exercised on the Precor Elliptical, they experienced no numbness and could go on for more time.
Precor Elliptical Models
Precor offers seven elliptical trainer models in two series:
The Precision Series is made in the United States. The ellipticals in each series are available with either a 20 console or a high-end, interactive 40 console.
The Energy Series is an entry-level elliptical built in Taiwan.
The 40 consoles were created to help you get the most out of your workout. Here are a few of the highlights:
A clear 7″ color liquid crystal display

Simple adjustment with the lever-type motion control.

4 user IDs

Workout suggestions to meet your fitness goals

23 pre-programmed workouts

27 feedback metrics, including 5 graphs

Heart rate monitoring via touch or wifi

Monitoring of heart rate target zones

USB port for cellphones and tablets with a headphone jack

Future software upgrades can be downloaded

Reading racks with clips attached to a tablet

Priva Compatible, allowing you to save your stats online.
Precor Elliptical and Adaptive Motion Trainer Models
Precor EFX 635 Elliptical with CrossRamp
Precor EFX 665 Elliptical with CrossRamp
Precor EFX 685 Elliptical with CrossRamp
Precor EFX 835 Elliptical with Converging CrossRamp
Precor EFX 865 Elliptical
Precor EFX 885 Elliptical
Precor EFX 833 Elliptical
Precor EFX 863 Elliptical
Precor EFX 883 Elliptical
Precor AMT 733 Adaptive Motion Trainer
Precor AMT 835 Adaptive Motion Trainer
Precor AMT 865 Adaptive Motion Trainer
Precor AMT 885 Adaptive Motion Trainer
Precor Ellipticals, the most Preferred Elliptical
There is probably no other workout equipment manufacturer on the earth that has put as much effort into developing biomechanics designed to replicate the way you move. The study was taken off the drawing board and tested in a business setting. All of this research and development culminated in their unrivaled household elliptical trainers.
Is Precor Reliable?
We once heard a narrative from a person who had the pleasurable opportunity of visiting Woodinville, WA. The person shares that he was blown away by what he saw there. The first thing that struck a chord in him was Precor's commitment to creating fitness equipment to ensure that users have the most incredible user experience.
The primary focus of Precor is quality control and innovation. Hence most Precor ellipticals features are covered by patents, and these patented features are unique and exclusively available in Precor ellipticals making the product the most globally preferred fitness equipment.
Benefits of Using Precor Elliptical
The primary benefit of using Precor Elliptical is that it helps you exercise your whole body. We have listed a few more benefits for you:
Precor Ellipticals are Low Impact Fitness Machines
There is no abrupt up-and-down action or repetitive contact as you would receive from jogging since people move in a gentle gliding manner. This makes them suitable for people who have joint difficulties or are overweight and have trouble jogging.
Multipurpose Fitness Machines
Users may configure an elliptical to replicate resistance, the amount of power required to complete a stride. On the other hand, Precor ellipticals are the only machines in the market with an inclination setting, which can aid in strengthening and toning the user's legs. During the workout, moving your entire body keeps your heart beating, making it an effective aerobic machine.
Circuit Training is Easy with a Precor Elliptical
Users may go on and off the elliptical as required because they don't have to wait for the belt to warm up as they would on a treadmill, and this saves time and prevents exercisers from losing inertia during circuit training.
Precor Elliptical — FAQs
Who Must Use Precor Elliptical?
The Precor Elliptical is a great buy for anybody serious about getting in shape and losing weight and not only for sportspersons or athletes. Precor elliptical trainers are made for people who demand the finest and refuse to compromise.
Are Precor ellipticals worth it?
Precor Ellipticals are of exceptional quality. They are very well manufactured and constructed, developed and created with various users in mind, and packed with valuable features and capabilities.
Which is the latest model of Precor Elliptical?
The latest model in Precor Elliptical is the Elliptical Fitness Crosstrainer™ (EFX®), the Experience™ Series EFX with Converging CrossRamp®.