Provide an Exceptional User Experience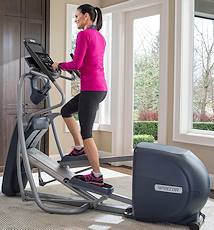 I had the opportunity to visit the corporate headquarter and manufacturing facilities of Precor Fitness in Woodinville, WA, and was thoroughly impressed.
What I came away with was the company's devotion to quality control and building machines that provide an exceptional user experience. Precor created the elliptical trainers and and many of the features found on their machines are protected by patents. These features are unique to Precor and are the reason that their ellipticals are the best on the planet.
When I was at the Precor offices I had a chance to talk with the Chief Innovation Officer, Jim Birrell. He explained the factors that make Precor the leading brand in elliptical trainers.
Premium Quality — Built to Last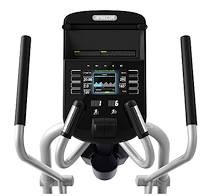 Here is one example of the Precor quality. Industry data shows roughly 3% of fitness equipment sold has some initial service issue — one out of 33 units.  Precor is substantially below that figure with only .6% — one out of 166 units. This reflects the fact that their products are built to commercial standards.  Many of the components that go into building a Precor commercial elliptical are shared on the residential models. The commercial environment becomes the testing lab for what eventually becomes a Precor elliptical for your home.
Precor CrossRamp Technology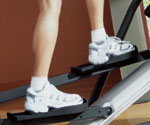 As mentioned, Precor developed the concept of the elliptical trainer, but equally important, they designed and developed the CrossRamp technology, which provides the ability to increase or decrease the angle of the elliptical stride.  Through extensive research they found that the combination of the elliptical motion with the incline provided the best overall results.  In fact, Precor has a patent on the CrossRamp design.  There are other elliptical with an incline feature, but they all must compromise and work around the design held by Precor.
This CrossRamp technology allows the user to workout different muscle groups at different angles, including your glutes, quads, hamstrings and calves. In fact, the CrossRamp technology yields a significantly better workout for glutes and quads in comparison to a treadmill, exercise bike or stairclimber. You also have considerably less impact to your joints.
What makes Precor incline elliptical trainers unique? The way the patented ramp is positioned allows you to maintain a true elliptical motion as you increase the angle of the ramp. It has a feel that is natural to your body. Since competitors cannot duplicate this unique design, they compromise with an incline that creates an almost kidney bean motion as you increase the incline. This motion results in sudden accelerations and decelerations, which causes stress and strain to your joints.
Relative Perceived Exertion
Through extensive research Precor found having the CrossRamp helped users lower their perceived level of exertion.  In other words, users are burning more calories, while feeling less exhausted.
In fact, when comparison studies were done between treadmill and elliptical users, the majority of the treadmill users undoubtedly responded that they worked out harder because impact registered as work, which elevated the perceived level of exertion.
To some extent all elliptical trainers provide a lower level of perceived exertion, however, the exceptional biomechanics and ergonomics of the Precor ellipticals make it the standard of the industry.
Furthermore, Precor ellipticals are one of the most ergonomic crosstrainers on the market. For example, Precor is one of the easiest ellipticals to stand upright on.  The balanced position keeps your heals down on the foot pedal.  In contrast, you will find with most other treadmill brands a tenancy to lift your heal with each elliptical stride. This results in foot numbness and potentially lead to injuries to your knees and your hips because your foot is coming up off the foot pedal.
I have a front drive elliptical and I typically experience foot numbness after about 20 minutes of use.
Precor Models
Precor has 7 elliptical trainer models that are broken down into the Precision and Energy Series. The Energy Series are their entry models and are made in Taiwan. The Precision Series are assembled in the U.S. Within each series the ellipticals come with either the 20 console or the high-end, interactive 40 console.
The 40 console is designed to maximize and personalized your workout. Here are a few of the features…
7″ color liquid crystal display
Lever style motion control for easy adjustment
4 user IDs
Suggested workouts based on your fitness goals
23 preset workouts
27 feedback metrics, includes 5 graphs
Touch or wireless heart rate monitoring
Heart rate target zone monitoring
Ability to save your workout for future use (16 total)
USB port for smartphones or tablets with plugin for headphones
Ability to download future software updates
Reading racks with clips for tablet
Priva Compatible, allowing you to store your stats online.
Here is a list of their models with a brief description and the retail price at Precor.com.
Precor EFX 221 – Stationary handlebars, manual adjustable incline, made in Taiwan – $2,199
Precor EFX 222 – Moving handlebars, manual adjustable incline, made in Taiwan $2,899
Precor EFX 225 – Moving handlebars, motorized incline up to 25°, made in Taiwan – $3,599.
Precor EFX 245 – Premium 40 console, moving handlebars, motorized incline up to 25°, made in Taiwan – $4,399.
Precor EFX 423 – Stationary handlebars, motorized incline up to 40°, made in the U.S. – $4,599.
Precor EFX 425 – Moving handlebars, motorized incline up to 40°, made in U.S. – $4,999.
Precor EFX 447 – Premium 40 console, convertible moving handlebars, motorized incline up to 40°, made in U.S. – $5,999.
Adaptive Motion Machines – You define the motion with an infinite range of stride paths. Stride length up 36″. These machines are very popular in health clubs
Precor AMT 833 – $8,295
Precor AMT 835 – $9,499
Precor AMT 885 – $12,395
Fitness Source Review — Precor Elliptical Trainers
There is probably no other fitness equipment company on the planet that has invested so much into research to develop biomechanics that mimic they way you move. The research was taken from the drawing board and tested under a commercial environment. All this R&D resulted in their unsurpassed residential elliptical trainers.
When I asked, "Who is your target market?" The answer was the serious user. Not necessarily the serious athlete, but any individual who is serious about getting in shape and loosing weight. Precor elliptical trainers are designed for individuals who want the best and are not willing to compromise.
Popular Consumer Magazine Review
In a review of elliptical trainers a respectable consumer review magazine, who I cannot name, rated a Precor elliptical the number one choice. They gave it an "Excellent" for quality and exercise range. They mentioned the high-quality construction that feels like a gym machine.
Amazon Precor Customer Reviews
"A home product that feels and looks like the one at the gym but is smaller, lighter and reasonably priced. I tried it at my local fitness store the other day and am going to buy one this week. I think it is even smoother than the one at my gym. Thank you Precor! Keep working on those gym quality machines that will fit in a smaller space at home!"
"I have had mine for a number of years. It gets daily, hard use from both myself and my children. The machine is smooth, solid, and always performs well."
"Wonderful machine. I find this a great way to work out or to warm up before lifting weights at the gym. This machine is the kind you find at health clubs. It's extremely durable and sturdy."
Also See:
Precor EFX 221 Elliptical Trainer Review
Precor EFX 222 Elliptical Trainer Review
Precor EFX 225 Elliptical Trainer Review
Precor EFX 423 Elliptical Trainer Review
Precor EFX 447 Elliptical Trainer Review
Precor AMT 833 Adaptive Motion Trainer Review
Precor AMT 835 Adaptive Motion Trainer Review