The Very Best in Cross Training!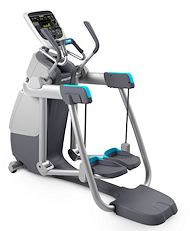 I had the chance to try out a Precor AMT Adaptive Motion Trainer at a health club when I was out of town.  The machine I workout on was a heavy duty commercial model.  They also sell a residential version called the Precor AMT 835 Adaptive Motion Trainer for a mere $9,000, which is almost an exact duplicate of their commercial model.
So is it worth the price?  If you have a spare $9,000 you can spend and you want the very best in cross training equipment, the answer is yes!
When I was in the Seattle area a couple of years ago I had a chance to stop by the Precor corporate headquarters and manufacturing facility, which is an impressive operation.  I was given a tour and had the opportunity to meet their head engineer. He is one of the individuals who designed the first elliptical trainers.  I left with the impression that Precor is obsessed with quality control, and that the company continually strides to create the most innovative and ergonomic fitness equipment in the industry.  The Precor AMT 835 Adaptive Motion Trainer is a perfect example.
Benefits of Precor AMT 835 Adaptive Motion Trainer
What makes the Precor AMT 835 Adaptive Motion Trainer so unique and appealing is that the stride length and height is controlled by your exertion.  Your typical elliptical trainer has a set path.  Many have incline features that allow you to incline the elliptical stride length, but over all you're motion is very restricted.  Consequently, this limits the benefits when  targeting muscle groups.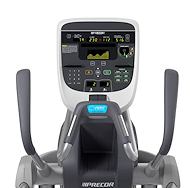 With the Precor AMT 835 Adaptive Motion Trainer you can change the motion at will.  You have an infinite range of stride paths.  You can instantly change from short to long strides lengths, or from walking or running.  Each workout is customized to your desire.  You are not locked into a set motion.  With the ability to adjust the length and the height of the stride you can target more muscles.  For example, the adaptive motion allows you to do…
Deep lunges, which  work you glutes, hip flexors and calves (This is similar to working out on a stair climber.)
Short strides work your quads.
Mid-range strides work hamstrings and glutes.
Low strides target most of your lower body muscles.
The adjustable stride allows you to go from 0"-36" length, and from 6.8"-10" height.  In comparison to a standard elliptical trainer you are typically locked into a 20" stride length that can be only be inclined.  The overall benefit of the adaptive motion is that you can efficiently burn more calories than typical elliptical trainers.
The Precor AMT 835 comes with dual action so you can also work out your upper body muscles.  It has a slick console that shows you the degree of your exertion.  It has heart rate monitoring either through the hand grips or through a wireless belt.  You can monitor whether you are in a fat burn, calorie burn, or peak performance zone.  I should also mention that the AMT 835 weighs a hefty 412 lbs., so the machine is rock solid.
Warranty has only a 1-year labor coverage, which is below the industry standard. However, you get 10-years on parts, which suggest the parts seldom have to be replaced.
So if you are in that upper 1%, or maybe even the upper 3%, and you want the most effective and innovative crosstrainer in the industry, the Precor Amt 835 Adaptive Motion Trainer is your answer.  This machine is an example of why Precor is one of the most respected brands in the industry.
Customer Review – Precor AMT 835 Adaptive Motion Trainer
Greatest machine ever – I used to use this machine when I went to a different gym. God I love this machine. It's so amazing. It really does do it all. You can use almost all legs, or you can use almost all arms. You can use it like a stair climber, you can use it as an eliptical, you can use it as one of those goofy things that just swings back and forth. I would never fork out 8 grand for it, but let me tell you its worth the money. This is an amazing machine right on the cutting edge of workout technology.

Also Check out the Precor AMT 833 Adaptive Motion Trainer Review.  A bit less money, but still an awesome machine.