Offers a Great Cardio Workout with Zero Impact!
Recumbent bikes are gaining more traction again in the fitness industry. The older models of these indoor stationary bikes were in their prime in the 1960s-1970s.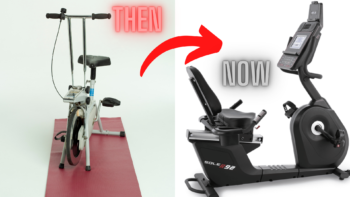 You, your parents, or your grandparents probably owned one of these at some point. More than likely, the original stationary bike that you owned turned into the household laundry hanger.
Let's be honest… the concept of the recumbent exercise bike back then was far from spectacular. These machines were infamous for being uncomfortable, noisy, bulky, and just overall impractical.
Thankfully, there have been some major improvements since then.
Sole is a brand that we have continued to be impressed with throughout the years. Their company has been recognized for the quality and durability of their fitness equipment over and over. Sole's customer service and warranty is one of the best that you will be able to find in the fitness industry.
Our team has made several trips to the Sole Headquarters in Salt Lake City, Utah to get further insight as to why this company is so successful, and why their products are some of the best in their class. Several of our team members have owned Sole equipment over the years and have been thoroughly impressed with the longevity of their ellipticals, as well as how low maintenance they are.
Recently, one of our team members has purchased a recumbent bike from Sole and she has been very impressed with the use that she has gotten out of it.
Benefits of Recumbent Bikes
There are many perks to utilizing recumbent bikes for some people. For example, you may benefit from using a recumbent bike if…
You suffer from low back pain.
Elliptical strides are uncomfortable for you.
You need a low-impact option for cardio.
You have recently suffered an injury.
You have cardiac limitations.
You want to isolate your lower body muscles.
You suffer from joint pain.
You need a stationary cardio option for safety reasons.
You are a beginner.
These are just some of the reasons that you should consider opting for a recumbent bike. Also, you may just enjoy biking over other cardio equipment such as an elliptical or a treadmill.
Sole R92 Bike Top Features
Affordable – We typically see this bike priced around the $1,000 price point, a great price tag for a sturdy bike.
20 Resistance Levels – The R92 offers 20 levels of ECB resistance. This will give you an easy, quiet transition while switching your workout intensity level.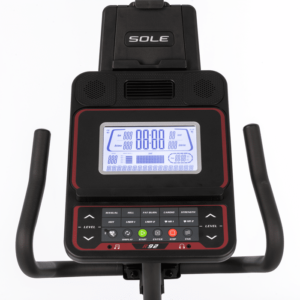 Sturdy Build – This bike is constructed with a heavy-duty steel frame and has an aluminum finish. This machine really packs a punch and is built to take a beating.
Posture Support – As we mentioned earlier, stationary bikes are ideal for those who suffer from any chronic back or joint issues. The R92 bike features a 2-degree inward design to maintain proper posture during your workout.
Compact Size – Many recumbent bikes are big and bulky, this machine 50" h x 30" w x 57" L.
LCD Display – An easy-to-read 9" LCD display. This machine comes with 10 engaging workout programs to keep your exercise routine far from boring.
Technology and Additional Features – Bluetooth capable, USB charging port, tablet/phone holder, cooling fans, water bottle holder, heart rate monitoring with pulse grips and chest strap included.
Warranty – Lifetime frame warranty, 3-year electronics, 3-year parts, 1-year labor. This is one of the best warranties that you will currently find in the fitness equipment industry.
Our Verdict: Sole Fitness R92 Recumbent Bike
Although using a bike will not allow you to get in the intense HIIT workout that you may could achieve on your elliptical or treadmill, it's an excellent way to get in your daily cardio movement. Choosing to use a stationary bike machine will get your blood pumping, without putting yourself at risk for injury or inducing any pain. The recumbent bike is also a great option for those who are just starting out on their fitness journey, elderly, need to avoid joint impact, suffer from any type of pain, or just really enjoy cycling!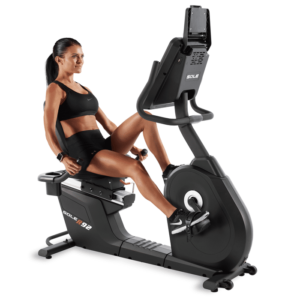 The R92 bike from Sole is a solid choice for anyone looking for an affordably priced recumbent bike for their home or office. Just this year, the R92 was awarded with the 2021 high-end pick – while being priced around $1,000. This speaks volumes for the design and durability of this machine. Even though it is priced affordably, it is still a high-quality piece of fitness equipment.
If a recumbent bike sounds like the right addition to incorporate into your workout routine, we confidently suggest the R92 recumbent bike from Sole.
Go to www.SoleEllipticals.com to learn more.