Reebok elliptical is a product of Icon Fitness, the manufacturer of Nordic Track and ProForm. Only a few models are comparable to the NordicTrack and ProForm versions, for the production of the two are on the same manufacturing lines. The workout equipment has no connection to the Reebok shoe brand, as Icon is a separate business entity that purchased the name "Reebok."
If you want to know if Reebok elliptical is a smart buy, compare the model, features, and costs to the NordicTrack and ProForm versions. Although the base models are almost identical, the superiority of one over the other may be visible only after comparing features, for one may have a built-in sound system, and the other may have a broader range of program options.
Learn more about the company to decide if you should buy one.
Learn More About Icon Fitness
Icon Exercise is the world's largest fitness equipment retailer and the best. They produce Image, Epic, Weslo, Reebok, NordicTrack, and ProForm.
They began by producing inexpensive treadmills and elliptical trainers with 90-day warranties. However, the product was low-cost and of poor quality. Nevertheless, in recent years, Icon Fitness worked hard to manufacture and sell fitness equipment of better quality.
The cost of the fitness equipment remains to be budget-friendly, ranging from $1,000 to $2,000. Icon Fitness began producing some excellent fitness equipment, and Icon Fitness's products have some of the industry's most innovative features.
We would like to prove our point by speaking about one Icon Fitness equipment, the Reebok 1000 ZX Elliptical Trainer.
The Reebok 1000 ZX Elliptical Trainer
The Reebook 1000 ZX elliptical is a prized possession even for those who have tried other models in ellipticals. Reebok elliptical presents itself with a host of features, including the foot pedals with gel pads that keep the feet in place, and that's what makes the Reebok 1000ZX elliptical trainer one best in the lower-end product category. The assembling process is simple and quick; you can assemble the elliptical trainer in just about an hour and a half. Although Reebok ellipticals aren't much appreciated by their users, this is one elliptical that has made its makers proud.
What to expect rom the Reebok 1000 ZX Elliptical?
The Reebok 1000 ZX elliptical offers 24 preset programs with multiple settings that can be customized to meet requirements to achieve personal fitness goals. The Reebok 1000 ZX features an Audio CrossTrainerTM technology to guide you in your muscle building and aerobic workout routine. Yes, it's like having your very own personal trainer in the confines of your home.
Scroll down for the whole set of specifications.
The SMR™ Silent Magnetic Resistance
15 levels of 1-Touch Quick Resistance™
Power Ramp™
20 Personal Trainer Programs
Audio CrossTrainer™
MP3 Compatible Music Port
Adjustable Upper body workout handlebars
16″ stride for better hip extensions
Rear flywheel
EKG™ Grip Pulse Sensor
SpaceSaver™ Design
CoolAire™ Workout Fan
Oversized Cushioned Pedals
Your elliptical can take a weight up to 350 lbs
Reebok 1000 ZX Elliptical—Review
The most impressive feature of the Reebok 1000 ZX Elliptical is its incline ramp that inclines at 30 degrees. There aren't many ellipticals costing less than $1,000 and having an inclination.
You can vary the form of the elliptical stride on the Reebok 1000 ZX, allowing you to work a wider variety of muscles from your calves and quadriceps to your hamstrings and gluteus maximus. The best part of the elliptical is that it tones and does not cut fat on the users' legs.
The Reebok 1000 ZX is popular among its users. They like the facility to choose from the many programs, the slip-proof cushioned pedals, compact design, resistance levels, power ramp, etc. If you ignore the faulty parts and unfavorable labor warranty, it is a pretty good model.
More about Reebok Ellipticals
Reebok Fitness has a large selection of ellipticals, priced between $799 and $1,999. The 710 (rear-drive) and 1000x (front-drive) ellipticals are lower end. The 910 (front-drive), T 7.90 (rear-drive), Stride Select RL 6.0 (rear-drive), and Super Ramp RL 7.0 (rear-drive) are the next options, costing roughly $999. The 1210 and RL1500 are at the top of the line.
Reebok ellipticals are easy to find in the market, and you can buy them online. People often link Reebook ellipticals to the shoe brand. However, the Icon Fitness company, with the brand name Reebok, manufactures and markets Reebok ellipticals. They are available in front-drive and rear-drive models. You have a list of 20 exercises, heart rate tracking, music player connectivity, and a fan.
More About the Reebok 710 Elliptical
The stride of Reebok elliptical model no. 710 is adjustable from 20 to 22 inches. It features an inclination feature, soft-touch grips, and oversized cushion pedals.
The Reebok 710 Elliptical has a power intensity ramp that provides exercise diversity and focused muscle training. Consider using the 20 digital resistance levels and the 22 exercise applications. You can also plug in your device and listen to your favorite music while keeping track of your training progress on the enormous 5″ well-lit panel.
The 710 is a base model but assesses the other Reebok Ellipticals' quality and performance with the facts mentioned above.
Specifications of the Reebok 710 Elliptical
SpaceSaver Design

22 Workout Apps

Dual-Grip Accurate Heart Rate Monitor

iFit Compatible Console

10° to 30° Power Intensity Ramp

Soft-Touch Upper-Body Workout Arms

Oversized Pedals with ZigTech Cushioning

Compatible Music Port for iPod

Water Bottle Holder

5″ Backlit Display

CoolAireWorkout Fan
The Reebok 710 is priced reasonably at $799.00 and offers excellent quality.
More About the Reebok 910 Elliptical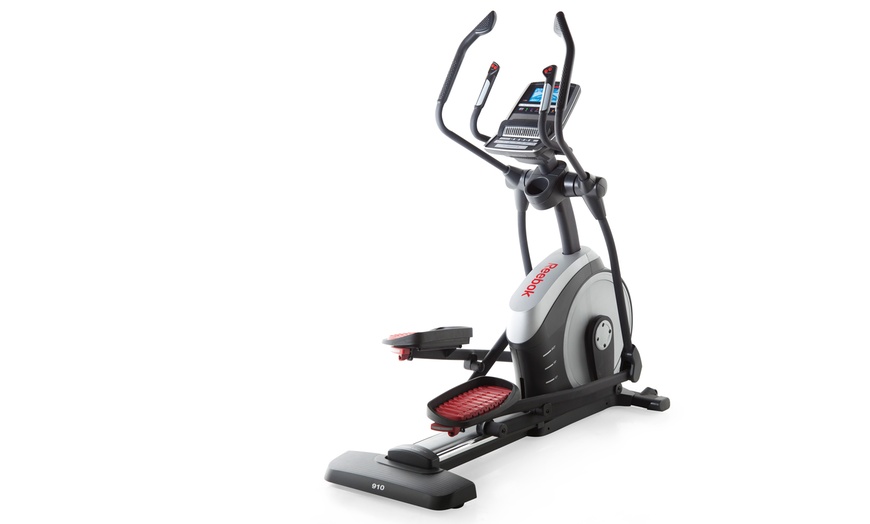 Reebok 910 elliptical is another popular low-cost elliptical. It includes soft-touch upper body training arms and is iFit compatible. This elliptical machine comes with 26 training applications, allowing for various activities such as plugging in your device and listening to your favorite music while keeping track of your workout progress on the enormous 7″ illuminated display.
The 910 model includes a heavier flywheel (smoother/quieter) and higher inclination capabilities.
Some More Features and Specifications of the Reebok 910 Elliptical
26 Workout Apps

iFit Enabled Console

0° to 20° Power IntensityRamp

Soft-Touch Upper-Body Workout Arms

Compatible Music Port for iPod

Water Bottle Holder

7″ Backlit Display

Integrated Handle Controls

AccuRateWireless Chest Strap Included

CoolAireWorkout Fan
The Reebok 910 Elliptical costs $999.00.
Reebok 1210 Elliptical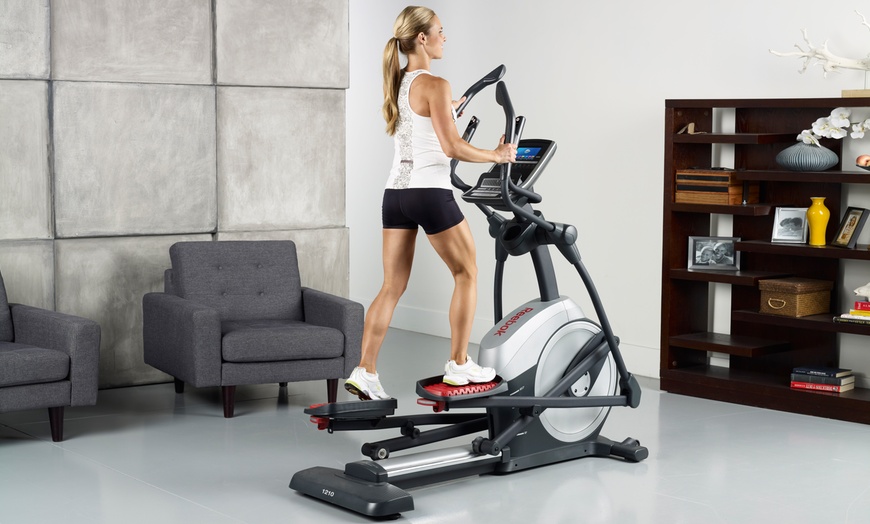 The Reebok 1210 Elliptical has gigantic adjustable pedals with ZigTech Cushioning, integrated handle controls, and an adjustable fan. The stride of this elliptical can be changed from 0 to 20 degrees at the press of a button, and it is iFit compatible. Consider making use of its 30 various fitness applications. You can also listen to your favorite music on your iPod or MP3 player to stay motivated as you keep track of your training progress on the enormous illuminated display.
Reebok 1210 Elliptical— Features
30 Workout Apps

Dual-Grip AccuRate Heart Rate Monitor

iFit Enabled Console

0° to 20° Power Intensity Ramp

Soft-Touch Upper-Body Workout Arms

Adjustable Pedals with ZigTech Cushioning

Compatible Music Port for iPod

HD Video Workouts

AccuRate Wireless Chest Strap Included

Integrated Handle Controls

CoolAire Workout Fan
The Reebok 1210 Elliptical costs $1,299. It performs well and has a few more features than the other versions.
The Reebok Elliptical is Great But…
Reebok ellipticals outperform the competition for a $999 lower-end model. If a Precor is out of your price range, this machine will give you a Precor-designed power ramp in a budget elliptical.
The Reebok elliptical looks excellent, feels robust, rides smoothly, and includes many programs on the dashboard to keep you motivated and enthusiastic about training every day.
Unfortunately, Reebok no longer sells the 1000 ZX, and the firm no longer manufactures ellipticals. For a far better alternative, see our Best Ellipticals Under $1000.
Best Ellipticals Under $1000
The first elliptical we would like to talk about here is the NordicTrack elliptical, the closest alternative to Reebok ellipticals. Continue reading to know why!
NordicTrack Ellipticals—The Perfect Choice
NordicTrack ellipticals are the perfect choice for an excellent interactive personal training experience. NordicTrack has a massive selection of high-quality, low-impact ellipticals, so you can pick one that suits your fitness level, space, and price.
NordicTrack has gained global consumer support and confidence as the most extensive fitness equipment company. It is a part of Icon Fitness, and as per the company's business record, it has closed over a billion sales globally. So, when it comes to exercise equipment, who can we trust more than NordicTrack?
Nordic Track Ellipticals—The Preferred Elliptical
NordicTrack manufactures one of the top elliptical trainers in the market. A cross-trainer, or elliptical trainer, is a piece of stationary fitness equipment that allows multidimensional activities like climbing, walking, jogging, etc. If we perform the activities mentioned above without an elliptical machine, we are susceptible to impact injuries due to excess tension on the joints. Because of the low impact on the joints, people with certain health conditions can also use an elliptical to stay in shape.
The NordicTrack elliptical guarantees the highest quality and provides excellent warranty services. NordicTrack offers outstanding customer service, and their service personnel is ever-willing to help the user with a problem with the NordicTrack elliptical. All they must do is contact customer support for help. The same parent firm manufactures ProForm ellipticals. As a result, we can find similar models between these two fitness companies.
In recent years, NordicTrack ellipticals have dominated the $800-$3,000 price range. NordicTrack has achieved such a significant milestone by delivering innovative and long-lasting fitness equipment at a fair price.
Unique Features of NordicTrack Ellipticals
A firm must spend its resources on research and development to increase product quality in response to customer requests. Customer feedback varies from one customer to another, depending on their personal preferences. Hence, when people utilize a product, their feedback could be positive or negative. As a result, acquiring and evaluating data is essential for developing more realistic goods to address current customer grievances.
NordicTrack is a firm that invests in research and development. That's a great benefit with a positive outcome. iFit technology has led to the development of several new workout equipment features. It's an energizing device that links your elliptical trainer to the Internet.
With iFit Technology and Google Maps, You can Workout Anywhere in the World
When we exercise, we want to build our physique and work on our physical/mental health. Our hectic lifestyle prevents us from finding time to workout in the space of our choice. However, with the NordicTrack-built iFit technology, we can bring the world into our indoor exercise environment. This technology makes it possible for us to exercise practically anywhere.
The iFit technology uses Google maps to trace a course on the computer. The elliptical's resistance and strength will replicate the terrain or scenery. So, while being at home, you will enjoy the benefits of working out in nature thanks to the iFit feature.
We can use Google Maps' street, satellite, or earth view tools to monitor our workout development. We'd have to utilize a laptop or a smartphone for this, and the user would be able to view Google Maps directly from the dashboard.
Reebok 100 ZX Elliptical Trainers Vs. NordicTrack SpaceSaver SE7i
The NordicTrack SpaceSaver SE71 and the Reebok 1000 ZX Elliptical Trainer are alike. Consumer Reports awarded the NordicTrack version with the Best Buy tag.
Similarities
Both include an incline feature akin to a treadmill's incline.

Both include an integrated sound system where you may put in your MP3 or iPod player.

They have many versions of their iFit technology, including audio coaching during workouts.

At other retailers, both are available for $999, including delivery.
How does a buyer purchase one brand over another when both are so similar? There are a few things to consider:
You may obtain the NordicTrack 990 directly from www.NordicTrack.com and avoid paying taxes.

You can also now purchase from the manufacturer.
However, be cautious when purchasing directly from Reebok Fitness's website. They offered the Reebok RL 1500 elliptical for $1,999, whereas the NordicTrack Elite 1300 Elliptical usually is $1,249 on Nordic Track's website.
NordicTrack makes some of the cheapest and most effective home elliptical trainers. NordicTrack excels in reliability and innovativeness and plays its role in the fitness industry by delivering exceptional value.
A prominent consumer source rated NordicTrack Ellipticals "Excellent" in user safety and "Very Good" in ergonomic workout techniques, sturdy construction, and exercise range.
Some of the users rated NordicTrack Ellipticals as follows:
"Best Money Can Buy!" Well-built machine. "Bump-less" resistance changes, smooth, effortless stride, robust construction, no-pedal adjustment between users."
"Amazing value for money." Features comparable to much more expensive devices."
Reebok Elliptical Review—FAQs
Which is the best elliptical?
Many people consider Reebok elliptical cross trainers to be the best because the brand is well-known in the fitness industry and has been around for a long time. Alternatively, NordicTrack produces a high-tech and comfortable elliptical ideal for use in a home gym. Still, the SF-E905 Cross Trainer from Sunny Health and Fitness is a good option if a high-end model in ellipticals is not your choice right now.
What is the difference between front drive and rear drive elliptical?
Front-drive ellipticals add to resistance, making it hard to exercise. The rear-drive ellipticals are more comfortable to use with their larger and more natural strides.
Are NordicTrack ellipticals worth it?
When it comes to home elliptical machines, NordicTrack has excellent reviews, excellent brand recognition, and better and more options to choose from. The NordicTrack ellipticals aren't the most costly or the cheapest, but they come with features and integrated routines pleasing to reviewers.