A Strong Reputation for Quality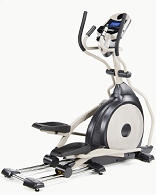 I recently had the opportunity to test out the new Spirit elliptical trainers at Superior Fitness Systems in Cary, NC. Spirit is best known for creating the concept of wireless heart rate control. They have been in the treadmill business for a number of years, and until recently were building their machines in Arkansas.
I actually had dinner with the founder of the company. He sold out about three years ago to Dyaco International. In the process their treadmills went from being rather boring to extremely stylish. They entered the elliptical business about two years ago.
As with most American fitness equipment companies that transferred their manufacturing to China, the first generation of products had problems. Those issues have been worked out, and now Spirit is once again making quality treadmills and elliptical trainers.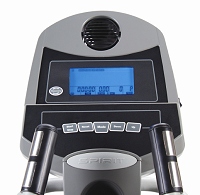 Like so many other fitness companies, Spirit is relatively new to the elliptical trainer business. But they have a reputation for building solid and durable treadmills, and those design techniques appear to be applied to the construction of their ellipticals.
I had just come from Dick's Sporting Goods, where I tested a Sole Elliptical Trainer. It was difficult to tell the difference between the two brands. And since they are both built by Dyaco, it is obvious that they are basically the same machines being sold to different retail segments. You'll find Sole at large sporting goods merchants, while Spirit ellipticals are sold through the fitness specialty store. You will get a better deal at the larger sporting stores, while the fitness stores have more knowledgeable employees.
I asked the salesperson about the Spirit Ellipticals. He mentioned that the Spirit appealed to the shopper who wanted quality, but couldn't afford the big ticket price of the Precor (They had 6 Precor models.) I asked about the service record. He said that with the first few machines that came in there was some minor squeaking that was easily fixed. Since then they were relatively problem free.
Fitness Source Spirit Elliptical Trainer Review
I tested both the Spirit XE295 and the Spirit XE400. Each had a very smooth elliptical motion and was very quiet. They appear to use a heavy flywheel, that was apparent when you stopped the machine and gradually slowed down. The XE400 has a foot pedal angle adjustment feature. You have the ability to angle the pedal up about 5 degrees. The logic behind this design is that not everyone walks the same, and some tend to walk with an inward slope.
Like the Sole elliptical, the Spirit has a 20″ stride length, which makes the elliptical motion very comfortable. I can't imagine how some companies sell 14″ or 16″ strides, and then suggest they can accommodate people over 6′ tall. The Spirit and Sole ellipticals utilize four wheels, rather than two, on the rear rails. These are the wheels that ride back and forth with the elliptical motion. You can tell the difference. It provides for a very stable feel, and reduces side to side foot pedal motion. This is a feature generally found on more expensive models.
Overall, I would say that the Spirit ellipticals are a good value, as are Sole. One difference is in the warranty. On most models Spirits has a 10 year parts and 1 year labor warranty. The parts coverage is very generous. Sole offers a 5 year parts and 2 year labor warranty, and the 2-years service coverage is also generous.
So which should you buy? If you are going to buy online I would purchase a Sole elliptical from their site. They have good prices that include shipping, and best of all you save on taxes. If you are going to buy locally you may want to purchase a Spirit from a fitness specialty store. You get their expertise and they will give you personal attention. But check out the local Dick's and compare prices.
Also See:
Spirit XE195 Elliptical Review
Spirit XE295 Elliptical Review
Spirit XE400 Elliptical Review
Spirit XE500 Elliptical Review
Spirit XE700 Elliptical Review
A Spirit Elliptical Trainer offers you an excellent cardio workout. In addition to the physical benefits to exercise, there are mental benefits as well. Follow the link to learn more.
Exercising regularly is proven to benefit your mental well-being as well as your physcial.