Quality Engineering & Ergonomically Designed to Reduce Stress to Your Joints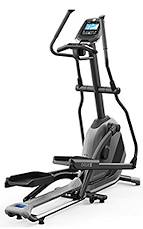 The Horizon Evolve 3 elliptical trainer recently launched combines their unique ergonomic features with some appealing interactive applications.  The push in the fitness equipment industry is to allow your machine to communicate with the Internet and in the process motivate your to achieve your fitness goals.
Horizon Fitness has joined the fray with their Passport Player box that allows you to travel through interactive landscapes during your workout. The high definition video plays on your TV, making your elliptical routine a little more exciting. Horizon recently launched their Digital Pass, giving Horizon customers exclusive app discounts to apps like Peleton, Daily Burn, and Studio.
Horizon Evolve 3 Elliptical Trainer Features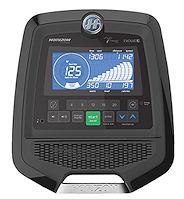 SixStar Certificate – The Horizon elliptical trainer adhere to a SixStar Certification.  These are engineering features that focus on giving the user a more ergonomic experience.
The SixStar features include:
Close pedal distance to reduce stress on your joints.  In particular, for woman wide pedal distance can be a strain on hip joints.
Easy step up onto the machine because of low pedal height.  This is in comparison a rear drive elliptical trainer can be awkward to mount and dismount.
The Horizon Evolve 3 elliptical trainer is design to place you in an upright position.  Other front drive ellipticals tend to make the user lean forward during the workout.  With the Evolve 3 you find you have a more natural stance.
Handgrip that are ideally positioned for a dual action workout.  Once again, you find with many front drive machine that handle bars are too far forward, forcing you to lean while you workout.
The Horizon Evolve 3 is has a more natural feeling foot pattern that feels a lot like you're actually walking.
You'll find the Evolve 3 has a smooth momentum due to the large drive pulley ratio.
18 Lbs. Flywheel — The weight of the flywheel on the Horizon Evolve 3 contributes to a smooth and natural elliptical motion.  An 18 lbs. flywheel  is not excessively heavy, but is adequate in providing a smooth stride.
20" Stride Length — This is about standard at this price range.  20" seems to accommodate the majority of elliptical users.  If you are very small you may want to consider a machine with a shorter stride length.  Conversely, if you are excessively tall you may want to find a machine with a 22" stride length.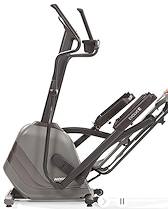 Folding Mechanism — With the Horizon Evolve 3 elliptical you can fold it upright, thereby reducing the footprint significantly when not in use.   When folded you reduce the length by 28".  The Evolve 3 uses a hydraulic system, making is easy to fold and unfold.
175 lbs. Unit Weight with Simple Assembly – About an average weight for the price.  Unless you are excessively heavy your will find that the Horizon Evolve 3 elliptical trainer will feel very solid and stable.
Warranty – Lifetime frame and motor, 3 year parts and 1 year labor.  This is typical for this price range.
See a complete comparison chart of Horizon Ellipticals here.
Optional Interactive Feature on the Horizon Evolve 3 Elliptical
Passport Player — This virtual feature allows you to simulate running outdoors through famous landscapes.  The Passport player lets you connect your elliptical to your TV for larger viewing.  This module is sold separately.
Our Review – Horizon Evolve 3 Elliptical Trainer
The Horizon Evolve 3 elliptical offers a sweet package by combining the SixStar features with their Passport application and digital pass discounts. In particular, we really like that this elliptical has an option to be folded, for those that are limited on storage.
The Horizon Evolve 3 elliptical is one of the top three ellipticals at the $1,200 price range.  In addition, it is backed by one of the best customer services in the industry. We can comfortably recommend it for moderate single and multiple users.
To learn more, check out the HorizonFitness.com.