"Excellent" Rating for Exercise Range, Ease of Use, and Construction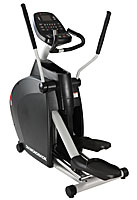 The Diamondback 1260Ef elliptical trainer has been getting some serious exposure after receiving a top "Recommended" rating from a popular consumer magazine. They gave it an excellent for exercise range, ease of use and construction.
Personally, I am not all that impressed with wth the 1260 Ef. It has been out for at least 5 years and during that time there has not been any real improvements. Meanwhile many companies are offering more features for less money. Also, many elliptical manufacturers are offering interactive technology designed to assist you in achieving your fitness goals. Something that is sorely missing on the Diamondback 1260Ef elliptical trainer. However, I do agree that it is a very solid built machine that is very durable.
Diamondback 1260Ef Elliptical Trainer Features…
Compact Design – Many elliptical trainers take up considerable space. For example, the Sole E95 is 80″ in length. In comparison the 1260Ef is only 69.5″ in length. Why take up the extra space if you don't need to.
Solid & Stable – Although the Diamondback 1260Ef has a smaller footprint, that does not compromise on how stable this machine is. One of the reasons is the 245 lbs. unit weight. Consequently it can handle heavier users. Don't be suckered into believing the suggested weight limits of many budget elliptical trainers. They are often grossly over exaggerated. The downside is you don't want to move this machine around.
Adjustable Incline – More and more elliptical trainers are offering some type of adjustable incline or stride. The reason – it gives a more challenging workout, you can burn more calories in less time and you can target different lower body muscles.
Short Step-Up – The Diamondback 1260Ef has a low step-up to the pedals. Many find it preferable in mounting the machine and exercising closer to the ground.
Close Pedal Distance – One of the advantages of a front drive elliptical trainer is that the pedals can be spaced closer together. When the pedals are distanced to far apart there can be a discomfort. This is particularly true for woman or for individuals who are below average height.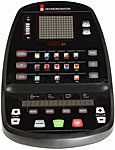 Wireless Heart Rate Control – In addition to the heart rate monitoring in the handgrips, the 1260Ef has wireless heart rate control (strap included). Using one of the five heart rate programs, you can control the intensity of your workout by the level of your heart rate. HRC exercising is used by many professional athletes due to the ability to maximize your exercise.
LED Console – The console has a very user friendly design. It is simple to select programs and make adjustment. In addition, you have a large LED display with 4 Data display windows with individual select buttons for each data group . You can easily access numerous feedback on your workout.
Our Review – Diamondback 1260Ef Elliptical Trainer
I feel the Diamondback 1260Ef is a good value at around $1,700. The quality construction make this a durable machine. The numerous features mentioned above make the 1260Ef a crosstrainer that will challenge and motivate the user.
I would also suggest you check out the Sole E95, which has many similar benefits. in addition you get a 5-year parts and 2-year labor warranty.
Both ellipticals are excellent choices in their price range.
Amazon Customer Reviews
Amazon customers gave the Diamondback 1260Ef a very impressive 5 out 5 star rating. The only real complaint was the labor required in putting it together. Click here to see Amazon Customer Reviews
Comments included…
"This is a sturdy, stable, well constructed elliptical that should provided years and years of use."

"I've been wanting to buy an elliptical for months now. Did my research on consumer reports, shopped around. I must admit that I was a little nervous about buying such a large purchase through Amazon, but I'm glad I did. I noticed the price dropped to $1699 from $1899 and that was the motivation I needed to pull the trigger."

"Recently purchased after reading the Consumer Reports fitness review, this machine lives up to the top rating and the best feature the price suggested retail is $2600, Amazon $1899, best elliptical best price is a win win!"