A Solid Machine with Core Benefits
The Yowza Miami elliptical trainer is their top of the line model and their biggest seller.  It comes with Yowza Fitness signature features including their proprietary Cardio Core rotating handle bars combined with electronic adjustable Variable Motion along with other upgrades designed to keep you on your fitness goal track.  This is a heavy duty machine and when I talked to the company they mentioned many of their customers purchased for multiple users.  And of course a machine that can accommodate multiple users is typically very durable.  In fact they are selling this unit in light commercial environments.
Note: We have been to the Yowza Fitness headquarters and personally tested their machines.  We are one of a few reviewers that have actually been on their equipment. Also, we realize this is a rather lengthy review, but the depth is necessary to adequately explain the many unique features.
Yowza Miami Elliptical Reviews and Features
Cardio Core Training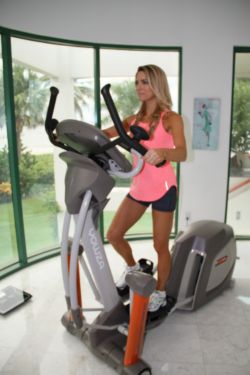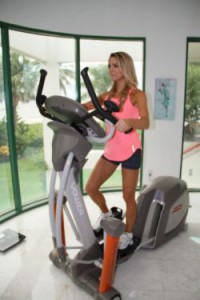 The Cardio Core Training has redefined crosstrainers. A typical elliptical trainer has your side handlebars that move forward and back.  They provide resistance training to your upper body, but target limited muscles.  The Cardio Core Training has handlebars that swing side to side. The design forces you to twist your torso, which results in targeting your abs and core.  As you get your cardio exercise you are also getting an upper body workout similar to doing sit-up and crunches.  In comparison a traditional elliptical trainer upper body workout tends to primarily target your shoulders and arms, with minor impact to your abs and core.
An upgrade on the Yowza Miami is a set of moving handle bar with patented egg shape holder to provide better upper body and core training. You can grip the handlebars in multiple positions, which allows you to target more upper body muscles. Also the handlebars independently self pivot allowing the user to keep their wrists in a fix position instead of having to twist your wrists as the handlebars go from side to side.
Watch our Team Review of the Miami on a recent visit

Variable Motion
The other signature feature on the Yowza Miami elliptical is the Variable Motion.  Rather than having a fixed elliptical stride length you have a variety of motions that go from 18"-32".  At 18" you have a more traditional elliptical motion,  as you extend the stride length the motion becomes more like a stair climber.  As your stride goes further out it also goes further up.   At the longer stride lengths the best analogy is that you are combining an elliptical motion with a stair climber.
The Yowza Miami is upgraded with a longer stride length and an increased incline. The 60% incline provides a longer stride range and lifts the legs higher for better performance. The higher the knees the more workout to the abs and core.
Advantages of the Variable Motion
Over time the body adapts and will acclimate to any repetitive exercise you do.   So when you have, for example, an elliptical with a fixed 20" stride length and an incline of 15 degrees.   You will initially get the benefits of weight loss and muscle toning, but that repetitive motion will reduce the rewards over time.  The Yowza Miami elliptical trainer capitalizes on the muscle confusion theory, whereby changing the shape and intensity of the motion helps to prevent your body from getting acclimated to any one particular motion.
The other advantages of the variable motion is that with the variable stride and incline it can accommodate many different body types and sizes.  That is why the Yowza Miami elliptical trainer is popular with household of two or more users.
Note: To maximize your workout it is recommended that you do a 60% vs. 40% split, where your legs handle 60% of the resistance and your arms and upper body handles the other 40%.
Large  Flywheel
The Yowza Miami elliptical trainer has the heaviest flywheel of all the Yowza ellipticals. The Electromagnetic Braking system (referred to as Eddy Current) makes for a smoother and more natural motion and is one of the most innovative braking systems available .
Best Brake Control Friction System Available — The electromagnetic  brake system is commercial grade and will result in a very smooth elliptical motion, in addition to being whisper quiet. In fact, on our recent visit to Yowza the CEO said this machine is now being used in light commercial environments which speaks of the long term durability.
Sealed Bearings — All the joints have sealed bearings in comparison to bushings.  Sealed bearings last much longer and quieter than bushings and something you would expect in a machine at this price level.
IWM (Intelligent Weight Management)
The Yowza Miami comes with a Bluetooth digital weight scale with Intelligent Weight Management software.  You weigh yourself before each workout and the data is fed to the machine and tracked by the software. This feature is designed to assist you in achieving your ideal weight or your targeted weight.  IWM allows the Yowza Miami elliptical trainer to monitor your weight and create custom workout routines to achieve your designated weight loss.  For example with IWM you can monitor calories burned, monitor calories you eat, and find out at the end of the day if you are in a positive or negative calorie status.
The Miami tracks up to nine users, so the IWM can be customized for each.  It also includes the myLiveLight  app which allows you to monitor all your stats and your progress online.
Pivoting Foot Pedals with Soft Gel
The angled pedals rest on cushioned buffers and flex back and forth based on the pressure from your foot. This reduces foot lift and stress and strain to your feet and eliminates "toe sleep". The Soft Gel technology further reduces the stress and impact to your joints (Gees you would think all manufacturers have gel inserts in the pedal standard like Yowza).
Sound System
The Miami is equipped with a Bluetooth 4.0 fit-sound system that is build into console to allow you play music from your Bluetooth mobile device.  A cable input is available for non Bluetooth devices. This sound system is above average for an elliptical trainer.  There is even a large button to answer an incoming call (like in your car) without having to touch your phone.
Unit Weight
At 234 lbs and combined with the rear drive design, the Yowza Miami is rock solid and very stable even for excessive heavy users.  It can easily handle it's maximum user weight of 400 lbs.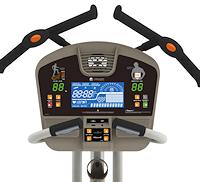 Large LCD Display
The Yowza Miami Elliptical trainer has an oversized LCD screen, and there are two separate LED screen that display incline and resistance levels.
Warranty and Service
You get lifetime warranty on frame & braking system, and 2 years in home labor. In addition, the parts warranty is increased to 7 years.  This coverage suggests a very durable machine. In fact, out of 330 reviews on consumer affairs Yowza has a rating of 4.5 stars.  Higher than any other company. The next closest company is Nordic Track with 244 reviews and only 1 star.  That is correct, one star.
Our Review of the Yowza Miami Elliptical Trainer
The price tag on the Yowza Miami elliptical trainer is hefty for a residential crosstrainer, but for the money you are getting…
Cardio Core Training
Variable Motion
Intelligent Weight Management
Bluetooth Compatibility
Quality Construction Designed to Handle Multiple Users
A Solid and Stable Machine
From the feedback I get, those who take the leap of faith on this innovative machine are hooked.  That is because the Yowza Miami elliptical trainer delivers results.
Looking for a great elliptical?  Also check out Sole Fitness.