A Reversible Watch to Track Your Workout Stats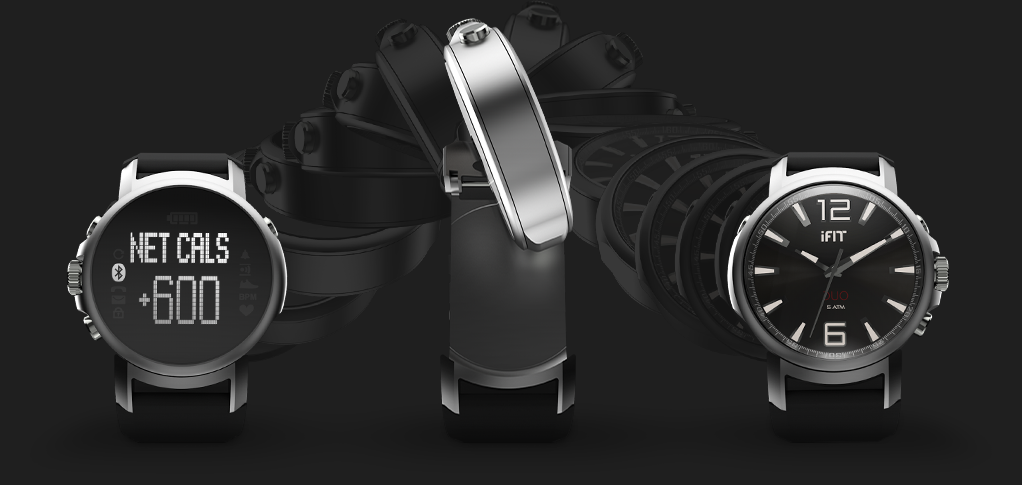 Wristbands with fitness tracking capability are wonderful when you are at the gym, but can look out of place when you're at your place of business or church.  The iFit Duo solves this problem with a beautifully designed reversible face.  On one side you can see a classic analog watch face.  On the other, you have a bright and vibrant LCD digital display to track your calories, steps, and other fitness stats.
The iFit Duo comes from the same makers of the NordicTrack and ProForm machines and joins a growing inventory of wearable wrist fitness trackers.  What sets this timepiece apart is its ability to easily transition from fitness tracking to a classic watch face. Plus, the watch communicates data to your online iFit account, so you can store all of your workout stats in one place.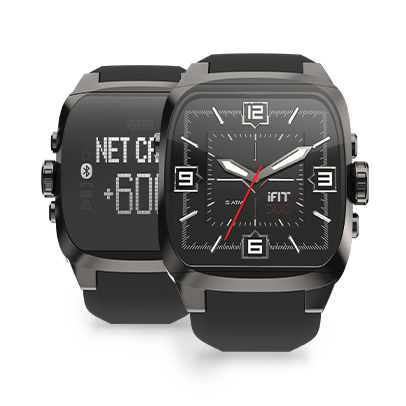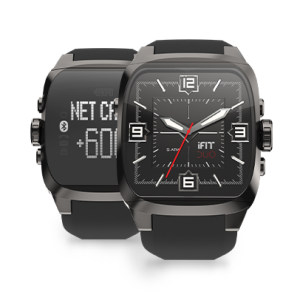 iFit Duo Features
Display – The iFit Duo has a reversible watch face with a classic analog clock on one side and a bright LCD digital display on the other.  The face flips over easily so you can transition between the two looks.  There are three different styles available and they each come in both men's and women's sizes.
Battery – There is no need to change out batteries for this watch.  Simply recharge with the USB at the end of the day.
Water-Resistant – Do you feel like going for a swim with your new watch?  It's possible with the iFit Duo because it is water-resistant up to 5 ATM of pressure.  This is a useful features since even non-swimmers will be exposing their watch to sweat and the elements.
Technology – The iFit Duo comes with Bluetooth capability so any stats recorded on your device can be easily viewed on your online iFit account.  All of the data is stored in the same cloud as your iFit elliptical data, so you can view all of your information in once place.  The iFit Duo is compatible with several Android and iOS apps.
On-Screen Notifications – A discreet vibration or notifications can be turned on to alert you of things like text messages and calls on your synced phone.  Plus, the Duo will kindly tell you to get off your butt if you've had a lazy day.  Talk about motivation!
Our Review:  The iFit Duo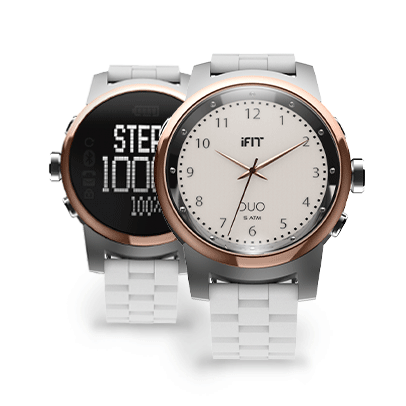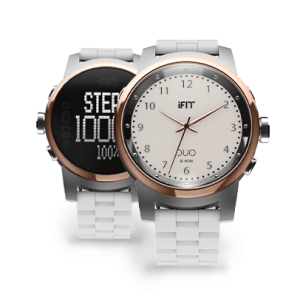 It's a wrist watch.  It's a fitness device.  It's a SUPERwatch!  Okay, maybe that's going a bit overboard, but we really like the features available on the iFit Duo.  The main advantage is that you can switch the face from analog to digital.  Plus, it tracks your workout stats using your online iFit account.  At $299, this is a great price for what you are getting.  We are glad to see that the makers of NordicTrack and ProForm exercise equipment have added the iFit Duo to their line-up.
Go to  Amazon.com to learn more.