(Last Updated On: July 6, 2022)
The Complete Guide to Lubricating Your Elliptical Machine
Elliptical machines are widely popular for low-impact cardio exercise. The design of ellipticals deliver minimal joint impact, decreasing the chance of injury. So, people with knee or joint injuries can easily exercise on ellipticals without pain or aggravating any injury.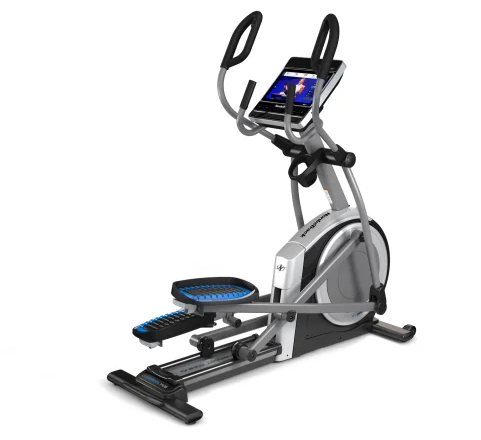 A good elliptical is a huge investment. Ellipticals require good care to run well for a long period of time. Lubricating your elliptical is a big requirement in making sure that your elliptical is well maintained and will last for years and years. 
Elliptical lubricant helps to reduce the natural wear and tear that happens to ellipticals from frequent use. The process of lubrication plays a major role in boosting the longevity of an elliptical. It also aids in retaining the functionality of the machine, making it smooth and effective. If elliptical lubricant is regularly used to keep an elliptical machine functional, you can avoid costly repair expenses. Since lubrication reduces friction, it helps to lessen noise and vibrations produced by the machine. 
Greasing your elliptical can seem like an overwhelming task. You just spent a lot of money on an elliptical machine, and you don't want to mess it up. We get it – that's why we created this guide to make it simple and pain free.
In this article, we are going to discuss elliptical grease (lubricant) and how and when to use it. 
Why is it Important to Lubricate an Elliptical?
It is very important to keep  ellipticals clean of dirt and dust. It helps to maintain the functionality of the machine. However, lubricating the elliptical machine is even more crucial because it helps to keep the components of the elliptical machine in good working order. So, if the elliptical starts wearing down over time, lubricating the joints makes the machine operate at its full potential.
What Should Be Used to Lubricate an Elliptical?
With the purchase of an elliptical, lubricants are generally included with your machine. Since the manufacturers recommend using the lubricant, it is always advisable to use that to grease your machine. The manufacturers often provide guidance on how to grease their specific machines. It is important to follow the steps mentioned in the manual. This is important because every elliptical has its unique designs and styles. Manufacturers are the most knowledgeable about which lubrication technique and lubricant will work best for their ellipticals.
For example, if you own a NordicTrack elliptical, their user manual advises performing regular lubrication of the elliptical with silicone lubricant. So, since the manufacturer has already specified what to use to grease a NordicTrack elliptical, no other lubricant other than silicone should be used. The manual also mentions the specific parts, including rollers and ramp, that should be lubricated to prevent a NordicTrack elliptical from squeaking. So, if you own a NordicTrack elliptical, you should only focus on greasing these parts. 
Warning: Stay Away From Home Remedies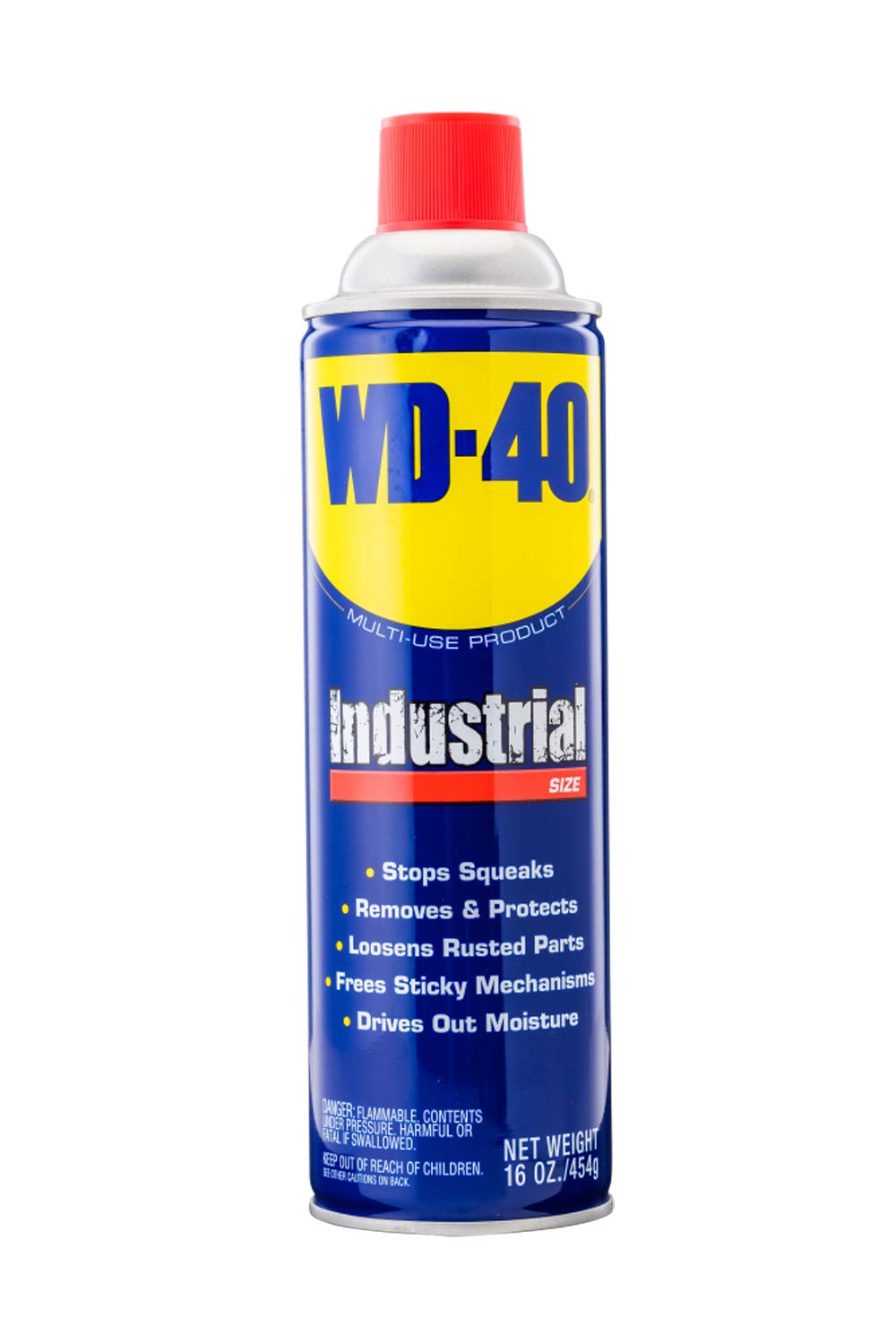 You may be tempted to use something that you have laying around your house as lubrication for your elliptical. However, it is not advisable to use household grease on your elliptical machine. 
Elliptical machines are generally covered with a plastic-like material. If we use household greases, they might damage the plastic covering present on the elliptical. There is another major drawback to using oil or other household greases to lubricate ellipticals. They have the potential to remove the grease present on the elliptical machine. If the grease is removed, this leads to a malfunctioning elliptical.
Household greases are not suitable for ellipticals, and they may even void your machine warranty. So, if you run out of lubricants provided by the manufacturer, order more. But never opt for a home option to lubricate your machine. (Keep in mind: Although it may be tempting to save money and opt for an at-home grease like WD-40, you'll end up with a costly elliptical repair bill down the road.)
What is the Best Elliptical Lubricant to Buy?
If you're able to, you can order elliptical lubricant from the fitness equipment manufacturer. However, there are good choices that are available online. Both of these options are under $20 and are compatible for use on all major brands. (Brands including NordicTrack, ProForm, Horizon, Sole, Nautilus, Epic, LifeSpan, Life Fitness, True, Star Trac, Schwinn, Woodway, Precor, Spirit, Vision, Fuel, Pace Master, Weslo, and more.)
Categorization of Elliptical Machines (For Lubrication Purposes)
The elliptical machines are divided into two types according to lubrication purposes. We are going to discuss both of the elliptical types in detail.
Front-Wheel Drive 
The first type of elliptical machine, according to lubrication purposes, includes elliptical machines with front-wheel drive. Anyone can spot this type of machine by noticing the flywheel at the front of the elliptical. The majority of users claim that the front-wheel-drive ellipticals are not as comfortable as rear-wheel-drive.
Front-wheel-drive ellipticals are notoriously more high maintenance than rear-wheel-drive machines. The manufacturers generally suggest once-a-week cleaning of the rollers and tracks of the elliptical machines. These machines should also be greased with an appropriate lubricant every six months. 
Rear-Wheel Drive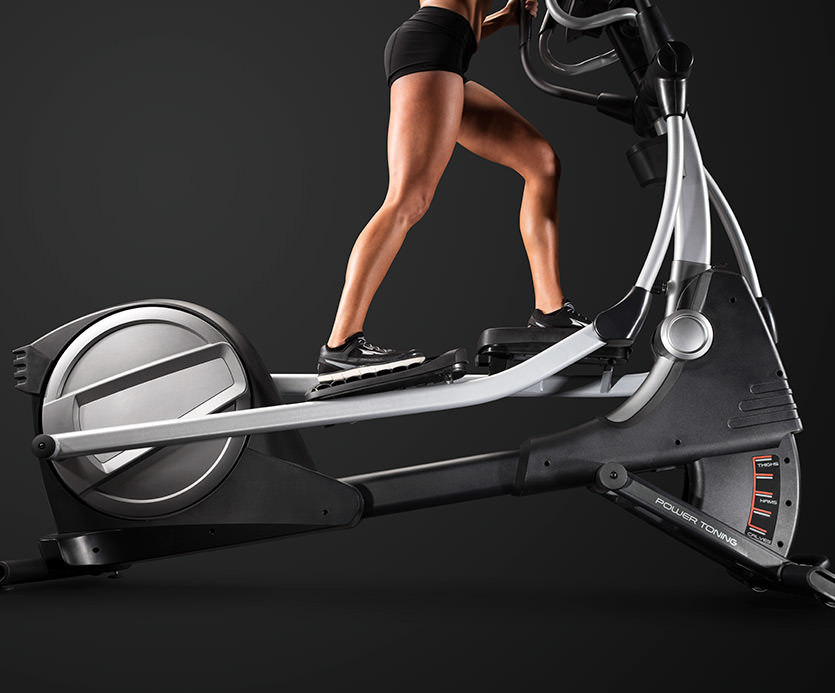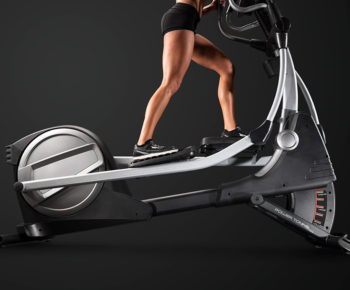 The second type of elliptical machine as per the categorization of lubrication purposes is the rear-wheel drive elliptical. If a user is looking for some fitness equipment with top-notch quality and comfort, rear-wheel drive ellipticals are the best choice to go for. These types of ellipticals result in a much more natural movement during exercise.
Rear-wheel-drive ellipticals are much easier to maintain. If you have a rear-wheel drive elliptical machine, once-a-month cleaning of the elliptical machine is more than enough. Still, a rear-wheel-drive elliptical machine should be lubricated every 6 months as well. 
How to Lubricate an Elliptical (Step-by-Step Guide)
Step #1: Gather Your Tools
To lubricate your elliptical, you'll need to gather a few tools. You can reference your elliptical manual for specifics. But, some general tools include soft towels and your machine lubricant (and maybe a screwdriver depending on how easily your flywheel cover comes off.)
Step #2: Clean Your Machine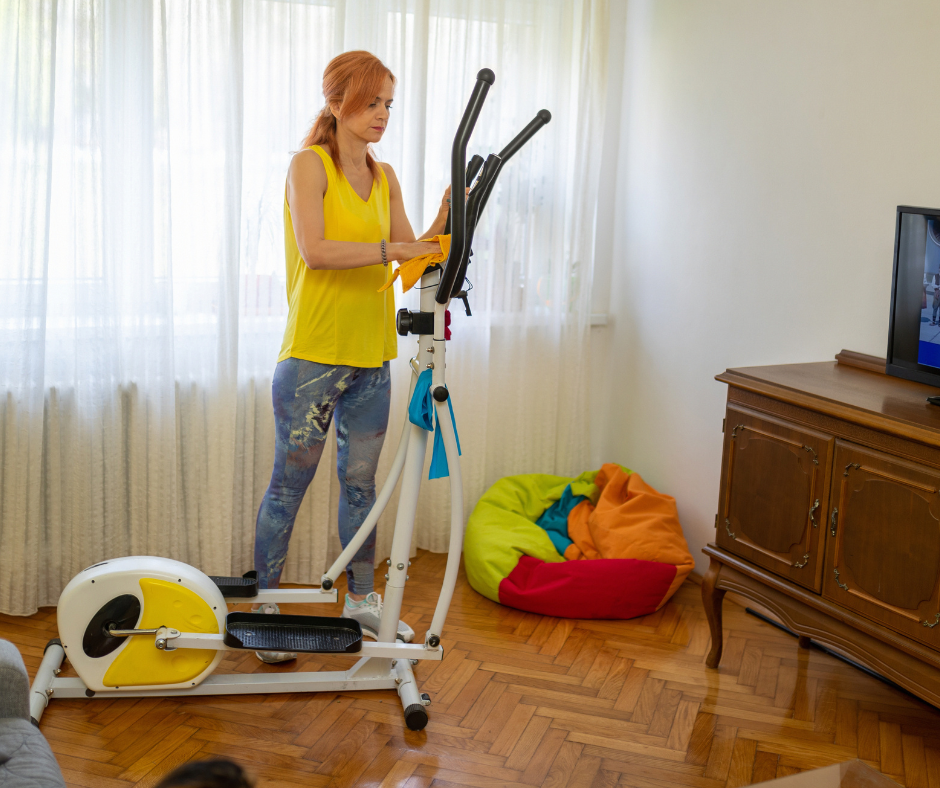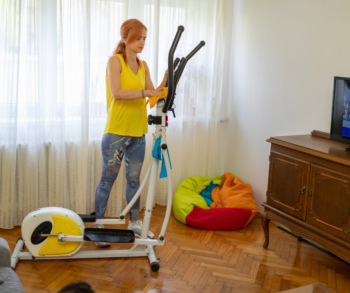 In order for the lubrication process to be the most effective, you'll need to make sure that you use your soft towels to clean any dirt and dust off of your machine. 
Step #3: Apply the Lubricant
You can apply the elliptical lubricant with another soft towel. It's generally suggested to apply elliptical lubricant in a massaging motion on the moving parts of the machine. 
Step #4: Slowly Move Your Elliptical
To make sure that the lubricant covered all moving parts of your elliptical, move your machine slowly. It's important to move the machine in the movement pattern as if you were using it, so all the moving parts get covered.
Step #5: Grease the Flywheel
In order to grease the flywheel, this is the step that may require a screwdriver. Elliptical flywheels are covered, so be sure to reference your user manual in how to remove it. You should repeat the same process, of wiping off the flywheel with a cloth and then applying the lubricant in a massaging motion with another cloth. In order to get the lubricant deep into the bearings, it also can be helpful to use a medicine syringe to shoot grease into the small crevices. 
How Often to Lubricate an Elliptical
If we see the general trend, a good rule of thumb across the board is to lubricate your elliptical every 6 months. However, if a user frequently uses the elliptical machine, it might lead to a loss of grease and smoothness in a shorter period of time. 
Even though the general recommendation is to lubricate the machine once-twice a year, it is always advisable to go through the user manual guide. The user's manual guide always mentions the manufacturer's recommendation to perform lubrication on that particular elliptical. 
If you have no knowledge of how to lubricate an elliptical, some companies offer lubrication services, and hiring a specialist to perform the lubrication process. In addition, you can check with your local sporting goods store and ask one of the employees to demonstrate machine lubrication for you. 
Here is a glimpse of the lubrication schedule recommended by the top elliptical brands:
How Often to Lubricate NordicTrack Ellipticals
There are a variety of elliptical machine models available from NordicTrack. The manufacturer recommends greasing their elliptical machines every three to six months. 
How Often to Lubricate Sole Ellipticals 
Sole Fitness is a globally known fitness brand that has exclusive elliptical models. Sole Fitness suggests lubricating their elliptical equipment once every six months if not used extensively. 
How Often to Lubricate ProForm Ellipticals
If someone wants to have a home elliptical machine, ProForm has a lot of models with different technologies to offer. Their elliptical models come in a variety of sizes and weights. The globally famous brand recommends that their elliptical machines should be greased every nine to twelve months depending on the frequency of use.
How Often to Lubricate Horizon Ellipticals
Horizon is known as one of the more affordable brands on the market, very popular for residential use. This manufacturer suggests a more frequent lubrication on their machine, every 3 months. 
Final Thoughts
Lubricating your elliptical might seem overwhelming, but it's a necessary part of owning an elliptical. Regularly keeping your elliptical lubricated will ensure that it lasts you as long as possible, with as little maintenance as possible. After a few times of practicing, you'll be a pro! 
FAQ
Can I lubricate my elliptical with WD-40?
WD-40 is a go to product for any type of squeaking. However, using WD-40 or any other household lubricants or greases will damage your elliptical.
How often do I need to lubricate my elliptical? 
The frequency of lubricating an elliptical varies depending on the manufacturer and the frequency of use but a good general rule is to lubricate it every 6 months.
Do I need to grease my elliptical?
Yes! In order to keep your elliptical running well and for a long time, keeping it greased is crucial.
What type of lubricant should I use on my elliptical?
Elliptical lubricants are specifically made for these machines. Fitness equipment manufacturers often sell them with the purchase of an elliptical. These lubricants can also be found at most sporting goods or fitness equipment stores.