Sunny Health & Fitness is known for being an affordable fitness equipment brand. Its headquarters are in Los Angeles, CA, and Xiamen, China. It's quite a small company compared to most other fitness equipment brands. Sunny Health & Fitness is also relatively new to the fitness equipment industry. They have a friendly work culture that makes for a warm, family atmosphere in their workplace environment. This translates to excellent customer service because they are approachable, understanding, and willing to help. They take pride in their customer service and call it their "Sunny Difference". It does set them apart from many of the larger companies in the industry, where the communication is not great and the customer service is not as approachable. 
Most Sunny Health & Fitness ellipticals are budget-friendly. Their most popular ellipticals are all priced fairly low. While Sunny Health has some positive features like personable customer service, they also have some drawbacks which you should be aware of when purchasing equipment from them.
Sunny Health & Fitness Elliptical Models 
Sunny Health & Fitness offers three different kinds of elliptical machines: traditional ellipticals, cardio climbers, and under-desk ellipticals. We checked out some of their popular elliptical models to see what they're about. 
Sunny Health & Fitness Magnetic Elliptical Trainer Machine SF-E3607
This machine is a great budget-friendly machine for a workout at home. It comes with magnetic resistance and pulse sensors on the workout arms that allow you to keep track of your heart rate. Its features are as follows:
It has 8 levels of magnetic resistance 

It has anti-slip foot pedals to improve safety 

It has storage wheels for when you're not using it

It comes with an LCD tracking screen

It has a 3-year warranty for its frame and a 180-day warranty for its parts and components 

It has a stride length of 12 inches

It has a maximum user weight of 220 pounds 
It's a compact machine and is a decent option as an entry-level machine in the fitness equipment market. However, this machine would not be a good buy if you were looking for a solid, durable machine that you can use for more than a few years. It's a very lightweight machine and does not provide steady support during a workout; it felt quite unstable while exercising. It doesn't support a weight above 220 pounds. We were also not very convinced about its ability to withstand 220 pounds weight as it seemed to lack that kind of stable capacity. 
The machine is not foldable, so you cannot fold it and move it around easily. This is surprising because most lightweight machines are usually foldable. The main advantage of a lightweight machine is its mobility with easy folding and transportation. The machine does come with wheels which will help you move it around. However, given that it is a light machine, one would expect it to have more convenient options for moving around, like foldability. 
It's also not comfortable for taller people because the stride is very limited – 12 inches. Many people will find it difficult to take a full stride on this machine as the stride length makes for a restricted feeling while working out. Typically, popular residential ellipticals have a comfortable and natural 18"-22" stride length. If you want a machine that gives you a more natural, comfortable stride, you could go for a Horizon Fitness elliptical machine. 
Magnetic Under Desk Elliptical Peddler E3872
This under-desk elliptical by Sunny Health & Fitness is space-saving and easy to move. It has large foot pedals to prevent your feet from slipping while using it. It offers a form of cardio exercise to get your blood circulation going and work out your low body muscles. It has 8 levels of magnetic resistance, which can be adjusted by using a tension knob. It also has a digital monitor to track speed, time, calories, and distance. It has a 7-inch stride length and floor stabilizers to ensure better grounding on floor surfaces.
While this under-desk elliptical does help you get your legs moving, we found that its benefits in terms of working out were limited as it does not quite match up to a full-body workout and the range of muscle exercise that a regular elliptical offers. Under-desk ellipticals are not common in the fitness equipment market for a reason. There are some benefits to having leg movement but it's limited. When regular ellipticals offer full-body cardio exercise including legs and arms, it might make more sense to get those instead of one that is just for the legs. If you are looking for something to get your legs moving a bit on the job, this may work well for you. If you are looking to burn calories and get your heart pumping, this is not the best option for you. You could check out the Horizon EX-59 instead. 
Performance Cardio Climber Elliptical Trainer 
The Performance Cardio Climber Elliptical Trainer (SF-E3911) with climbing motion comes with a unique striding motion that helps you focus on working out your lower body muscles or do a full-body workout using the swinging handlebars for your arms. 
It has a digital monitor that helps you measure time, speed, distance, calories, odometer, and scan. It has a climbing stride that makes it feel like you are climbing when working out. 
It also has a device holder, bottle holder, floor stabilizers, and a flywheel in the front. 
While it did have some useful features like the climbing stride, we found this machine to be lacking in stability as a whole. 
Premium Elliptical Exercise Machine Smart Trainer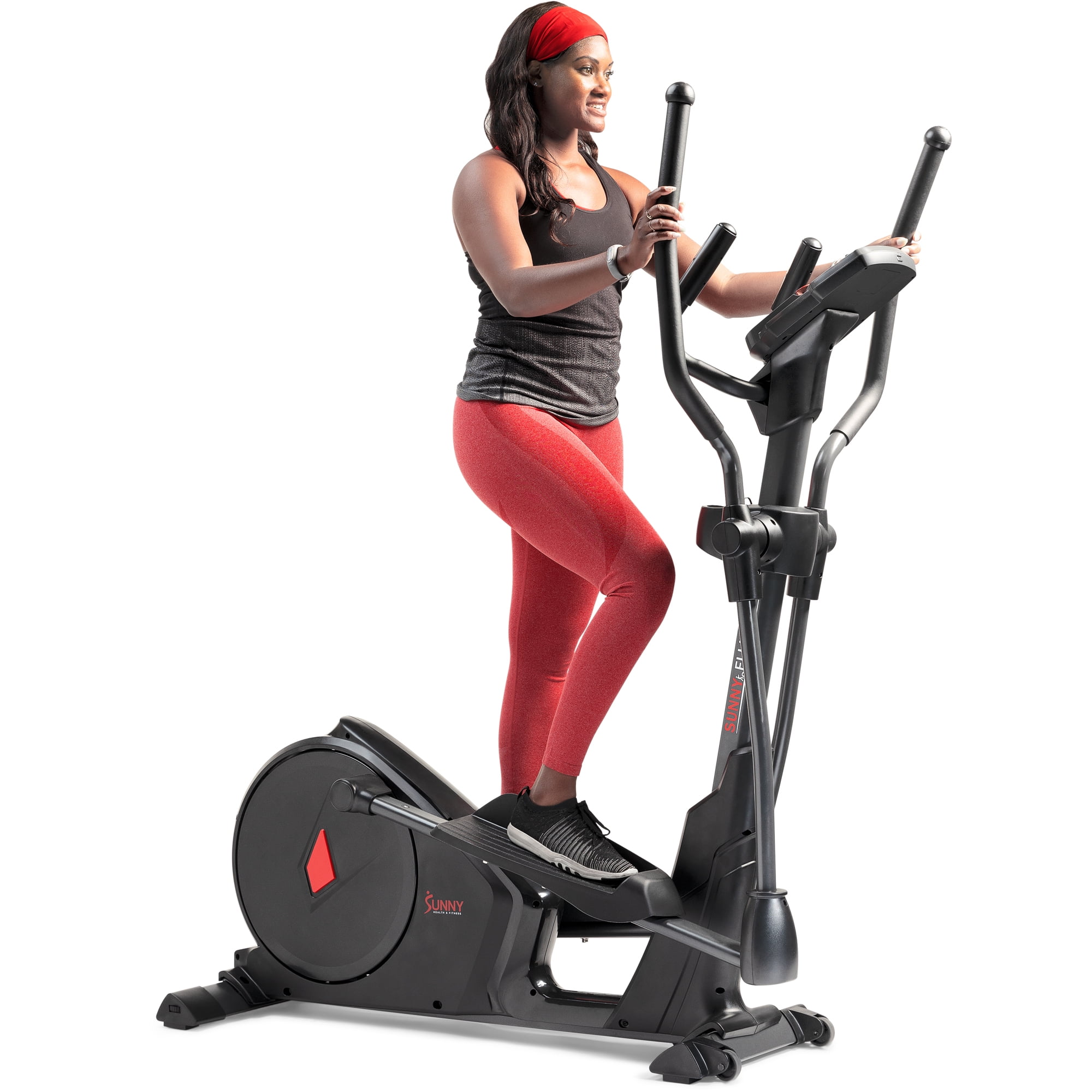 The Premium Elliptical Exercise Machine Smart Trainer has wide footplates and a stride that is 15.5 inches. Again, we found this stride to be very limited and not very comfortable. It also has pulse sensors that will help you keep tabs on your heart rate as you work out. You can connect to a wireless heart rate belt to measure your heart rate. This will help you maintain stability on any surface. It has different levels of resistance which allows you to increase or decrease the resistance between 16 different levels of magnetic resistance. However, to access this magnetic resistance, you will need to connect the elliptical to a power source. 
It comes with the SunnyFit App, which has trainer offerings and allows you to view your performance metrics. The Performance Monitor has a display that shows your speed, time, distance, calories burned, rotations, and magnetic resistance level. 
We found that this machine is pricier than the other machines without adding much value. The additional features it has are basically a Bluetooth connection and the SunnyFit App. Otherwise, the features are more or less the same as the others – different levels of magnetic resistance, a water bottle holder, a device holder, and pulse sensors. 
Our Take on Sunny Health & Fitness Ellipticals
These budget-friendly machines are useful in the sense that you get what you pay for. However, don't expect them to last more than a few years. They also do not feel very stable during exercise and this poses a safety concern. 
The warranties they offer are also limited and this we found to be an issue, given that the machines are cheaply made. 
There are some benefits to purchasing Sunny Health & Fitness ellipticals. However, due to safety and durability concerns, we feel more comfortable suggesting other machines as better alternatives. The main concern that we have with their ellipticals is how light they are, which causes a lack of stability during your workout and could lead to injury. In comparison, other budget ellipticals (such as the Horizon EX-59) weigh more and this heavier unit weight results in not just more stability during your workout, but also more safety. 
A Reliable and Affordable Alternative: Horizon Fitness 
If you are looking for better features along with quality and durability, you could check out Horizon Fitness; it's a brand that comes with a great reputation. Horizon Fitness manufactures its own components for its ellipticals. This vertical integration of Horizon's production process is an advantage when you have to think about the maintenance of your machine, troubleshooting, and customer support in case there is a problem with its functioning or any of its parts. 
Horizon ellipticals are professionally engineered and designed for the most appropriate body positioning to ensure that you do not strain your muscles in the wrong way. The pedals are spaced optimally so that they minimize stress on the hips and back. Horizon provides a Digital Pass which allows you to save a lot of money on fitness applications like Peleton, Daily Burn, and Studio. All these applications are integrated with Horizon machines.
The machines are also a good option for taller people – they have long and natural strides that allow for a comfortable experience. Working out on these machines feels like you are actually running or walking because the strides are more natural and less constraining. 
What's more, Horizon also offers budget-friendly models that don't compromise on quality and good features. They are built from quality components and are made to last. Horizon's best-selling model is the Ex-59 Elliptical. It's budget-friendly without making you give up on useful features. The best thing about this model is that it is simple to use because of its intuitive controls. It's also easy to start up so it takes less time to start your workout. Yet, it's also got quality components and a durable build. Horizon Fitness offers some solid warranties and good deals that will keep you covered and safeguard your money. 
Final Outlook 
Using fitness equipment to exercise is a great way to improve your workouts and push yourself to do your best. Whether you're just starting or you're a seasoned fitness enthusiast, supportive fitness equipment is incredibly important and it makes a big difference to your workout experience. It also supports you and provides a steady grounding so you can do your best without worrying about safety and stability. 
The pandemic helped us realize the importance of physical fitness in our lifestyles. These days so many people are trying to make it a habit. It's an effort to get yourself to do the workout regularly. You don't want to make things even harder by using fitness equipment that does not support you well. Using quality machines encourages you to work out more. It gives you an experience that rewards you for the effort that you are putting in. 
To keep up your fitness, you need to find ways to make yourself exercise more regularly. A great way to do this is to get the right fitness equipment. It needs to be the kind of equipment that makes you want to work out. The more difficult it seems, the less likely you are to go ahead and do that workout. Horizon ellipticals are easy to get started and are accessible and comfortable, encouraging you to get down to exercising. 
If you are looking for low-price fitness equipment, Sunny Health & Fitness ellipticals are something you can consider. However, there are budget-friendly alternatives that offer quality components, great warranties, and stable machines. Horizon Fitness offers a comfortable and intuitive fitness experience, irrespective of where you are on your fitness journey. Its Ex-59 elliptical is affordable but doesn't make you give up on the good stuff. We would suggest that this offers better value for your money compared to Sunny Health & Fitness Ellipticals.