More Negative Reviews Received Than Any Other!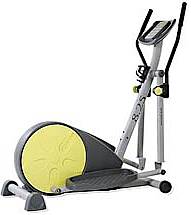 There is only one good argument for buying the Image 8.25 elliptical trainer — it only costs $250. However, we have received more negative reviews on this elliptical trainer than any other!
Realize there is a good chance the Image 8.25 will not last for long, especially if you plan to use it regularly. What do you expect for $250?
It should be noted this elliptical is not designed for tall or very overweight individuals. At 113 lbs. it is not very stable. Furthermore, being a compact elliptical, tall individuals will find it confining. Also, the reviewer below makes an important point. Rather than sealed bearings the Image 8.25 relies on bushings, which are more likely to wear and require replacement.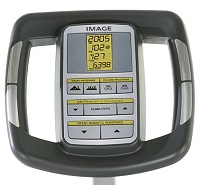 The Image 8.25 has an 18″ stride, which is longer than most ellipticals in this price range. It also is equipped with four different workout programs that automatically control the resistance of the elliptical. This adds some variety.
One recommendation that we suggest for anyone buying an Image product – consider buying the extended warranty. This way you'll have a little more protection when this machine breaks on you after several weeks of use.
What Do We Recommend Instead of the Image 8.25?
You need to realize that when you purchase a cheap machine like this, you are only going to get a limited amount of use out of it before it breaks. If you are looking for a machine that will last a significant amount of time and provide a quality workout, then you are much better off going with another brand.
Image is built by Icon Fitness, which is the same parent company that builds ProForm and NordicTrack. Either one of these brands offers MUCH better value for your money. They come with better construction, more features, and stronger warranties. Warranties are important to consider, because they give a clue about how much confidence a company has in their machine. If a machine has a Lifetime warranty on the frame (like the ProForm Endurance 520 E) than you can bet that they know the frame is well built and can handle the stresses of a vigorous exercise session.
A machine like the Endurance 520 E comes with a longer 19″ stride, decent 16 lb flywheel, iFit Coach fitness tracking programs, 18 built in programs, 300 lb weight limit, EKG Pulse grip heart sensors, and a Lifetime frame, 1 yr parts and labor warranty. You'll be spending about twice the amount as the Image 8.25, but the machine will last MUCH longer. Plus, you'll be getting a better quality workout with each session. If you had decided to stick with the Image 8.25, you'll like suffer through frustrating workouts that don't do the job before it finally breaks on you. Then you're left deciding if you should buy another el-cheapo machine or finally spend the bucks to get a quality brand.
If you are determined to buy an inexpensive option, then you might also consider the Hybrid Trainer from ProForm for around $349. This machine is a hybrid elliptical and exercise bike that has gotten very strong reviews over the years. It is even endorsed by celebrity fitness trainers Chris and Heidi Powell of ABC's Extreme Weight Loss TV Series!
Just our thoughts.. hope they help!
---
Here are some more reviews from customers who have purchased the Image 8.25.
Customer Reviews – Image 8.25
I just got the 8.25 from Wal Mart, the price is attractive for an entry level elliptical $295 with taxes and 2 yr extended warranty. Good packaging and good instructions,labeled fastner kit helps assembly. It appears to be a substantial machine with heavy double bushings at all moving joints, good continuous welds, and a good powder coat paint. The adjustable upper body hand bars is a nice feature, but not sure how well the plastic clamp mechanism will hold up over time. The machine worked correctly the first time, now time will tell about longevity. I think the bushing joints should be dissassembled once a year and repacked with grease, or at the very least have lithium grease shot into the bushings. The maintenance portion of the manual says nothing about future lube but I can see this as a problem for the future given that it is a bushing at wear points and not sealed ball bearings .

---

I was very happy with my machine until the back bushing shered off and I fell off the machine. I have tried to get the company to fix it. I guess I am out $250.00. – Margaret

---

I bought the Image 8.25 Elliptical at Wal-Mart for $199.86 plus tax. For anyone who is considering buying this equipment, please listen to my words of warning: DON'T BUY IT. It is a waste of money. I have used this elliptical for three months and the support frame broke. I almost fell off the equipment. I am not overweight so there is no excuse for the frame to break except poor quality. The equipment is junk. Save your money and join a gym for 3 months and you will get a far better workout for the money. I called the company's toll free number and waited on the line for over 5 minutes. I got a recorded message that all the service reps were busy and to leave my phone number and then I was disconnected. There is NO customer service to help with your complaints. Be warned, NO NOT BUY IMAGE 8.25 ELLIPTICAL. You will regret your decision. – Julie

---

I love this machine!! I bought it for $288.00 at Walmart two years ago. The only problem I had was the handle bars slid side to side, but my husband put two washers between them and that fixed the problem. I bought the elliptical after I had my second baby and needed to loose the weight. I went from 151 lbs to 129 lbs just using this machine 30 to 45 minutes a day 3 to 5 days a week. Still works as good as it did the first day I used it.

---

I have owned this machine for 2 yrs now and used it regularly for 6 months, then I joined a gym. It's not very stable. I weigh 130 lbs and the flywheel axle just broke after I tried to use it for the first time in a year. You get what you pay for. – Angel

---

Purchased from Walmart. After about 20 uses, center frame rail broke. I weigh 175 lbs. Out of warranty, haven't tried to call yet, may try to re-weld. Worked fined until then. Shoddy material apparently

---

I was looking for a low end elliptical to see whether or not I would use it and possibly buy a more expensive model. I have had it for two years, and it is still going strong. While I am fairly small (145) a couple of my friends that are 200+ have used it quite a bit as well. The adjustable handles do work their way down, but other than that I haven't had any problems. I must admit that my 15-year old daughter put it together…maybe that explains why it has held up so well.

---

Worked pretty well, except for the heart rate monitor, until the support frame collapsed, ~6 months. While taking it apart to trash it, discovered that the belt that connects the pedals to the resistance device was almost completely worn out too. If you're getting black fiborous stuff on your floor, that's probably what it's from. I'll plan on spending a bit more on a replacement.

---

PIECE OF XXXX!!!!! Purchased from Walmart and after a couple of weeks the frame broke. This machine wasn't worth the box it came in. Don't waste your time or money… JUNK JUNK JUNK!!!!

---

bought the 8.25 image elliptical, and it sucks. I use it 5 times, and know it is broke. There is a crack on the bottom, and know it is off balance. Do not buy this brand.
Better alternative is the ProForm Endurance 520E or the NordicTrack ACT.