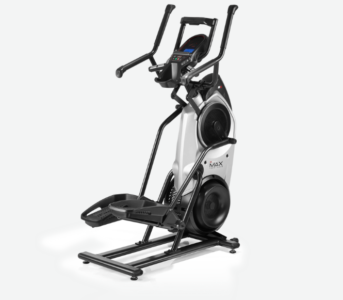 The BowFlex Max Trainer M6 is a new machine from an already wildly-popular company.  We recently spoke with Bowflex designers and they explained to us how they are working to offer their customers more options.
The Max Trainer M6 allows you to get a solid workout in, even if you only have a few minutes. The Max Trainers are different than traditional ellipticals, because these machines combine the paths of an elliptical and a stair stepper. The result from this combination of motion is a low-impact, high-intensity exercise.
A study conducted back in 2013 showed that the unique design of Bowflex Max Trainers provides more muscle activation of the whole body than a standard elliptical. This means that while you're using a Max Trainer by Bowflex, you'll be getting a full body burn. This more muscles that you are able to activate, the more calories you'll burn in a short amount of time. It's a win win, you get stronger AND burn more calories.
BowFlex Max Trainer M6 Features
16 Levels of Resistance – Not only will you be targeting every muscle in your body while you're working out on a Bowflex Max Trainer, but the M6 allows for 16 levels of resistance to push yourself during your exercise.
LCD Monitor – This is definitely not a fancy HD touchscreen by any means. The blue-lit display monitor will show your workout stats.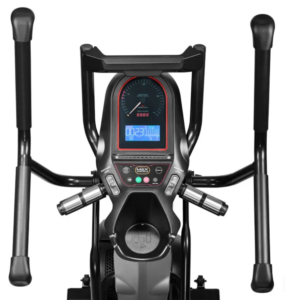 Burn Rate Console – Watch your calorie burn ramp on this meter-like display.  We like how clear and colorful the display is.  It's not as impressive as a full Color Touchscreen from some other brands, but the overall quality of the Bowflex machines makes up for it.
Compatible with Bowflex JRNY  – This is a newer feature for Bowflex fitness equipment. Previously, only NordicTrack and ProForm offered an interactive fitness technology on their machines. Now, you can get an immersive fitness experience with the Bowflex JRNY app. Work with personal trainers on-demand classes, community accountability and tracking, streaming access to your favorite services, and reach your goals at a faster rate. *Note: At the time of this review, the M6 includes a 1-year membership to JRNY.
Other Features – USB charging port, media rack for tablet/smartphone, multi-grip dynamic handles, integrated contact grips for heart rate monitoring.
Warranty – This is one area where we feel Bowflex still lags a bit behind the competition. The warranty is only 2-years frame and parts, 90 days labor.
Weight and Dimensions – The maximum ceiling height for the Max Trainer will be the height of the tallest user plus 15 inches. The max user weight is 300 lbs., and the dimensions are 46″ L x 26″ W x 64.2″ H.
---
Check out a comparison chart of all Bowflex machines here.
---
Our Review –  Max Trainer M6
The Max Trainer M6 is a solid machine from a great company.  We're not really sure it offers a high level of innovation. Still, if you're a fan of the brand, and want a great elliptical, this is a good option to consider.