Beyond the Hype:  Top Innovation from a Trusted Brand!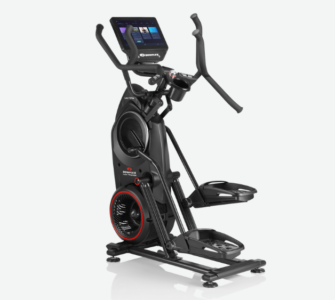 With any type of fitness equipment there is going to be some hype. However, none see to be as hyped than the BowFlex machines. Their commercials run continually and suggest extraordinary results. They show 'before and after' photos of select customers, which makes you believe you are going to see miraculous changes.
So if you are considering buying a BowFlex MAX Trainer, it's important to separate the hype from the actual benefits. Recently, our team visited the Bowflex headquarters in Vancouver, Washington. We got to test out first-hand a lot of their new equipment. There are definite benefits to working out on a BowFlex machines. This is why there are so many positive reviews from customers.
Plus, Bowflex recently added a new elliptical line up with some interesting technology features that you may really enjoy. Read on to learn more.
---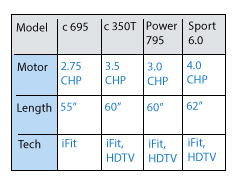 ---
Bowflex MAX Trainers
The MAX Trainers combine the motion of a stair climber with an elliptical trainer.  There are no moving belts on this machine so it will remind you a lot more of a typical elliptical.  The upright design lets you combine the benefits of its two root machines with High Intensity Interval Trainer (HIIT).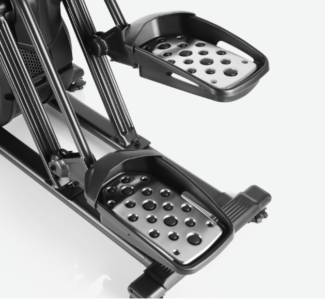 Here are the main benefits of the Max Trainers from Bowflex:
Combination elliptical trainer and stairclimber.
Interval training – Transition easily from high to low intensity to maximize your workout.
Easy to mount/dismount – This machine is easier to step onto than a traditional rear-drive elliptical.
Compact design – The MAX Trainers have a length of around 46″ so it will save you space over the longer traditional elliptical designs.
Easy to assembSle – Customers report that it doesn't take an advanced degree to assemble this machine.
3 model options – The MAX Trainers come in model options so you can get the right features for your goals and budget.
Features of Bowflex MAX Trainers
Levels of Resistance
The level of resistance is a crucial factor for a fitness machine to help challenge you during your workout and help reach your goals. The M6 has 16 levels of resistance, while the M9 and the Max Total 16 have 20 levels.
Heart Rate Tracker
Monitoring heart rates, especially while exercising, is important because our heart rate increases during workouts. The M6 and M9 Max Trainers have contact grip heart-rate monitoring. The Max Total 16 also offers contact-grips, in addition to Bluetooth enabled heart rate monitoring with a heart rate armband included.
Bowflex JRNY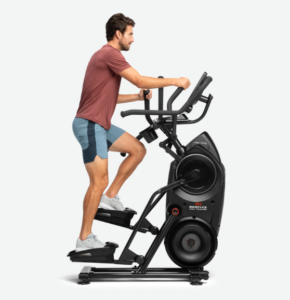 The BowFlex JRNY platform is now on all of the Max Trainer models.  This is a new interactive fitness technology that tailors exercises to your goals and physical abilities. As your fitness levels and physical stamina change, these routines will adapt with you. There's also a fitness monitoring and incentive program, as well as a collection of professional fitness trainer-led videos. It's critical to remember that this is a subscription model. *Note: At the time of this review, the M6, M9, and Max Total 16 models come with a 1-year membership to JRNY ($149 value). After the free trial, JRNY access is $19.99/month.
Display 
The touchscreens on the Bowflex Max Trainers offer great quality to access your workout stats, or view your Bowflex JRNY membership. The M6 has a backlit screen, the M9 has a 10″ touchscreen, and the Max Total 16 has a large 16″ HD touchscreen.
Warranty 
The Max Trainers from Bowflex don't have the best warranties. They all come with 3-years coverage on frame and parts, 1-year on electronics, and 90 days on labor. We have noticed that better warranties typically come from machines that are more durable, so it's worth noting that these machines have a sub-par warranty.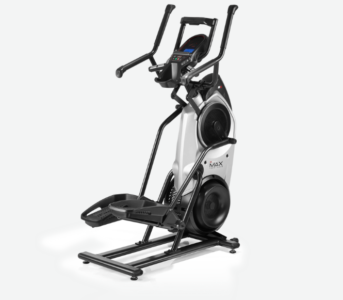 The Max Trainers all come with a lot of cool features. However, despite slight variations in specifications, there is a big variation in costs. In terms of value, we still think that the M9 Max Trainer is the best option overall. If screen size is important to you, it would be worth the splurge to upgrade to the Max Total 16.
One of the main competition options for the MAX Trainer machines is the HIIT Trainer series from ProForm. Check out our ProForm review to learn more.
---
Individual Max Trainer Reviews
---
Final Thoughts on Bowflex
Bowflex certainly offers some innovative features on their MAX Trainer machines.  With these machines, you will enjoy the lower impact workout, intense cardio capability, and the ability to tone your lower body.
The BowFlex MAX Trainers are popular for two reasons: because of all the hype, and because they get results.  If used regularly with sufficient exertion, you will burn calories and tone your lower body muscles.  Overall, the feedback from customers is various positive, and that alone is a good endorsement.
We appreciate the effort that Bowflex is putting in to provide more options to their loyal customers.
To learn more, shop directly on Bowflex.com.