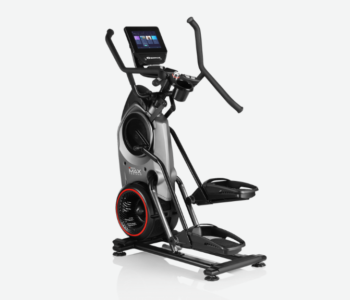 Bowflex is best known for their innovative and very popular fitness equipment. We were excited to hear that recently Bowflex released a line of hybrid ellipticals known as Max Trainers, and quickly arranged to interview Bowflex representatives. The Max Trainers combine the motion path of an elliptical with a stair climber to create a full body burn.
During our conversation, they explained what sets Bowflex apart from the other brands. This is an award-winning company that has a strong and positive company culture. It is clear to us that they are doing everything in their power to offer their customers some of the best products on the market.
BowFlex Max Trainer M9 Features
Bluetooth Compatible – For years, Bowflex lagged behind the competition because they did not have fitness tracking on their machines. That has all changed now that they have Bluetooth compatibility and a free Results Series app. This system lets you track your workouts and make better progress towards you goals.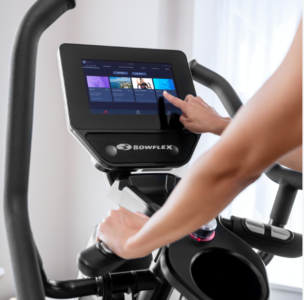 10″ Touchscreen – This a HUGE step up for Bowflex elliptical trainers. A 10″ interactive console will allow you to view your workout stats, as well as access Bowflex JRNY on the screen. Bowflex JRNY is a newer interactive fitness technology from the brand, that provides many features like a video library of workouts, engaging fitness tracking, and more. *Note: At the time of this review, the M9 Max Trainer comes with 1-year access to JRNY included in the price.
20 Levels of Resistance – You'll be able to get in a heart pumping workout no matter how crunched you are on time by pumping up the resistance to the max.
Heart Rate Tracking – The M9 features heart rate monitors on the handlebars, but there is also a heart rate arm band included with Bluetooth enabled capabilities so that you can sync your data to your smartphone.
Other Features – 4-grip handlebars, oversized textured pedals, build-in media shelf, Bluetooth speakers.
Weight and Dimensions – To figure out the ceiling height needed to accommodate the M9, take the height of the max user and add 15 inches. The Max Trainer M9 from Bowflex has a weight limit of 300 lbs., and is 49.2″ L x 30.5″ W x 65.1″ H.
Warranty – 3-years frame and parts, 1-year electronics, 90 days labor. It's the not the strongest warranty we've ever seen for a machine in this price range. Many other brands offer a lifetime warranty on the frame.
---
Check out a comparison chart of all Bowflex machines here.
---
Our Review – BowFlex Max Trainer M9
The Bowflex Max Trainer M9 is the top elliptical model offered from Bowflex. You may also want to check out the Bowflex Max Trainer M6 to save around $500, if a HD touchscreen is not a deal breaking factor for you. That's the major difference between these two machines.
Overall, it's a quality machine from a very strong company. It offers a unique workout experience with some nice technological upgrades to be appreciated.