Three Machines in One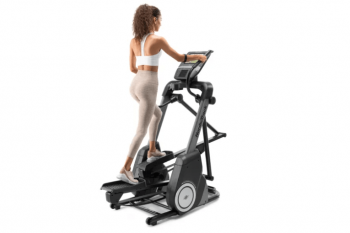 The NordicTrack FreeStride Trainer FS10i is an awesome machine in their FreeStride Trainer series. The FreeStride series is unlike anything else on the market, as it combines the benefits of a treadmill, stepper, and an elliptical all into one machine. This breakthrough in cross training innovation provides variable motion while exercising and promotes "muscle confusion"—leading to a much more efficient workout.
When our team visited NordicTrack's headquarters, we were able to view some of their FreeStride line first-hand. As we mentioned, the FreeStride series contains other models. In the FreeStride Trainer Series you can also find the FS14i model.
Exercise Features – FreeStride Trainer FS10i

Variable Motion — The FreeStride Trainer FS10i combines the benefits of a stepper, elliptical, and treadmill which imitates a more natural motion while exercising. When using a standard treadmill or elliptical, your body is limited to a set range during exercise. With the FreeStride series, the variable motion allows "muscle confusion" with the variation in your motions. By combining the motions of 3 machines in 1, more muscles are able to be engaged during a workout to make the most of your results.
Auto-Adjusting Stride — A major benefit of the FS10i is the auto-adjusting stride length. The technology of the FS10i intuitively follows your movements during the workout, and auto-adjusts to you. The machine is capable of up to a 32" stride length, so it's appropriate for users of most height ranges.
iFit Interactions — iFit is an innovative patented technology available from NordicTrack. The newest iFit feature enabled with the FreeStride Trainer FS10i is LIVE Resistance and Incline Control. Live Interactions allows you to focus on your workout, while your iFit trainer adjusts the incline and resistance of your machine for you. The only thing you focus on—is crushing your workout.
       Other iFit Features Include….
Live Personal Trainers and Classes: Select your favorite coach from NordicTrack's lineup with an array of fitness classes available.
Personalized Fitness Tracking: You can enter your fitness goals as well as track your workouts, sleep, and calories.
Customized Workout Schedules: iFit provides customized workout schedules based on your fitness goals.
Personalized Meal Plan Recommendations: Based on your activity tracking in the app, iFit recommends meal plans that align with your fitness goals.
Note: At the time of this posting, the FS10i comes with a FREE 30-day trial iFit Membership with your initial purchase.  This is a great value!
Mechanical Features
10″ Smart HD Touchscreen — This is a generous size display screen where you can view your workout stats and tackle your favorite workout class with iFit.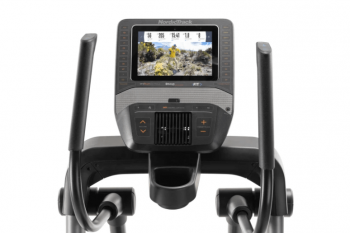 20 Lb. Effective Inertia-Enhanced Flywheel —The heavier weight of the flywheel on this machine will provide a more natural feel while exercising.
OneTouch® Controls — This console is easy to navigate and has 24 digital resistance levels.
Center Drive — The center drive design provides greater stability and reduces the size of the frame. Since the mechanics are located in the center rather than the front or the rear, it's more compact.
Incline — The FS10i features 0-10% incline. If you're looking for incline AND decline capabilities, check out the FS14i model.
Warranty — You get a fairly standard coverage that includes  10-year frame, 2- year parts, 1-year labor.
Additional Features Include
Bluetooth Audio Capabilities
Two 2" Digitally Amplified Speakers
AutoBreeze Workout Fan
Oversized Cushion Pedals
SoftTouch Upper Body Grips
Water Bottle Holder
Transport Wheels
See a comparison chart of all NordicTrack Elliptical trainers here.
FreeStride Trainer FS10i Review
It's clear that the NordicTrack FreeStride Trainer series is better than most standard ellipticals out there. The 3-in-1 development enables natural motion that targets more muscles, giving you a more effective overall workout. The compact design from the center drive location of the FreeStride series makes it ideal for anyone who needs a machine with a smaller footprint.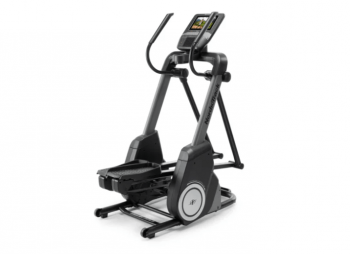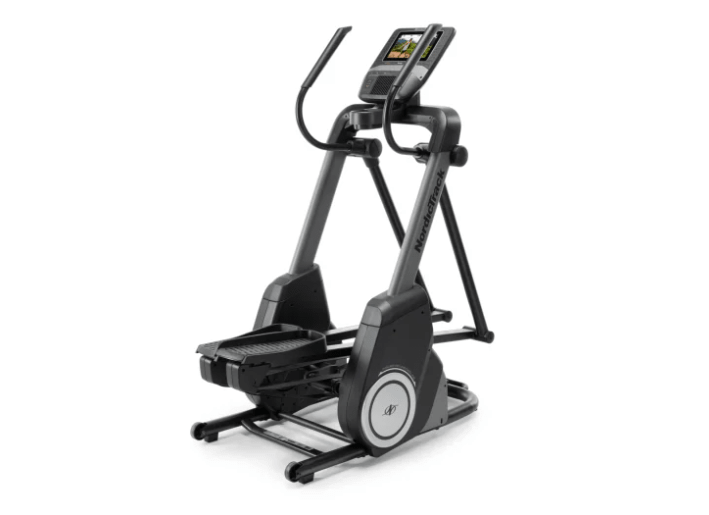 We like the personalized and automated experience that the FreeStride Trainer FS10i offers.
Go to www.NordicTrack.com and learn more!