(Last Updated On: June 6, 2019)
Mirror, Mirror On the Wall…Who's The Fittest of Them All?
It seems there is always a new fitness trend claiming to be the "next big thing."
In fact, marketers spend millions to get you off the couch and into the best shape of your life. Lately, one of the innovations we're most excited about doesn't look like a fitness machine at all. In fact, it looks more like a decoration you'd hang in your living room!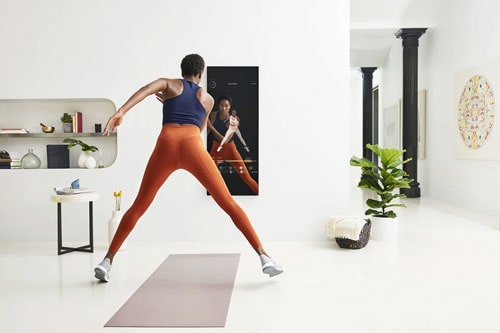 Meet "the Mirror…"
Yes, I'm sure thoughts of Snow White's magic mirror may be floating through your head. The true magic with this gizmo is how it can use sophisticated technology to put other IKEA-brand mirrors to shame.
This mirror has just one goal in mind… to get your butt into great shape!
It does this by giving you access to on-demand workout videos or live stream classes directly in your home. Suddenly, your living room is like a personal fitness studio complete with a trainer ready to help you along. The app for this device lets you build a custom workout designed for your specific goals.
Wanna know more? Well, here's the "skinny" on a mirror that can make you skinny…
The Mind Behind the "Mirror"
The mind behind the Mirror is no stranger to a tough physical fitness routine. A former dancer for The New York City Ballet, Brynn Putnam developed the Mirror after having a child and realizing she couldn't fit trips to the gym into her schedule.
Putnam incorporated one of the most important aspects of ballet training into her fitness innovation… the mirror itself.
Dancers always train in front of a mirror so they can watch themselves and ensure they are using proper form. This allows them to make corrections to avoid injury and perform to the best of their ability.
Home fitness is no different.
When you use the Mirror, you are able to watch yourself in the reflective surface and your trainer on the LCD screen at the same time. This way you know your form is correct and you are performing to the best of your ability. You can see exactly what you need to be doing and mirror the trainer's movements with your own.
So How Does the Mirror Work?
When you start out using the Mirror, the first thing you do is set-up your app. You enter in your stats, like height, weight and fitness goals.
Additionally, the app has you include information about any injuries you may have suffered. This is a question most other apps don't ask, but it stores this important information away to use to your advantage later.
The Mirror also comes with a Bluetooth belt that monitors your heart rate throughout your workouts. If you have an Apple Watch, your Mirror will sync with that too.
Are the Workouts Any Good?
Since the Mirror doesn't require any specific or additional equipment, there is a wide range of workout types included on the app. From cardio and HIIT to Pilates and yoga, there is really something for everyone and every experience level.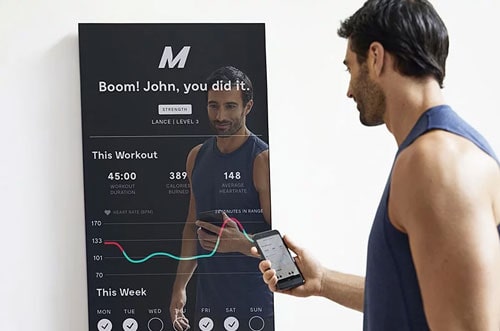 If you are looking for a more interactive experience, you can check into any one of the live classes that are available throughout the day. All classes are taught by world-class trainers from recognizable names like Nike and Equinox.
When you work out with the Mirror you will see the trainer on the screen — so you can follow along with their movements. You'll also see your heart rate and other workout stats in real time so you know if you're hitting those target zones.
Remember when we talked about including your injury stats? During each workout you will see a second trainer in the corner doing modifications of the exercises. If you reported an injury in your info, the modifications will be geared toward your injury. This ensures you can safely perform the exercises without having to miss out.
Pretty Cool! Other Benefits with the Mirror?
First and foremost in the benefit department is the space saving aspect… you can literally hang this on the wall and take up zero floor space in your home…
Zero space!
This is obviously nice if you live in an apartment or a shared living space with people that don't appreciate your treadmill next to the couch.
Choosing your space on the floor is also another benefit. Being able to comfortably follow along and make sure you have proper form can help prevent injuries that occur when exercises are done incorrectly. No more twisting your neck to see the TV or struggling to follow along on a tiny laptop screen.
The Downsides of the Mirror
One aspect of the Mirror that you may want to consider is whether you'll be motivated to use it. It's hard to walk past an elliptical and not think about using it. You can always just walk past the Mirror and check your outfit on the way out the door.
You may also have noticed that we haven't mentioned price yet…
If you guessed that this is going to be pricier than the Ikea mirror, you'd be completely right. One of these fitness Mirrors is going to set you back around $1500.
This also doesn't include the subscription necessary to access the workouts, which run an additional $39/month.
We know that many other home fitness options come with an optional monthly subscription service, like iFit. However, the key word there is optional. A treadmill or elliptical that can still be used without the interactive subscription service. If you don't pay for the subscription with The Mirror, you just have a shiny object to prop in the corner.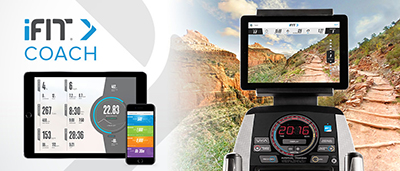 You also aren't getting anything with the Mirror app that you won't get from other fitness apps. NordicTrack and ProForm feature iFit, Bowflex has Max Intelligence. All brands of home fitness equipment have apps that provide video workout libraries and live interactive training.
What it really boils down to is whether or not you'll use it enough to justify the additional monthly cost. If you prefer to pay for your in-home workout equipment one time when you buy it and never again, you may want to reflect on your other options before you purchase the Mirror.