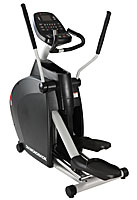 Smooth Elliptical Motion
I recently checked out the line-up of Diamondback elliptical trainers at ProSource in Raleigh. In addition, I spent about an hour discussing the pros and cons of their machines with Dan Young, their sales expert.
Diamondback is best known for their exercise bikes, which are very popular and found at numerous sporting goods stores. However, their ellipticals have gotten some serious exposure after the Diamondback 1260Ef received a top rating from a popular consumer magazine.
---
Note: Check out our Elliptical Trainer Best Buy Reviews.
---
What makes Diamondback elliptical trainers unique is that they come in both front and rear drive models. The rear and front drives have different feels, with different appeals. Some like the free-floating feel of the rear drive, while others prefer the front leaning motion of the front drives.
Diamondback 1260Ef Front Drive Elliptical
The front drive on the Diamondback 1260Ef design is similar to an Octane, but considerably less money. Moreover, unlike a Sole elliptical, the pedal sits on a wheel located at the front of the pedal, rather than on a rear rail and has a 19″ stride.
What makes the Diamondback 1260Ef stand out is the ability to adjust the elevations, similar to adjusting the incline of a treadmill, allowing you to burn more calories in less time. There are only a couple of other high-end ellipticals that have this feature – Precor and Octane. However, both of those brands cost at least a $1,000 more than the 1260Ef.
It should be noted that the 1260Ef and 1190Er come with an optional light commercial warranty, which says a lot about their durability. See our complete review of the Diamondback 1260Ef Elliptical Trainer
Diamondback 1190Er Rear Drive Elliptical
The rear drive Diamondback ellipticals have a 21″ stride, which is longer than your average elliptical. I felt this gave it a nice smooth stride, and was comfortable for my height. This would be a good fit for anyone above average height.
The foot pedals angle with the motion, reducing the possibility of numbness from long use. Each elliptical comes with wireless heart rate control to give you a more accurate picture of the workout you're getting.
The main difference is that the Diamondback 1260 has:
Upgraded console and display.
No need to plug-in, there is an on-board alternator
Better selection of programs, including customizable programs.
Handlebars adjust forward and backwards making it comfortable for different sized users.
Our Diamondback Elliptical Trainers Review
In general, we found the Diamondback ellipticals to all have a smooth elliptical motion. The ellipticals were relatively quiet. I really liked the adjusting elevation feature of the Diamondback 1260. That is a sweet option.
Diamondback has been building ellipticals for the last 9 years. Their models are strong contenders in $1,500-$2,000 price range. Overall, Diamondback ellipticals are a solid value. You can find them at local fitness equipment specialty stores or at Amazon.com